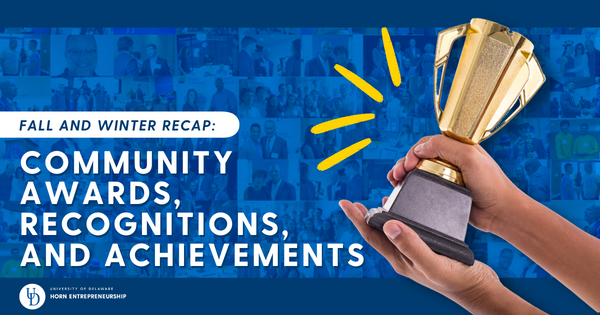 Our community of innovators and entrepreneurs have been hard at work over the past months, gathering an extensive list of accomplishments along the way. UD students, faculty and alumni continue to make waves, with notable achievements like getting recognized in news publications, winning awards and competitions, and securing funding through investments and grants. Check out the full list below, and keep working as a community to make an impact on the world!
Students
UD student Hannah Epstein was awarded the Department of Defense's Science, Mathematics and Research for Transformation Scholarship, which provides students with full tuition for up to five years and full-time employment with the Pentagon after graduation, as well as other educational benefits.
Lynn Roberts was awarded the Excellence in Customer Experience (CX) & Employee Experience (EX) award during her internship with Agilent Technologies.
CompSciLib, a startup founded by University of Delaware students David Bichara and Genpei(John) Ye, was one of 250 startups from 42 industries selected for the 2022 MassChallenge U.S Early Stage Accelerator program.
University of Delaware undergraduate students Vee Tucciarone, Noah Brogden, and Omar Abdullah were each given $2,500 in reimbursable funding as part of the REEF Awards, and Kimwuan Gibbs was given 2 credits and a participation award.
Six UD student startups won a combined $50,000 in funding at Horn Entrepreneurship's Hen Hatch Final Round.
Freshman Lauren Roberts reached the semifinals with her startup OBENaturelleCo at the Global Student Entrepreneur Awards (GSEA).
Heather Stroili was selected as the recipient of the 2022 Siegfried Student Award for Entrepreneurial Leadership.
We had many students show out to present their innovative ideas at our annual Fall Pitch Party, with the top three teams taking home $1,500 in startup funding.
Alumni
UD alumni Jo Norris and Nick Martin's business Carbon Reform was one of 10 companies chosen to participate in the 10th StartOut Growth Lab accelerator program cohort.
UD alum and FunkkOFF! co-founder Joelle Flynn commercially launched her invention FunkkOFF! TeethRefreshers®, a 2-in-1 toothbrush and toothpaste that is reusable up to 30 times.
Strados Labs, a business founded by UD Class of 2012 grad Nick Delmonico, was named a winner in the Wearables category of the 2022 Best of Sensors Awards for its flagship device RESP®.
UD alum Kenny Eck's business Patient Sortal received a $625,000 investment from Flourish Fund.
UD alum and TRIC Robotics founder Adam Stager was named a finalist in The Pete du Pont Freedom Foundation's 2022 Reinventing Delaware program.
Carvertise co-founder and CEO Mac Macleod was recognized by The Philadelphia Business Journal as one of their Most Admired CEOs of 2022.
Joelle Flynn's FunkkOFF! TeethRefreshers were featured in articles by Travel and Leisure and L.A. Times.
Carbon Reform co-founders Nick Martin and Jo Norris were included in Forbes Magazine's 30 Under 30 for Social Impact.
A.I. Whoo founder Matthew Saponaro was included in Technical.ly's 2022 RealLIST Engineers.
UD alums Daniel Goodman and Alex Pickett raised a $1.2 million funding round for their interactive streaming platform Tangia from many VCs and angel investors such as Fresco, Pioneer Fund, Y Combinator, Goodwater, Oasis Capital, BBQ Capital, and more.
Adam Stager's business TRIC Robotics was awarded a $650,000 USDA grant and a $965,000 NSF Phase II SBIR grant.
University of Delaware alumni Cora Castle's company OmniPotential Energy Partners was a runner-up in the New Castle County Chamber of Commerce's 2022 Swim with the Sharks competition and took home $2,500.
Garry Johnson III was included as a Participant for Technology & Innovation in the 2nd U.S. Linkedin Accelerator Program Cohort.
Lavar Thomas was selected to the 2022 Atlantic Dialogues Emerging Leaders Cohort of 30.
Strados Labs was one of four companies to be selected as a Rising Star in the Remote Diagnostic Tool or Device category at the 4th Annual UCSF Health Hub Digital Health Awards.
New Castle Chamber of Commerce recognized UD alum and Hx Innovations co-founder Nicole Homer as the Young Woman Professional of the Year.
UD Alum Bob Lynch's company SponsorUnited secured a $35 million investment from Spectrum Equity for a minority stake in the company.
Carbon Reform closed a $3 Million seed round led by Azolla Ventures. The funding will help them in developing innovations that help household HVAC systems reduce carbon emissions and spending on energy.
Technical.ly published an article about TRIC Robotics' move to central California.
Strados Labs was named a top key player in the digital respiratory device market by Market Research Intellect.
Carvertise expanded its headquarters at a new location on the Delaware Riverfront and shared a glimpse of it in the article "Take a peek at Carvertise's new Riverfront location" by Technical.ly's Holly Quinn.
Alumni-led companies Backyard Gig, CompSciLib, OmniPotential Energy Partners, Better Puzzles, and Tangia were all selected along with five other businesses for Technical.ly Delaware's RealLIST Startups for 2023.
Strados Labs announced a collaboration with Boehringer Ingelheim to remotely monitor patients using its FDA-cleared pulmonary wearable device in an upcoming idiopathic pulmonary fibrosis (IPF) pilot study.
Matthew Saponaro's A.I. Whoo was chosen as one of 10 companies to receive an EDGE Grant from the Delaware Division of Small Business, earning it $100,000 in funding.
Myles Powell's business 8 Myles LLC was selected to participate in Gener8tor's Bronze Valley Academy Program as part of the accelerator's inaugural cohort.
Strados Labs was named a finalist for the ATA Telehealth Innovators Challenge as part of the 'Tools That Deliver Care' category.
Joelle Flynn and her company FunkkOFF! appeared on ABC's Shark Tank, securing a $250,000 investment for a 12% stake in the business.
We honored 39 alumni-led businesses at our annual Blue Hen 17&43 Awards Celebration for their growth and promise.
Faculty and Staff
Horn Entrepreneurship Founding Director Dan Freeman was appointed to The Pete du Pont Freedom Foundation's board of directors.
Yushan Yan, the Henry B. du Pont Chair in Chemical and Biomolecular Engineering and founder of Versogen, was highlighted in Delaware Business Times' People to Watch in 2023.
Associate Professors of Chemical & Biomolecular Engineering Mark Blenner and Kevin Solomon received a $5,000 POC Phase 1 Award for their project Microplastics Recycling.
Meg Marcozzi, marketing manager of Horn Entrepreneurship, Stephanie Raible, assistant professor of entrepreneurship, and Dan Freeman, founding director of Horn Entrepreneurship, presented their preliminary research on "Conceptualizing Entrepreneurship Student Types" at the United States Association of Small Business and Entrepreneurship (USASBE) conference on Jan. 20, 2023.
MCET Technologies, a UD spin off company founded by Professor of Mechanical Engineering Erik Thostenson and Associate Scientist at UD's Center For Composite Materials Sagar Doshi, has finished Phase I of the SBIR Grant program and will now be applying for phase II.
Dan Freeman, Founding Director of Horn Entrepreneurship, was chosen as Technical.ly's Tech Community Leader of the Year for 2022.
Stephanie Raible, Assistant Professor & Faculty Director of Social Innovation and Entrepreneurship, was awarded the International Council for Small Business's (ICSB) recognition for Excellence in Social Entrepreneurship.
About Horn Entrepreneurship
Horn Entrepreneurship serves as the creative engine for entrepreneurship education and advancement at the University of Delaware. Currently ranked among the best entrepreneurship programs in the US, Horn Entrepreneurship was built and is actively supported by successful entrepreneurs, empowering aspiring innovators as they pursue new ideas for a better world.