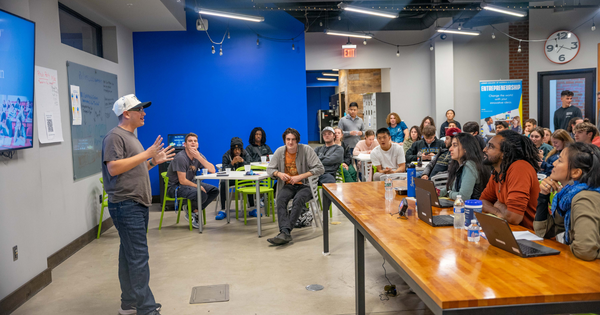 Horn Entrepreneurship and E-club welcomed our amazing student entrepreneurs and innovators to the VDC once again for our semi-annual pitch party, back to in-person at the VDC for the first time since pre-Covid. We had a full house, with 11 students joining us to pitch and a flock of spectators coming in to watch and support their peers as they pitched their best ideas.
The event was hosted by assistant professor of entrepreneurship Dan Lee, who acts as a faculty lead for the Fall Pitch Party. After inviting everyone to grab a slice or two of pizza and a drink before taking a seat, he explained the rules of the competition and introduced the first of the teams.
Teams were competing for $1,500 in startup funding to pursue their ideas, with the first, second, and third spots in the competition bringing home $750, $500, and $250 worth of reimbursable funds towards customer discovery, plus superlative prizes to go around. Four teams received a gift card for a restaurant on Newark's Main Street, along with the titles Most Creative, Most Interesting, Most Promising, and Most Motivated.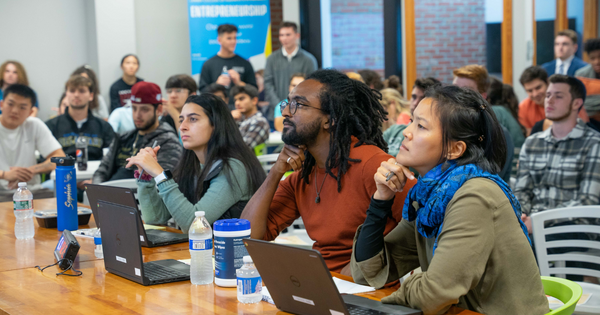 A total of 10 teams chose to come and share their pitches with their peers and our panel of community member and alumni judges, Sophia Angeletakis, Daniel Farmer, and Patti Chou, who asked questions and gave feedback to each team based on their own knowledge and experience as entrepreneurs. Each team had 90 seconds to pitch their idea and 90 seconds to answer questions from the judges. Once all the teams had finished, the judges deliberated while spectators had the opportunity to vote for the four superlatives.
The Most Creative award went to Rahul Patel and his startup ThermoCell. ThermoCell is a device that uses a thermoelectric power generator to convert heat from a candle(or another heat source) into electricity to charge appliances like phones.
Most Interesting was given to Adam Tabak and his startup Taste the Convenience. Taste the Convenience helps understaffed grocery stores find workers to fill shifts by connecting them with college students who need flexible hours.
The award for Most Promising went to Mckinley Lynn for RateMyClub. RateMyClub is a central website for students to share opinions and feedback about clubs on their college campuses, as well as read other students' reviews and perspectives to find the perfect club for them.
The team that won the Most Motivated award was Lauren Roberts of Planting Productivity. Planting Productivity is a startup that uses virtual and in-person terrarium kit building events for companies centered around workplace improvement, productivity, and mental health.
All of the teams showed excitement to share their ideas and lots of entrepreneurial spirit, but these four teams stood out and caught the audience's eyes for their hard work, innovation, and uniqueness. The podium spots and funding, however, would go to three pitching teams the judges thought were most impressive based on their experience in pitch competitions and as entrepreneurs.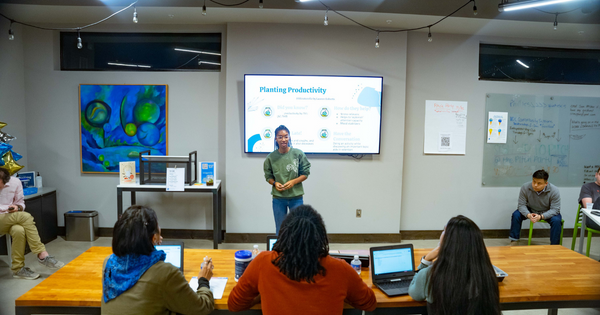 Third place and $250 went to Lauren Roberts for Planting Productivity, who was also the winner of the Most Motivated Award. Since beginning work on the project, Roberts has achieved over $20,000 in product sales and held workshops at U.S. military bases.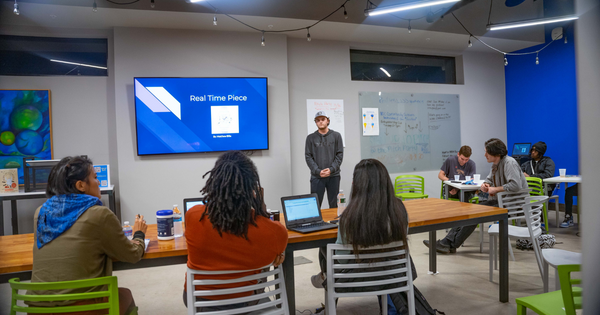 The second place prize of $500 was awarded to Matthew Bilia of Real Time Piece. Real Time Piece is a rental service for luxury watches, allowing people who can't afford to spend thousands of dollars on a watch or want to try a model out before buying to rent it out for a selected time period.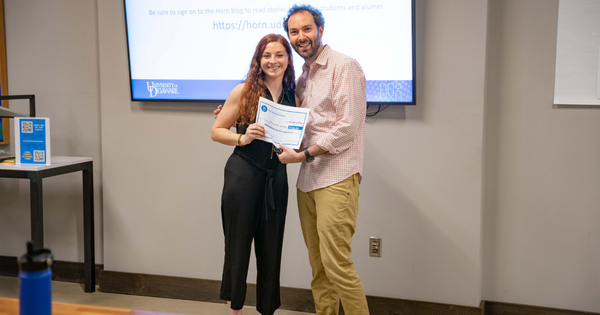 The first place spot and grand prize of $750 went to Vienna Locona for Soil Probe. Soil Probe analyzes the soil profile of agricultural-use land, sharing info to farmers via bluetooth about nutrient levels and how to best treat issues.
The night was a ton of fun and gave our student entrepreneurs the opportunity to experience pitching to a crowd and panel of judges in a casual setting, while hopefully inspiring students in the audience to explore entrepreneurship or sign up for the Spring Pitch Party next semester. Entrepreneurs find their start every day and come in all shapes and sizes, so consider coming out to the VDC and discover what entrepreneurship might mean for you!
About Horn Entrepreneurship
Horn Entrepreneurship serves as the creative engine for entrepreneurship education and advancement at the University of Delaware. Currently ranked among the best entrepreneurship programs in the US, Horn Entrepreneurship was built and is actively supported by successful entrepreneurs, empowering aspiring innovators as they pursue new ideas for a better world.