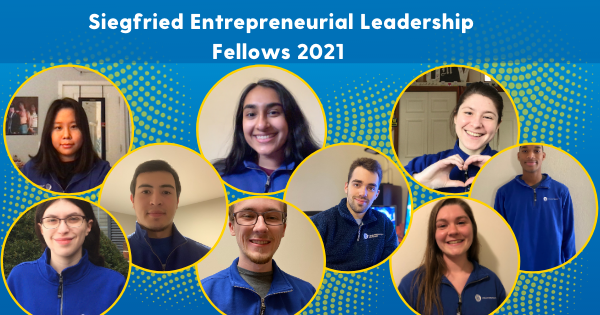 In the spaces of creative disruption where entrepreneurs operate, the skills of effective leadership have always been of key importance, and are inextricably tied to the spirit of innovation. However, before anyone can even begin to become a leader of others, they must first learn to lead themselves.
It is on this simple foundation that the Siegfried Entrepreneurial Leadership Fellows (SELF) program was first launched by Horn Entrepreneurship, the Siegfried Group, and its CEO, Rob Siegfried, BE81.
SELF is a highly selective, year-long leadership education opportunity designed for all students who are looking to deepen their leadership knowledge and skills with like-minded individuals.
Each year, a new SELF cohort is selected. SELF members quickly form a tight-knit community with whom they can expect to explore leadership topics and deepen connections with. The program also encourages students to further expand their horizons through on-campus leadership roles, exclusive conference and workshop opportunities, and external and/or travel opportunities that bring leadership lessons outside of the classroom.
For students looking to develop the mindset, habits, and skills of entrepreneurial leaders, SELF offers a meaningful experience filled with growth and empowerment.
Past SELF members have gone on to become leaders and trailblazers, enriching others' lives as well as their own through their entrepreneurial impact. As a member of the 2020 SELF cohort, April Singleton, BE21, co-founded the social justice and educational venture EQuip, which went on to compete in a number of pitch competitions, namely Summer Founders 2020 Virtual Demo Day.
Later that same year, Singleton was selected to be the recipient of the Siegfried Student Award for Entrepreneurial Leadership, an honor given to only one student which includes a $2,500 award.
"The more opportunities I get to be in leadership positions, the more deeply rooted I want to be in a collective, shared vision that makes a positive impact," Singleton said at last year's award ceremony.
Horn Entrepreneurship has gotten in touch with 2021's newest SELF cohort members to hear, in their own words, some of their thoughts, reflections, and hopes for the program.
Esha Shah, AS22
"When I first applied to the SELF program I didn't quite know what I was getting myself into. I knew that I felt like a pretty confident leader and thought this program would allow me to explore those parts of myself a bit more. In reality, the SELF program has done even more than that for me. The retreat itself was an amazing and reflective experience, as well as the leadership salon that we just attended. I have learned so much not just about myself as a leader at face value, but also about who I am as a person and why I do what I do."
Jason Bangser, BE21
"I'm so excited to be a member of the 2021 SELF cohort! My goals are to use this small group of my brilliant peers to advance my own leadership education, as well as play a part in their respective entrepreneurial journeys."
Nasir Young, AS21
"As a SELFie, I hope to establish a greater sense of confidence in myself as a leader, while also developing my entrepreneurial mindset through enriching and collaborative experiences. Being a member of this cohort composed of such passionate and talented individuals, I am continuously inspired to become the best entrepreneur and leader that I can be!"
Maggie Nelson, PPA22
"I am so excited to be a part of the SELF program! My hope is that SELF will provide me the opportunity to interact with a host of motivated individuals to challenge myself, apply and gain new skill sets, and grow as a leader and an individual."
Mandy Zicherman, BE22
"I am excited to be part of the 2021 SELF cohort. I am looking forward to working with a small and supportive group of my peers as we learn more about leadership. One of my goals in this program is to explore ways that entrepreneurial leadership can be used to create meaningful change within organizations and in my community."
Tony Denney, BE22
"During my time as a fellow, I hope to grow as a leader and gain leadership experience to become more confident in my leadership ability. I want to continuously push myself beyond my comfort zone in order to grow. I'm incredibly excited to be surrounded by a group of like-minded individuals that hold similar values as me, yet with different perspectives."
Kim Shitong Jiang, BE22
"I applied to the SELF program because I really enjoy making progress together with a small group of people. The members of the SELF group have all been selected and we all have similar goals. I hope the resource that we have can help each group member during this year."
Colton Keetley, BE21
"I am excited to continue to improve my leadership abilities to exponentially improve my life, and the lives of the people I interact with."
Sierra RyanWallick, BE23
"My number one goal in SELF is to support the community and cohort in any way that I can! I am really excited to work with a small cohort of other leaders and changemakers to support each other and our passions and learn more about myself as a leader and follower in the process!"
Gabby Holliday, BE23
"I am hoping for this program to help bring out the true leader in me, as well as help me grow into the best leader I can be. I am looking forward to the leadership opportunities that will get me started on making an impact on others."
Editor's note: ENTR/LEAD253: Individual Leadership - Building a Foundation for Success is a prerequisite course for SELF. To learn more about either ENTR/LEAD253 or SELF, please contact Enrichment Program Coordinator Emerson Marine at emarine@udel.edu.
About Horn Entrepreneurship
Horn Entrepreneurship serves as the creative engine for entrepreneurship education and advancement at the University of Delaware. Currently ranked among the best entrepreneurship programs in the US, Horn Entrepreneurship was built and is actively supported by successful entrepreneurs, empowering aspiring innovators as they pursue new ideas for a better world.