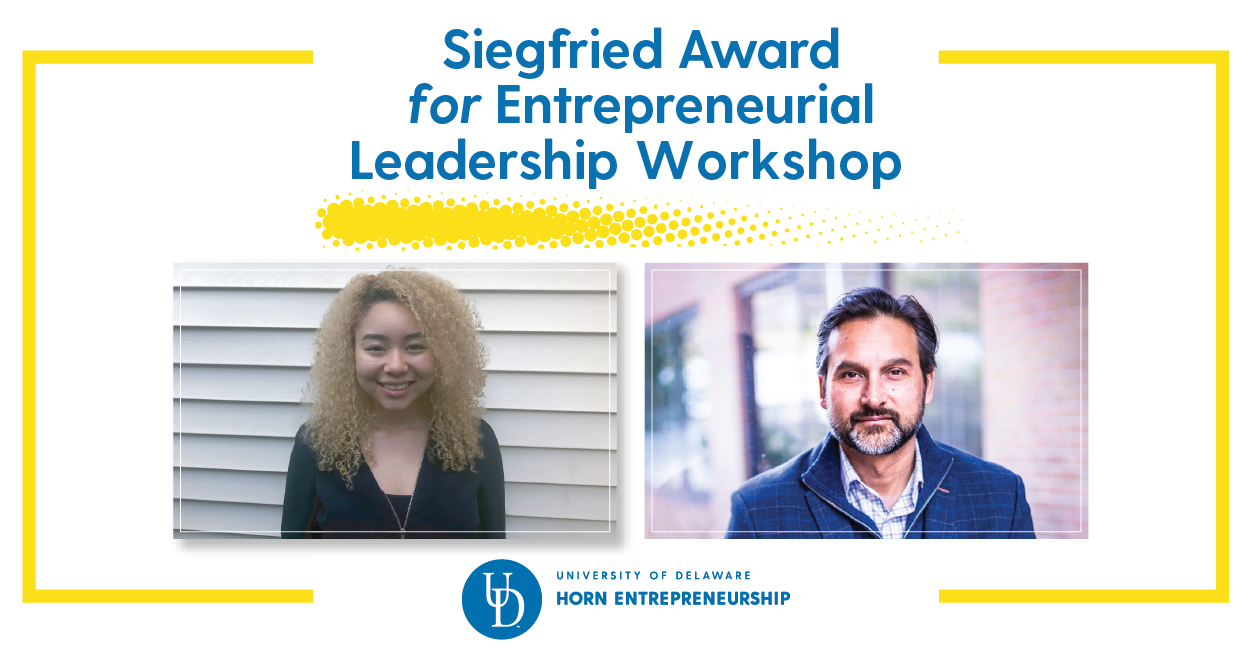 The 2020 Siegfried Entrepreneurial Leadership Award Event took place virtually on Oct. 13, as the online event honored two prominent award recipients and also featured workshop opportunities.

Dr. Kaihan Krippendorff was announced as the recipient of the 2020-21 Siegfried Award for Entrepreneurial Leadership, an award given by the University of Delaware and The Siegfried Group for outstanding contributions to the understanding and practice of entrepreneurial leadership.


"My passion is strategy but my purpose is really people loving what they do," Krippendorff said.

As a former consultant with McKinsey & Company, the bestselling author of five books, and a sought-after keynote speaker and educator, Krippendorff has made a commitment to helping organizations and individuals thrive in today's era of fast-paced, disruptive technological change.


Krippendorff is also the founder of The Outthinker Strategy Network, a consulting firm and community of strategy executives from the world's top Fortune 500 and private companies that keeps him ahead of the pace of disruption and up to date on trends, threats, and opportunities across industries.

"Great innovators talk about outthinking the competition," Krippendorff described his leadership philosophy. "Not about outspending or outmuscling… We're looking at strategic agility, to be able to think differently and more quickly so you can see opportunities."


Additionally, the 2020 Siegfried Student Award for Entrepreneurial Leadership was given to April Singleton for "her demonstrated ability to bring people together towards a common purpose," Horn director Dan Freeman expressed.

"The more opportunities I get to be in leadership positions, the more deeply rooted I want to be in a collective, shared vision that makes a positive impact," Singleton said.


Singleton is a senior entrepreneurship major and social entrepreneurship minor at UD, a Siegfried Entrepreneurial Leadership Fellow, a Summer Founder, and a co-founder of the social venture EQuip. Her work focuses on social ventures that empower and engage youth in underserved communities to develop stronger foundations for success by expanding their social and emotional learning.


Agility, Strategy, and Empowerment: Keynote Speakers Share Success Secrets


The event also afforded an opportunity to participate in three educational workshops by Robert Siegfried, Dr. Kaihan Krippendorff, and Dr. Tony Middlebrooks, entitled "Foundational Principles of Entrepreneurship: Empowering Individual Freedom," "Be an Outthinker: How to Tap Agile Strategic Thinking to Unlock Entrepreneurial Opportunities," and "Agile Leadership," respectively.

Key takeaways from the workshops centered around themes of outthinking the competition and strategic agility as powerful frameworks for entrepreneurial leaders and innovators, as well as valuable sources for inspiration, creativity, and disruptive ideas. The notion of agile and team-oriented leadership is also an important feature of resilience in the face of crises, Middlebrooks emphasized, a lesson which arrives as especially pertinent in the unique tumult of today.


Siegfried, who shared lessons on individual freedom and innovation during his workshop, also reflected on the special kind of entrepreneurial, passion-driven leadership which award recipients Krippendorff and Singleton celebrated alongside attendees that day.

"When I think about leadership advisory it's always about being thoughtful and reflective about your deepest feelings," Siegfried said. "I talked earlier about finding your passions. Nobody else can tell you what they are – by being driven by them you find a tremendous energy."


The awards ceremonies and workshops would not have been possible without Robert Siegfried, the CEO and founder of the national CPA firm The Siegfried Group. Siegfried and his wife, Kathy Siegfried, launched the Siegfried Initiative for Entrepreneurial Leadership in 2017. Together, they also established the Siegfried Award for Entrepreneurial Leadership, which is now a central part of this leadership initiative.

About Horn Entrepreneurship

Horn Entrepreneurship serves as the creative engine for entrepreneurship education and advancement at the University of Delaware. Currently ranked among the best entrepreneurship programs in the US, Horn Entrepreneurship was built and is actively supported by successful entrepreneurs, empowering aspiring innovators as they pursue new ideas for a better world.




About The Siegfried Group

Founded in 1988, The Siegfried Group is a national accounting firm that provides a unique combination of leadership advisory and talent delivery services to financial executives and Fortune 1,000 companies across the United States. Headquartered in Wilmington, Del., the Firm has more than 1,000 employees and 18 office locations throughout the country.