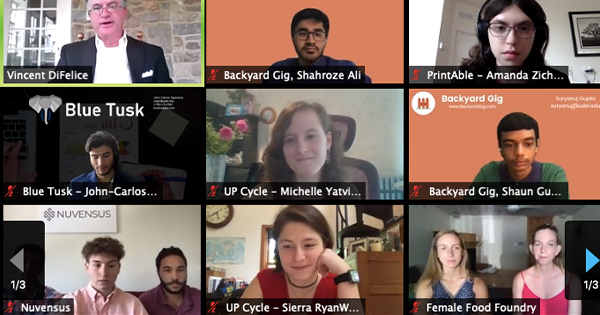 After a long and intensive 12-week program, Horn Entrepreneurship's Summer Founders assembled virtually this Tuesday for the pre-accelerator's 5th annual Summer Founders Demo Day. With 18 teams and over 130 total attendees at the virtual event, this year's Demo Day marks the program's biggest yet.
Demo Day also marked the culmination of an immense undertaking for each team: An entire summer of non-stop startup-building. Students had to additionally forego the in person elements and resources of the program – such as full access to the Venture Development Center – and instead build their ventures from the ground up in the midst of a global pandemic.
"Many of us have been working together in the heat of this summer, working on businesses," Vince DiFelice, a senior instructor of entrepreneurship, said. "These students have been working by themselves in their homes, Zooming with businesses, Zooming with customers."
However, the unpredictable challenges of COVID-19 did not shake the resilience of these founders, nor did it prevent them from actualizing their entrepreneurial ambitions by pursuing their ventures in creative and meaningful ways.
"I would say that this Demo Day experience was pretty surreal if I am being honest," Shahroze Ali of Backyard Gig said. "Before summer started, we were under the impression that we would not make it, but we did. Dealing with virtual Summer Founders was a new experience but we adapted. To be able to present to over 90-plus guests despite being in a global pandemic is something we are very grateful for."
Demo Day also championed the diversity of visions of what entrepreneurship is and could be, as students' ventures addressed a plethora of ideas, including social activism, sustainability, real estate, mental health, sports and esports, data and artificial intelligence, and even vegan candies.
"The theme for today is all-inclusive," DiFelice said. "It's all-inclusive with regards to students, with regards to startups, with regards to all of you. We have students from all across the spectrum, from freshmen to PhDs. We have students from all 9 colleges... But most importantly, this year we've included students from the broadest range of experience."
Teams ranged from ventures like Green Room Surf, a niche outlet for content and products at the intersection of environmental sustainability and surfing, to EQuip, a social enterprise which aims at uplifting high school students to achieve social change.
"Summer Founders has given me the chance to live the life of an entrepreneur," Isabelle Hughes, co-founder of EQuip, said. "I have learned how to empower myself and work through challenges."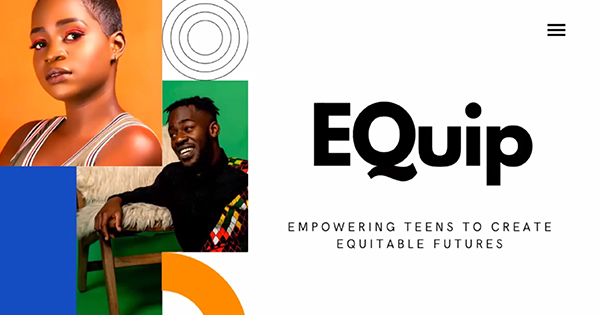 In regards to the Summer Founders program, the ultimate purpose of Demo Day is to propel founders' entrepreneurial journeys even after the structured experience of the program has ended. As a pre-accelerator, students are able to obtain the resources and support needed to take the next steps in growing, developing, or pivoting their ventures – whatever direction students may take – post-Summer Founders.
Horn Entrepreneurship will also continue to offer resources and support for the students and founders who participated in the program.
"To watch your progress throughout the summer has been absolutely amazing," Garry Johnson, a 2018 Summer Founders and Horn alum said. "I want to reinforce the fact that you all need to lean onto your advisors, ask for help from your mentors. Everybody here at Demo Day wants to support you into the future. You know you can always reach out to me for help."
Audience Choice Poll Winners
Most Creative Award – PrintAble, by Richard Hayburn and Mandy Zicherman
Most Promising Award – Oh-So Cycle, by Blake Armentano
Most Interesting Award – Backyard Gig, by Shaun Gupta and Shahroze Ali
Most Socially Responsible Award – UP Cycle, by Sierra RyanWallick
Offers Unique Value Award – Alchemize Fightwear, by Maya Nazareth
Impact Potential Award – COVIDVision, by Matthew Saponaro
Most Motivated Award – Female Food Foundry, by Lily Wolfe and Isadora Weinfeld
The full list of 18 Summer Founders teams included:
Denney's Delights, by Anthony Denney
Flourina, by Briana Bannach
Digunuiti, by Tom Rodgers
The Mental Health Gym, (Keyhole Games), by Michael Shumate
iCommunicate, by Kim Shitong Jiang
Female Food Foundry, by Lily Wolfe and Isadora Weinfeld
Blue Tusk, by John-Carlos Saponara
Imperium, by Susan Varghese and Lauren Burkett
Ultimate Tournament, by Dan Goodman and Alex Pickett
COVIDVision (A.I. Whoo LLC), by Matthew Saponaro
Alchemize Fightwear, by Maya Nazareth
Oh-So Cycle, by Blake Armentano
EQuip, by April Singleton, Isabelle Hughes, and Alvaro Buenano
UP Cycle, by Sierra RyanWallick
Nuvensus, by Mason Faust, Markos Zerefos, and Henry duPont
Green Room Surf, by Kiel McMenaman and Tate Nelson
PrintAble, by Richard Hayburn and Mandy Zicherman
Backyard Gig, by Shahroze Ali and Shaun Gupta
Read more about some of the Summer Founders and their specific ventures here.
About Horn Entrepreneurship
Horn Entrepreneurship serves as the creative engine for entrepreneurship education and advancement at the University of Delaware. Currently ranked among the best entrepreneurship programs in the US, Horn Entrepreneurship was built and is actively supported by successful entrepreneurs, empowering aspiring innovators as they pursue new ideas for a better world.