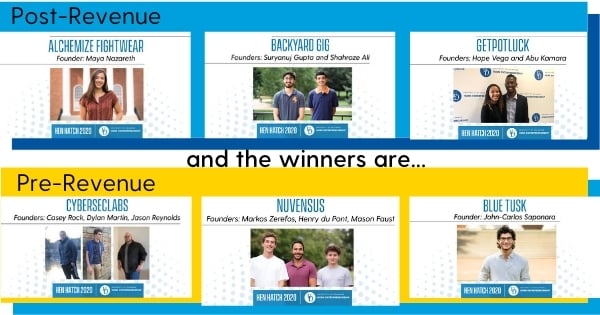 After multiple preliminary rounds and weeks of preparation leading up to the University of Delaware's premiere startup funding competition, Hen Hatch's final round took place virtually on Thursday, Dec. 3. The evening featured six competing finalist teams that have built their startups up while enrolled in undergraduate work in order to pitch before judges and attendees at Hen Hatch.
The judging panel was comprised of past UD alumni as well as accomplished investors and industry professionals who provided feedback and participated in Q&A sections which followed each teams' presentation. Judges included Lynn-Ann Gries, Principal, Gries Consulting; Carolyn Groobey, Investor/Advisor, FounderTrac; Rick Kahlbaugh, Chairman, President, and CEO, Fortegra; and David Warnock, CEO, Camden Partners.
Additionally, the event was sponsored by Placers, Devlin Law Firm LLC, and Belfint, Lyons, & Shuman. Senior Instructor of Entrepreneurship and Faculty Director of Venture Support Vince DiFelice served as the event host for the evening.
Hen Hatch attendees also had the opportunity to vote on two Audience Choice Awards which were announced at the start of the closing ceremony. Alchemize Fightwear was awarded the Audience Choice Award for Most Commercial Viability, and GetPotluck received the Audience Choice Award for Most Socially Responsible Venture. Both awardees receive $1000 in startup expenses through VentureOn.
The event concluded with the awarding of a $50,000-value prize pool which included cash, in-kind gifts, and support and resources for future competitions. To read more about each respective finalist startup, click here.
The following finalists and awardees compose teams from the Pre-Revenue Track:
Blue Tusk Biotechnology, by John-Carlos Saponara, CE21, was awarded $1,300.
CyberSecLabs, by Casey Rock, EG20, Dylan Martin, EG20, and Jason Reynolds, EG19, was awarded $2,050.
Nuvensus, by Markos Zerefos, BE21, Henry du Pont, BE22, and Mason Faust, BE22, was awarded $1,000 as well as 10 hours of professional accounting work from CPA firm Belfint, Lyons, and Shuman valued at $2,500.
The following finalists and awardees compose teams from the Post-Revenue Track:
Alchemize Fightwear, by Maya Nazareth, BE20, was awarded $11,033 as well as 10 hours of professional accounting work from Belfint, Lyons, and Shuman valued at $2,500.
Backyard Gig, by Suryanuj Gupta, EG23, and Shahroze Ali, EO22, was awarded $5,883 as well as 20 hours of business consultancy from Placers valued at $12,000.
GetPotluck, by Hope Vega, HS22, and Abu Kamara, AS20, was awarded $3,733 as well as 10 hours of legal work from Devlin Law Firm LLC valued at $5,000.
Additionally, all six finalist teams received up to $2,500 worth in support and funding towards travel expenses and other resources to continue cultivating their startups through their participation in 3rd party entrepreneurial competitions.
DiFelice concluded the event by urging attendees to stay in touch with the many promising teams of both finalists and semifinalists which have participated over the course of Hen Hatch preparations. Students derive long lasting connections and invaluable growth opportunities through their networking and engagement within the Horn ecosystem and community. A directory of Hen Hatch participants and each teams' contact information can be found here.
"Horn is about connections and about learning," DiFelice said. "Our students have learned a great deal, hopefully you've learned a great deal about them… The work that you support not only helps all of these students but it helps our community and the Delaware ecosystem."
About Horn Entrepreneurship
Horn Entrepreneurship serves as the creative engine for entrepreneurship education and advancement at the University of Delaware. Currently ranked among the best entrepreneurship programs in the US, Horn Entrepreneurship was built and is actively supported by successful entrepreneurs, empowering aspiring innovators as they pursue new ideas for a better world.