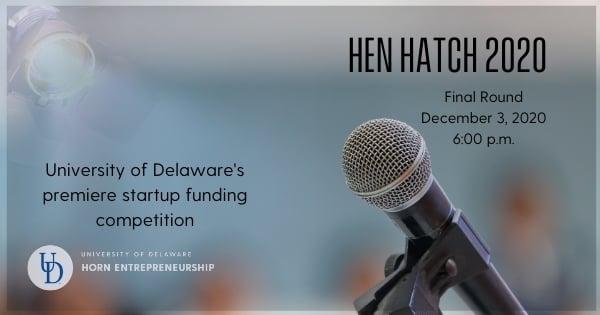 After a record number of team submissions, the finalists for Hen Hatch 2020, Horn Entrepreneurship's much-anticipated premier startup competition, have been announced. The following teams of finalists will include three teams from each of the Pre- and Post-Revenue tracks that will compete in the final round of the 2020 Hen Hatch competition that is set to take place virtually on Dec. 3 2020 from 6 to 8 p.m.
This final round will feature a total prize pool of $50,000. Teams will also receive in kind gifts which will range from resources and venture support to special mentorship and services. Horn Entrepreneurship will also continue to support Hen Hatch teams in their startup growth.
Additionally, the remaining 14 semifinal teams will have the opportunity to connect with, and learn from, the many market experts, entrepreneurs, investors, and others who will be in attendance at the Hen Hatch Finals. Attendees will also have the opportunity to meet with semifinal teams and others during arranged times.
Former Hen Hatch 2019 winner and founder of SolveABET Jonathan Wood reflected on the long term value of Hen Hatch as a launching point for students' entrepreneurial journey.
"Horn is, above all else, a community that offers students opportunities to build real startups and create real value," Wood said. "Horn provides mentorship, guidance, connections, and even funding to support students in a journey that they get to define, while connecting them with like-minded peers and role models to help or simply serve as support. Hen Hatch is one of the biggest programs Horn puts on for students, offering an opportunity for them to get serious funding."
The finalists in the Pre-Revenue Track are:
Blue Tusk Biotechnology, John-Carlos Saponara, BE21
Blue Tusk assists in data consultancy for the food processing and handling industry. The venture provides proactive data analytics and is able to find and diagnose productivity bottlenecks before they cause slowdowns or breakage of factory equipment.
CyberSecLabs, Casey Rock, EG20; Dylan Martin, EG20; Jason Reynolds, EG19
CyberSeclabs' mission is to provide hands-on training tools for students and cyber security professionals, while preparing them to combat the cyber threats of today and tomorrow.
Nuvensus, Markos Zerefos, BE21; Henry du Pont, BE22; Mason Faust, BE22
Nuvensus is a real estate investment startup that uses a proprietary data interpretation that can outperform commercial real estate investment benchmarks by utilizing various data providers and applying advanced modeling architectures.
The finalists in the Post-Revenue Track are:
Alchemize Fightwear, Maya Nazareth, BE20
A women's Mixed Martial Arts gear and apparel company, Alchemize Fightwear taps into an under-addressed market. A portion of all proceeds are also donated to trauma recovery and women's self defense initiatives.
Backyard Gig, Suryanuj Gupta, EG23 and Shahroze Ali, EO22
Backyard Gig is an online platform and two-sided marketplace where students can connect with community members, residents, or small businesses that need tasks, or gigs, completed.
Potluck, Hope Vega, HS22 and Abu Kamara, AS20
Potluck is an app that connects international food markets with college students, with a mission of helping students access food and remedy homesickness by providing them with an online delivery platform for ethnic grocers.
Horn invites all to attend the upcoming virtual culmination of the final round of the 2020 Hen Hatch competition on Dec. 3. Registration is now open.
About Horn Entrepreneurship
Horn Entrepreneurship serves as the creative engine for entrepreneurship education and advancement at the University of Delaware. Currently ranked among the best entrepreneurship programs in the US, Horn Entrepreneurship was built and is actively supported by successful entrepreneurs, empowering aspiring innovators as they pursue new ideas for a better world.