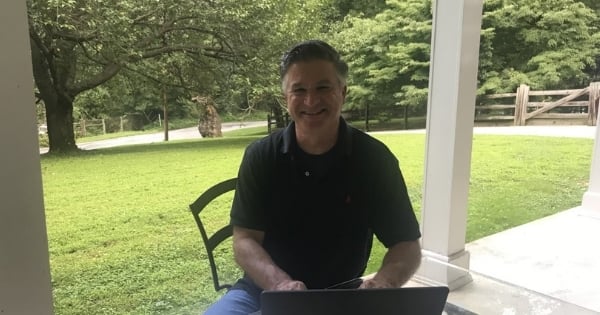 Covid-19 hasn't stopped senior instructor DiFelice, pictured above, from continuing to serve in important mentorship roles for Horn Entrepreneurship students from his own home.
As 2020 Hen Hatch finalists prepare for the busy days ahead leading up to the Hen Hatch competition's final round where everyone is invited to attend on Dec. 3. The Horn Entrepreneurship team had a chance to reflect on Hen Hatch with Horn community members who have been directly involved in the startup competition.
Senior Instructor of Entrepreneurship and Faculty Director of Venture Support, Vince DiFelice expressed how Hen Hatch has since expanded its opportunities for the many entrepreneurship students which he personally mentors. Additionally, his insight demonstrated the many ways in which he – like many other instructors and mentors at Horn – is deeply invested in student success. Hen Hatch in particular embodies this investment as the program serves as a critical launchpad for emerging startups and student entrepreneurs.
Moreover, as the recipient of the 2020 Excellence in Undergraduate Academic Advising & Mentorship Award, DiFelice continues to elevate students through rich opportunities that are unique to the Horn ecosystem and which he encourages all students to take advantage of.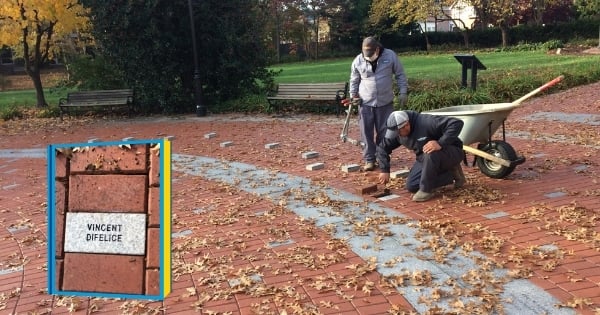 DiFelice was named for the 2020 Excellence in Undergraduate Academic Advising and Mentorship award. With this honor, a brick baring his name was placed in Mentor's Circle, near Memorial Hall, in November.
What is your personal motivation for students and their startups after their experience with Hen Hatch has ended?
"What drives me is that one day these startups may grow into companies. However, more importantly, these startups provide a powerful vehicle to accelerate a student's learning not only about entrepreneurship but about oneself."
"I understand how challenging it can be for a young person who wants to be an entrepreneur, who wants to change the world and find their place in it. I also understand how powerful entrepreneurship can be; it changes people's lives; it creates value and change on behalf of others; it helps folks find their place in the world; find happiness."
What personally drives you to help students find success and fulfillment in entrepreneurship?
"I launched my first startup when I was 19. It was a social venture. I didn't have help. I had to do it on my own. I spent the next 30 years launching additional ventures and invested in many more startups, for the most part without much help. It was a struggle. However, in the end, I saw the immense value I was able to create, all the lives changed for the better. I found my place in the world."
"All I want to do now is to help others do the same; help students create value, create change for the better, to find their place in the world. However, I don't want them to struggle the way I did. And fortunately, they do not have to. The market has evolved over the past 30 years. There are so many resources and opportunities for entrepreneurs. And Horn Entrepreneurship is one of the best. If all I do for the rest of my working days is to help students find their place in the world through entrepreneurship, I'll continue to be happy."
What makes the opportunities and resources provided by Horn, such as Hen Hatch, so valuable for student entrepreneurs? What's the greater picture?
"Traditionally students propose their future value to the market tomorrow through their degree. Through their startups, students work as entrepreneurs today with decision-makers in the markets where their interests reside. In this way, they demonstrate their present value today to potential employers who may hire them or potential startup co-founders who may partner with them. These decision-makers go from looking down at them as students to across the table at them as peers to up at them as entrepreneurs. Such experiences are unprecedented for a college student."
"Working as entrepreneurs, students discover more about their interests and the markets in which they fit. They find careers in these markets aligned with their interests, what they care about, and what makes them happy. They find their 'Interest-Market Fit.' I feel this is part of the unique value offered by UD and Horn Entrepreneurship."
Former Hen Hatch finalists also had the opportunity to offer insight into the program. Their personal takeaways are particularly relevant for current and future Hen Hatch finalists and semifinalists, as they have once been in their shoes.
ChaCha Hudson, 2019 Hen Hatch winner and founder of The SEWcial Café
What did you find most valuable about the opportunities and resources offered by Horn Entrepreneurship?
"Horn provides opportunities for students to explore the endless possibilities of entrepreneurship. Students are supported in experimenting with different business concepts and are encouraged to collaborate with other students with diverse interests and life experiences. Horn gives students permission to fail and fail again, understanding that all experiences are an opportunity to learn, grow, and innovate in their industry."
What role did these opportunities, such as competing in Hen Hatch, play in your entrepreneurial journey?
"I was honored to be in the 2019 Summer Founders cohort, a 2018 Hen Hatch semi-finalist, and 2019 finalist, and now a mentor to student entrepreneurs in these programs. Hen Hatch helped me strategize for the future of The SEWcial Cafè, pinpoint my target customer, and clearly express my business model while also providing capital to assist with my company's growth. Hen Hatch was one of the proudest moments of my career."
Suryansh Gupta, 2019 Hen Hatch winner, co-founder of 360VR Technology
What did you find most valuable about the opportunities and resources offered by Horn Entrepreneurship?
"The number of opportunities that are presented at Horn is unparalleled anywhere on campus and even across many colleges. Before I was involved with Horn, the opportunities for my major felt very siloed and pre-defined. Horn really exposes you to explore beyond your major or traditional career path, find what you are truly passionate about, and develop the key fundamental value-adding skills to succeed in virtually anything you want to pursue."
What role did these opportunities, such as competing in Hen Hatch, play in your entrepreneurial journey?
"I am proud to have been in the 2019 Summer Founders cohort, Hen Hatch, VentureOn, and the entrepreneurial studies minor. Through these programs, I have been able to explore and develop my interests; have access to incredible and supportive mentors; make amazing friends and connections; and learn the key fundamentals of entrepreneurship and how to create value. Horn has helped me to become the person I am today."
Horn invites all to attend the upcoming virtual culmination of the final round of the 2020 Hen Hatch competition on Dec. 3. Registration is now open.
About Horn Entrepreneurship
Horn Entrepreneurship serves as the creative engine for entrepreneurship education and advancement at the University of Delaware. Currently ranked among the best entrepreneurship programs in the US, Horn Entrepreneurship was built and is actively supported by successful entrepreneurs, empowering aspiring innovators as they pursue new ideas for a better world.