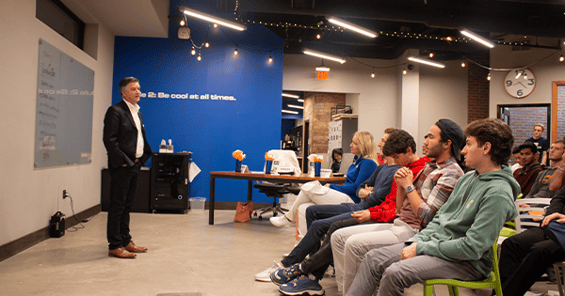 Editor's note: We had an outpouring of testimonials from students Vince has mentored. We couldn't include all of them in the article, so we listed them at the bottom. Thanks to all who felt moved to participate.
Vince DiFelice, senior instructor of entrepreneurship and faculty director of venture support, was awarded the 2020 Excellence in Undergraduate Academic Advising & Mentoring Award from University of Delaware Faculty Senate Committee on Student and Faculty Honors. This Committee accepts nominations from students, alumni, faculty and staff and selects one faculty member from across the University recognizing their outstanding work in advisement and mentoring students.
Vince's office in the corner of the Venture Development Center's Co-Lab is often crowded with students who stop by to chat – many times late into the night. At his desk, with his Panera Bread meal, coffee cup, piles of notebooks and whiteboards full of ideas, Vince counsels students on their projects or whatever is on their minds.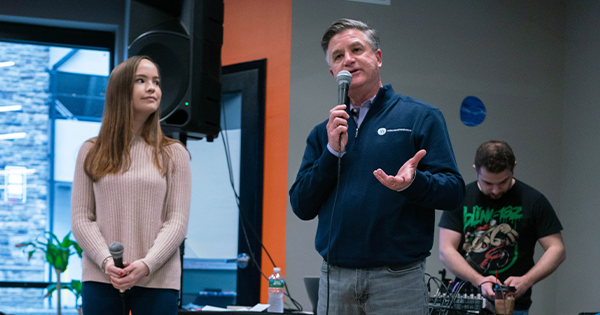 Kelly Andreason and Vince at the Out of This World Spring Pitch Party 2019
Vince is "a professor who I not only learned a lot from, but one that I can look up to as a mentor," said Kerry Schwartz, class of 2019. "[He] sparked an interest in me to want to be an entrepreneur and continue an innovative path in life."
Tony Denney, class of 2023, said Vince "helped me in so many ways for my own development and growth."
According to Vince, "mentorship is about coaching, guiding and teaching."
During his tenure at University of Delaware, Vince has helped to grow and add value to Horn Entrepreneurship academic courses and co-curricular programs. The student startups and aspiring UD entrepreneurs with whom he works have collectively raised more than 10 million in grants and follow-on funding and competed in or won over 20 national startup competitions from New England to the Southwest to the Silicon Valley. He is a part of the team at Horn Entrepreneurship that facilitated University of Delaware's ranking as a top school for entrepreneurship by the Princeton Review.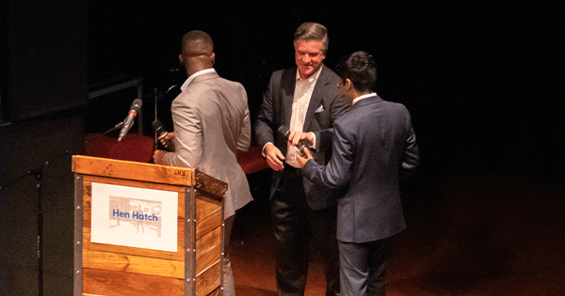 Vince with 360VR founders James Massaquoi and Sury Gupta at the Hen Hatch Competition in May 2019
Prior to joining University of Delaware Horn Entrepreneurship in 2016, Vince had a distinguished career as an entrepreneur creating value and social change. He launched his first startup (a social venture) as an undergraduate and spent the next 9 years launching and growing 3 additional social ventures; one of which grew into a $1 billion social impact investment fund. After completing his graduate degree at the University of Pennsylvania, Vince helped to launch a total of 30 additional startups, this time as a venture capitalist. Of these 30 companies, 3 issued an IPO and 3 were acquired. Thereafter, he returned to entrepreneurship and over 10 years launched several more startups; one of which became an industry-leading cybersecurity company; which he helped to lead, grow and exit.
After a career benefiting from entrepreneurship, he wanted to help others learn how to do the same. Now at UD, he champions nascent student startups and teaches multiple courses in entrepreneurship. "Arriving at Horn, my goal was simply to help students understand how entrepreneurship creates value and social change. Since then, I have learned startups are incredibly valuable to students. A startup provides a powerful vehicle to accelerate a student's learning; not only about entrepreneurship and business but about oneself; where one fits into the world, what they care about, what interests them, their passions, what makes them happy."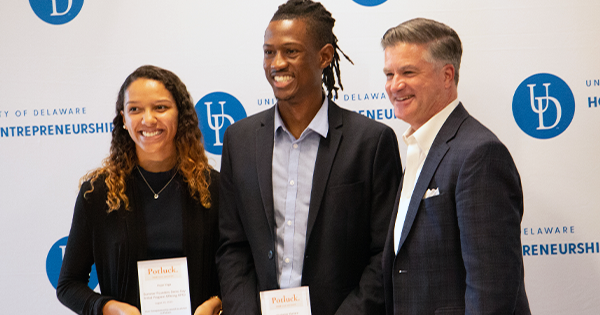 Vince with student founders, Hope Vega and Abu Kamara at Summer Founders Demo Day August 2019
"When a student goes out into the world as an entrepreneur, the market shifts from looking down at them as a student, to looking across the table at them as a peer, to looking up at them as an entrepreneur. Traditionally students propose their future value to the market through their degree. In an unprecedented way, student entrepreneurs demonstrate their present value to the market through their startup. This leads to the search and discovery of personal interests and the markets in which these interests fit. These markets are not only where jobs are found and where opportunities for startups are found; but markets with jobs and startups aligned with a student's interests. These are the initial steps on the path to demonstrating one's present value and finding a life aligned with what one cares about; what makes one happy."
Since coming to Horn, Vince has helped many students, as entrepreneurs, demonstrate their present value to the market through their startup and find this path. For many students this path has led to a career for others this path has led to a startup; for all; aligned with their interests. These students become entrepreneurs creating value and social change and find themselves that much closer to finding a life aligned with what they care about, with what interests them; what makes them happy.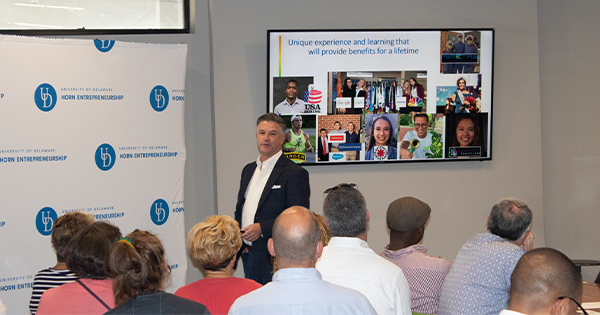 Vince speaking at Summer Founders Demo Day August 2019
The UD Faculty Senate Committee on Student and Faculty Honors accepts nominations and selects the recipients of three University-wide faculty awards every year: Excellence in Teaching, Excellence in Advising & Mentoring, and the Francis Alison Faculty Award. Vince will be recognized at September's Faculty Senate meeting, and a brick bearing Vince's name will be placed in Mentors' Circle adjacent to Memorial Hall.
More love for Vince from our students & alumni:
"I met Vince before coming to UD and he was the ultimate reason why I chose Horn when he so graciously welcomed me into the VDC along with the other faculty. He has selflessly dedicated himself to the service of others throughout his entire life and all of the students he has impacted will forever be grateful for his visionary work and gracious mentorship."
- Markos Zerefos, class of 2022
"When our small non-profit began to work at the Horn under Vince's tutelage, he didn't only advise, he questioned, he listened, he mentored, and he empathized. Now, three years separated from my time at UD, and three years into my career as an Army officer, I am not exaggerating when I say that not a single day goes by that I don't reflect on a value or lesson that Vince taught me. It was his integrity filled character, and example of patience mixed with motivation, that still influences how I lead soldiers. His reach is beyond the business world, and has impacted me in ways I can never express enough thanks for. Above all, it was his humility that left the largest impact on me. He always considered others more significant than himself."
- Micah Petersen, class of 2017
"Vince is the man. His guidance and advice is always sincere, thorough and thought provoking. Vince knows how to keep it real. He'll tell you what you need to hear, not what you want to hear. I wouldn't be the person I am today without his help and guidance. I'm blessed that the Horn Program was able to find people as talented and hardworking as Vince to surround us with. It made a world of difference."
- Farhad Baqi, class of 2017
"Vince is an incredible mentor and the adopted VDC Dad for entrepreneurship students. He is always in his corner office to lend an ear (even at 10pm on a Monday night) and always says hi and offers a smile whenever he sees you. He is incredibly supportive and wants his students to succeed in their endeavors, even if it means giving them tough love. If it weren't for Vince and his dedication, I know students wouldn't have the same level of success and the VDC just wouldn't feel the same without him."
- Sierra RyanWallick, class of 2022
"Vince showed that he was truly dedicated to helping students and I personally appreciate him for the way he went out of his way to connect with me on a personal level. He shows that at the end of the day he truly cares about student's personal success just as much as their professional success."
- Jordan Gonzalez, class of 2017
"Vince sends this message [from Winston Churchill], 'Success is not final, Failure is not fatal: it is the courage to continue that counts,' to every student he can. As an entrepreneur you are almost guaranteed to run into walls. You are also subject to some wins. Regardless of the circumstances, Vince has motivated me to always move forward and focus on the problem, not the solution. Vince has led me to see that, even in these difficult times, problems can be opportunities. My venture simply wouldn't be where it is without him. "
- Abu Kamara, class of 2020
"Vince is an inspiring person who I am grateful to call both a mentor and a friend. He is a soundboard and gives great advice when I'm facing a challenge with my startup. I look up to him in every way possible and wouldn't be the aspiring entrepreneur I am today if it weren't for Vince."
- Amanda Monachelli, class of 2020
"Vince has been instrumental in creating an impactful college experience. Every day I watch him put UD's students before himself, always reaching out, saying hello to new people, and checking in with everyone at the VDC. Regardless of how I'm feeling on a particular day, I'm guaranteed to feel a little bit better after running into Vince. I've never met someone who so effortlessly demonstrates a real interest in the success of his students and mentees. In his class, he always pushed me to give it my all every week, hammering home that you can only truly learn by doing. With my partners in 360VR Technology, we would meet with Vince regularly, and he would always bring a fresh perspective - drawing on his own experiences as an entrepreneur - to encourage us to find and deliver real value. Vince doesn't lecture, he doesn't talk down, he never questions your perspective - rather he treats his mentees like peers who are capable of anything they set their mind to. If you give Vince an opportunity to be a part of your college career, he will always push you to do more - to find your own passion - to make as much of an impact on the world as you want to. My time at UD would not have been the same without Vince DiFelice. I know that wherever my career and life take me, I'll always carry Vince's lessons and enthusiasm with me."
- Adam Zelinski, class of 2020
"Vince's enthusiasm to advise and mentor students turn their innovative ideas into functioning startups is unmatched! Vince's experience paired with the courses he teaches give real world examples of do's and don'ts that if matched with student work ethic, will improve the likelihood of a successful startup. It could be 11:00pm on a Tuesday and he would be working in his office but if I or another student comes by with a quick question, it turns into a 15-60 minute long conversation. His shared experiences as an entrepreneur and life lessons always hit home and why this award is great for Vince."
- Kenny Eck, class of 2017 (MS, class of 2018)
"I have had a class with Vince every year of my college career. During that time he has constantly pushed me to try new things and put myself out there. He has taught me literally everything I know about entrepreneurship and showed me how to use compassion and empathy to help others. He has gone above and beyond for me, no matter what I have asked of him, and I cannot imagine what my life would be without him, and all he has taught me. Vince will forever be one of my biggest idols and my favorite professor. I can never thank him enough for all he has done for me and no one deserves this award more than him"
- James Massaquoi, class of 2020
"You taught me and my fellow teammates a great deal about entrepreneurship during our time at Horn, and for that I'm very grateful! Your teaching and mentorship, along with the lessons we learned, are invaluable."
- Elizabeth Soulas, class of 2016
About Horn Entrepreneurship
Horn Entrepreneurship serves as the creative engine for entrepreneurship education and advancement at the University of Delaware. Currently ranked among the best entrepreneurship programs in the US, Horn Entrepreneurship was built and is actively supported by successful entrepreneurs, empowering aspiring innovators as they pursue new ideas for a better world.