University of Delaware Senior Sierra RyanWallick is what many would call a serial entrepreneur. Finding a unique passion to help others through the startup world early, RyanWallick launched her first venture at the fresh age of 10 years old and continues to make an impact today.
Sierra's FURst Startup
A fervent animal lover, she started what is now the non-profit Autumnleaf Fundraisers, selling handmade items at community events to benefit organizations that shelter and care for abandoned animals. The social venture has since gone on to raise over $100,000, earn 3rd place in the 2017 Diamond Challenge Competition, and most recently garner RyanWallick a prestigious Diana Award for community impact.
Venturing for Good
RyanWallick took the next step in her extensive entrepreneurial journey in 2018 when she began school at UD, finding herself engaged in a plethora of programs within the Horn Entrepreneurship community. Participating in groups like VentureOn, Delaware Innovation Fellows(DIF) and E-club only furthered her interest in entrepreneurship, with an increased focus on social impact ventures as Director of Social Entrepreneurship Dr. Stephanie Raible came to the University of Delaware.
Heavily influenced by the initiative's visits to other cities' social entrepreneurship ecosystems and a month in Germany with the first ever Social Entrepreneurship study abroad trip, RyanWallick joined forces with fellow Blue Hen Michelle Yatvitskiy to create meaningful impact through zero-waste fashion startup UP Cycle Design.
UP Cycle Design
Initially named just UP Cycle, they co founded the social enterprise to create and sell handmade products made from plastic bags and discarded fabric from textile factories. With fashion and design major Yatvitskiy handling the fashion aspects and RyanWallick at the helm for the entrepreneurial parts of the business, the team joined the 2020 cohort of Horn Entrepreneurship's Summer Founders program.
"My dream has been to work on one of my projects full time, and so to take a summer where I got to work on something that I was doing full time was a dream come true for me," shared RyanWallick. "I think I probably learned the most about myself and about my company through summer founders. I'm not gonna lie, it was really hard to work full time on something. I learned so much about standing up for myself and my company, standing up for our company values."
Though the pair faced plenty of obstacles and setbacks over the course of the 3-month pre-accelerator, they left the program with a better business model and 20 to 30 mentors ready to help them if they needed guidance.
A little over a year after they entered Summer Founders, their progress can be clearly seen by anyone observing them through a number of accolades. Among those accolades were being named one of Technical.ly's 2021 RealList Startups, a list of noteworthy startups to watch, and placing 2nd in the first rendition of UD Maker Gym's Make it Happen Challenge, a biannual competition that supports innovative design projects by UD students that is currently accepting applications for its next set of awardees.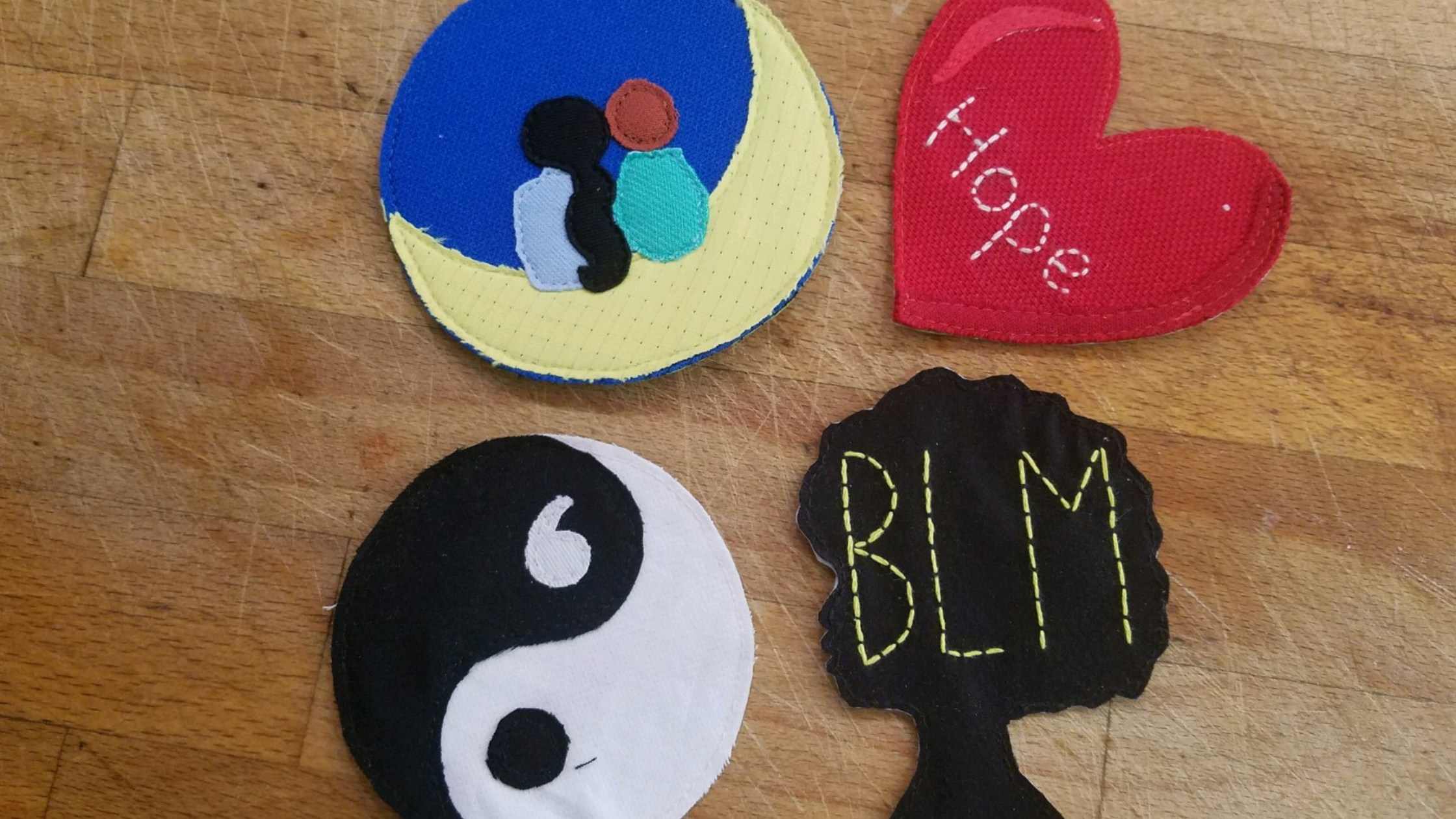 So far they have released four products since their first in February 2021, each being a sticker with a unique meaning and cause behind it. Pictured above are the Essential Heart sticker that supports COVID recovery efforts, the Black Lives Matter sticker that supports the BLM movement, the Balance of Life sticker that supports a mental health nonprofit, and the Unity to the Moon and Back sticker that supports Big Brothers, Big Sisters of Delaware. While they only sell cloth stickers at the moment, the startup has a number of new upcycled products in the works. Connecting with Alchemize Fightwear founder Maya Nazareth, they reached an agreement to develop new items using the business' discarded gis, starting with makeup or toiletry bags and hopefully progressing to fightwear-related items like gear bags. They are also working on creating an inexpensive reusable bag line, potentially for places like Goodwill or other Delaware companies or nonprofits adapting to the January 1st plastic bag ban.
Partnerships with Impact
Aside from their product offerings, UP Cycle Design has continually found ways to collaborate and grow by forming partnerships with a multitude of unique organizations. Starting last November, UPCycle Design joined forces with The Warehouse in Wilmington to create Level UP, a community program that teaches under-resourced youth about design sustainability, entrepreneurship, and social issues via a carefully designed curriculum.
Through the 8-week program participants choose a nonprofit organization to support, create a design for an upcycled cloth sticker based on that organization, design a marketing strategy to share their design, and launch a one month long campaign to reach their fundraising goal. There have been two cohorts of 10 with 40 students who have graduated from the program so far, and many more on the way as the program gains more publicity and grant funding.
Another collaborator was found in Fulphil, a non-profit social entrepreneurship curriculum based in Philadelphia recognized by Forbes for their efforts. As they cooperate to make both programs more educational and valuable experiences, UP Cycle Design will work to create and sell a new upcycled cloth sticker to support their organization.
Growing the Team
With the addition of a blog page, social media, and a vlog to their workload on top of finishing school and RyanWallick's two part time jobs and multiple mentorship programs, UP Cycle Design's team was forced to grow accordingly. Starting as a pair of co-founders, RyanWallick and Yatvitskiy have since added five new members to their team. Joined by dedicated interns Jonna Anello, Max Sewell, Todd Petrella, Öykü Girmen, and Riciah Hardy, they now work as a coordinated team to move the business forward.
"It's really interesting to go from doing everything ourselves to delegating tasks out so that we can focus on the core of our company, things like having partnership meetings, expanding and figuring out how to move all of our projects forward," RyanWallick said. "It's been a learning curve for me to start to delegate and not just do everything myself. We have so much happening, so many tasks that we really do need more people on the team. We've been so thankful to have such a great team who wants to help and is really passionate about what we're doing and are basically volunteering their time as unpaid interns to help us out."
With a team that is constantly growing, an astonishing amount of projects and partnerships, and a drive to create change unlike many others, RyanWallick and UP Cycle Design seem sure to be making waves in the coming years.
About Horn Entrepreneurship
Horn Entrepreneurship serves as the creative engine for entrepreneurship education and advancement at the University of Delaware. Currently ranked among the best entrepreneurship programs in the US, Horn Entrepreneurship was built and is actively supported by successful entrepreneurs, empowering aspiring innovators as they pursue new ideas for a better world.