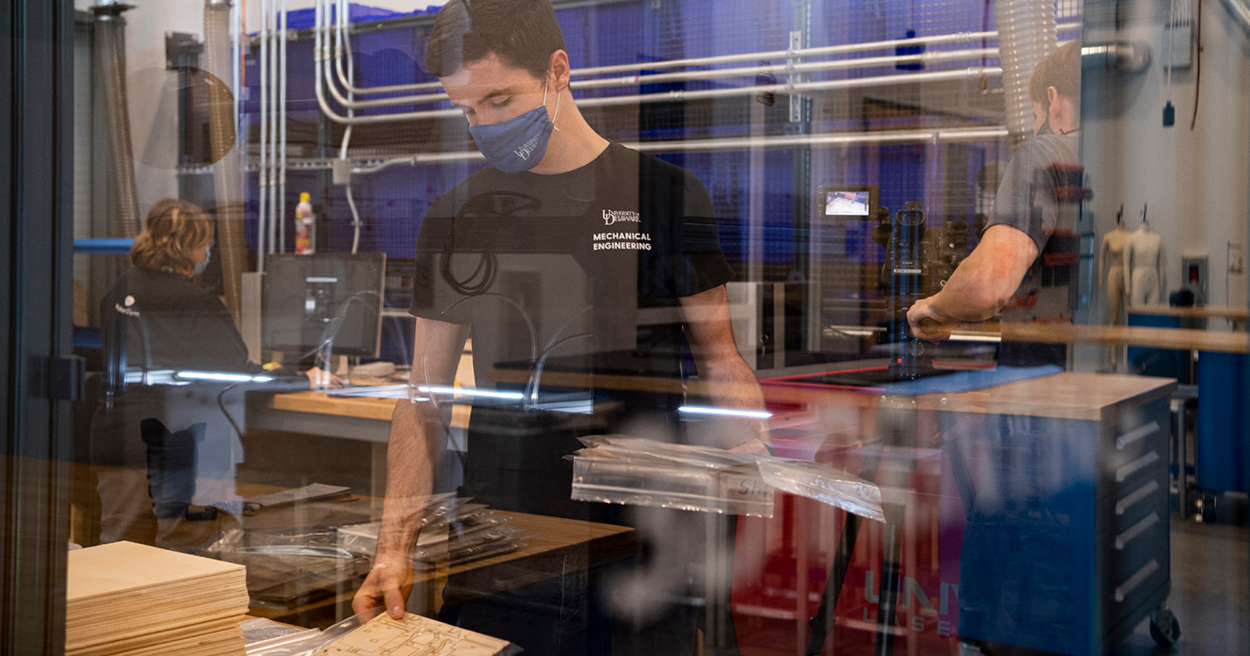 University of Delaware student teams were awarded more than $5000 to use in design, prototyping and fabrication of their projects.

The inaugural Spring 2021 Make It Happen Challenge showcased students from across the University with one thing in common: a desire to bring their ideas to life. The Challenge, presented by UD MakerGym and Horn Entrepreneurship, is a University-wide, semester-long student design competition that provides grants for making and innovation, targeting ideation, proof of concept, prototyping or small batch production. In addition to financial support, students receive training, tools, materials and mentoring.

Three teams won award packages, which include a monetary grant for supplies and materials, hands-on training and design consultation:

Hydra Cultivation Network

Funding Award: $1624
Sophia Angeletakis, HS22, and Metehan Cebeci, AS22
Developing systems, methods and a distributed network of cultivators for supplying dense, high quality cultures of research organisms.
Project Goal: Produce and distribute 15 tank systems and viable Hydra colonies to microbiology enthusiasts [influencers] for evaluation and network seeding.

UP Cycle Design

Funding Award: $3248
Sierra RyanWallick, BE22, Michelle Yatvitskiy, AS22
UP Cycle Design: Creating affordable, upcycled products with a transparent process, while supporting community causes.
Project Goal: The production line for our cause-themed cloth stickers. Reusable bag partnership with Goodwill DE. Upcycled bag partnership with Alchemize Fightwear.

Coral Connectors

Funding Award: $415
Samuel Koeck, EO22
Improving coral resilience by enhancing the structural complexity of reef systems.
Project Goal: Design and create a module to mimic the structural complexity of reef systems.


Team submitted proposals outlining their project's purpose, scope and funding requirements. Six teams were selected to give 5-minute pitches followed by 5 minutes of Q&A to an expert panel of judges, including Mark Bendett, President, Northstar Strategic Consulting; Robert Herrera, Co-Founder, The Mill; John McDonald, CEO, Semi-Handmade; Brian Pryor, Vice President, Lightforce at DJO; Alexis Slupe, Intrapreneur, W.L. Gore; and Susan Springsteen, Co-Founder, H2O Connected. Teams and their projects were evaluated for Feasibility, Cost Effectiveness, Innovativeness and Impact.

The Make It Happen Challenge will be a biannual competition hosted at the start of the spring and fall semesters. For maker-related updates, reservations and virtual tour, visit the MakerGym website.

About the MakerGym

The MakerGym is an interdisciplinary design and fabrication studio, focused on student empowerment and collaboration. This creative space offers 3D Printing, Laser Cutting, Computer Numerical Control (CNC) Router and Mill, Hand Tools, Work Benches, Sewing Machines, Water Jet and Wood Shop which complement and provide depth to existing making capabilities on campus in order to support education, research, and personal growth. All students have access to our resources including the necessary training and design consultation to help them turn their ideas into action. This is everyone's sandbox.

About Horn Entrepreneurship

Horn Entrepreneurship serves as the creative engine for entrepreneurship education and advancement at the University of Delaware. Currently ranked among the best entrepreneurship programs in the US, Horn Entrepreneurship was built and is actively supported by successful entrepreneurs, empowering aspiring innovators as they pursue new ideas for a better world.