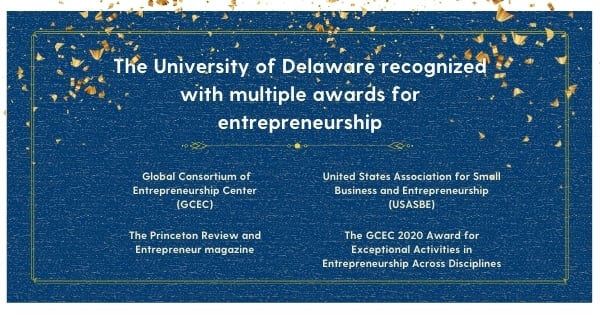 The University of Delaware and entrepreneurship education are rapidly becoming synonymous. Three accolades were recently bestowed upon Horn Entrepreneurship, bolstering its reputation nationally and internationally as a thought leader in entrepreneurship education.
UD's Delaware Innovation Fellows receives top award from Global Entrepreneurship Association
At its annual conference in October 2020, the Global Consortium of Entrepreneurship Center (GCEC) awarded Horn Entrepreneurship the 2020 Award for Exceptional Activities in Entrepreneurship Across Disciplines for the Delaware Innovation Fellows (DIF) program. This award is one of the most prestigious accolades in higher education entrepreneurship.
To an audience of hundreds of entrepreneurship school and center leaders, GCEC Award Chair and Managing Director of the Dingman Center for Entrepreneurship at the University of Maryland, Holly DeArmond, praised DIF as "an honors-like program for students who excel in challenging the status quo (rather than those who excel at academics)."
DIF is an affinity program for creative, innovative, and entrepreneurial students from any undergraduate major. Currently, there are 130 students from 6 colleges and 47 majors participating in the program.
GCEC is the world's leading organization dedicated to emerging topics in university-based entrepreneurship. "To be recognized by our peer entrepreneurship centers around the world for our work on DIF is like winning an Emmy," Horn Entrepreneurship Founding Director Dan Freeman said. "It is an honor."
Social Entrepreneurship Initiative recognized for excellence by National Entrepreneurship Association
The University of Delaware's Social Entrepreneurship Initiative (SEI), a collaboration between the Department of Human Development and Family Sciences ( under the College of Education and Human Development) and Horn Entrepreneurship, was a top-four finalist for the United States Association for Small Business and Entrepreneurship (USASBE) Model Emerging Program Award.
USASBE is the only independent academic organization devoted to entrepreneurship education. It is an inclusive community advancing entrepreneurship education through bold teaching, scholarship, and practice.
The mission of SEI is to serve as an interdisciplinary hub for those with an interest and passion for social entrepreneurship through curricular and co-curricular offerings. In its first two years, SEI achieved the following:
Attracted students from across all ten colleges of the University.
Introduced students to more than 70 speakers from multiple states and three countries.
Welcomed several local social entrepreneurs in residence (SEiRs) to its campus (all women and/or people of color).
Offered curricular and co-curricular opportunities on- and off-campus (e.g., regional study tours, study abroad).
Increased academic course enrollments in social entrepreneurship by 175% in 2020 compared to 2018.
Expanded to three academic program options housed within four different units across the university.
Co-created programming with the close advisement of students, allowing for the unique and innovative options that students are seeking.
According to Dr. Stephanie Raible, assistant professor and Director of Social Entrepreneurship, the competition was fierce. "We were the only USASBE Model Emerging Program finalist that was not a whole entrepreneurship center with a six-figure budget and multiple staff dedicated to the programming," Raible said. "That speaks volumes about how innovative and resourceful we have been with SEI – and that is our win right there!"
The USASBE Award Committee described SEI as "impressive" and encouraged its continued growth and development as a leading national model for social entrepreneurship education.
Princeton Review and Entrepreneur magazine name UD a top school for undergraduate entrepreneurship studies
University of Delaware's Horn Entrepreneurship program is one of the best in the nation, according to The Princeton Review and Entrepreneur magazine. The magazine's joint ranking placed UD in its 2021 list of the top 50 undergraduate schools for entrepreneurial studies.
This marks the University's second appearance on the list, celebrating its standing among the top 10% of such programs. Nationwide, more than 500 colleges and universities offer entrepreneurship programs, but few empower budding entrepreneurs the way Horn does. Horn began in 2012 and has grown exponentially every year since, impacting thousands annually.
The GCEC 2020 Award for Exceptional Activities in Entrepreneurship Across Disciplines, USASBE 2021 Model Emerging Program Award finalist place, and a top ranking by The Princeton Review & Entrepreneur magazine are the latest recognitions for Horn Entrepreneurship. These honors add to the growing list of accolades representing all aspects of Horn, a list which includes the GCEC Excellence in Specialty Entrepreneurship Education Finalist for Youth award (2019), a top-50 school for entrepreneurship ranking by The Princeton Review and Entrepreneur magazine (2020), and the U.S. Small Business Association (SBA) Growth Accelerator Fund Award (2020).
About Horn Entrepreneurship
Horn Entrepreneurship serves as the creative engine for entrepreneurship education and advancement at the University of Delaware. Currently ranked among the best entrepreneurship programs in the US, Horn Entrepreneurship was built and is actively supported by successful entrepreneurs, empowering aspiring innovators as they pursue new ideas for a better world.