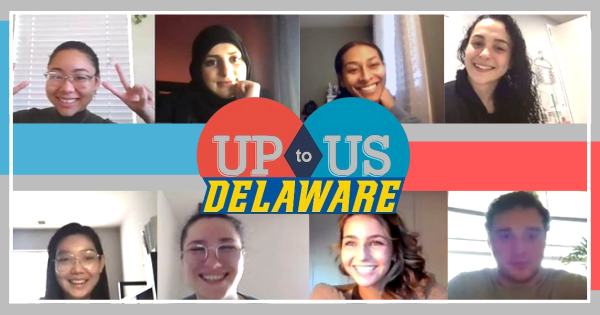 Editor's note: this is a guest post by Qingqing Zhang, April Singleton, Collin Mattia, Derui Huang, Emilie Delaye, and Dr. Stephanie Raible.
Students in Community Empowerment through Social Entrepreneurship (HDFS490), taught by Assistant Professor Dr. Stephanie Raible, are competing with 34 other colleges and universities from across the country in the Up to Us Campus Competition organized by Net Impact. The University of Delaware Up to Us team is charged with creating and managing a non-partisan campus awareness campaign on the current state of the national debt.
The UD Up to Us team, a group of 14 undergraduate students led by freshman entrepreneurship major Emilie Delaye, comes from a variety of majors and students in different stages of their college career. But they are all united through their common registration in the entrepreneurship elective.
What is Up to Us and how did 14 students get involved?
Qingqing Zhang: Up to Us is committed to building a sustainable economic and fiscal future for the next generation of the United States. The unique plan provides a platform for leaders of emerging countries to promote cooperative dialogue on the country's most serious challenges. The fourteen of us students realized the importance of financial and economic issues through Up to Us, and we built solution-oriented, pragmatic, and inclusive activities to raise awareness within the UD community.
How does Up to Us relate to social entrepreneurship?
April Singleton: Up to Us asks us to organize ourselves, manage limited resources, and come up with creative solutions to maximize our impact!
Emilie Delaye: Up to Us is united around the concept of empowering anyone and everyone we come into contact with to educate themselves and speak out on an important issue such as National Debt. The Campaign Competition is a real life application of the core ideas of what social entrepreneurship is.
Why do you think fiscal policy matters and why do you want others to care?
Collin Mattia: Fiscal Policy matters should be something that we are concerned about because it affects everyone. Bad fiscal policy has been too commonplace in America and has led to our current national debt crisis. As it stands, the national debt is currently sitting at $28 trillion, and shows no signs of slowing down. Just like any other kind of debt, the national debt is accumulating interest and is currently demanding a $378 billion portion of our budget to just pay down the interest on the debt. If our government has to pay down interest on the national debt, they will be forced to spend less on more important ventures, such as education, infrastructure, research and development, or national defense. If that was not bad enough, according to the Nonpartisan Congressional Budget Office, the current trajectory of the national debt will decrease a 4-person families income by an average of $2,000 in 2027, and continue to grow to $16,000 in 2047. In addition, the rising national debt will also have a major impact on an individual's ability to buy a house. As interest rates skyrocket because of the national debt, so will the prices of large assets, such as homes. These worrying statistics are a direct outcome of the rising national debt, which in turn, is a direct result of bad fiscal policy.
Qingqing Zhang: Furthermore, as an international student, I have been curious about how the U.S. government (federal, state, and local governments) spend money and make decisions. Fiscal policy both connects and affects each citizen through their tax contributions and the centralized services they receive.
What surprised you the most as you learned more about fiscal policy?
Collin Mattia: I was surprised at the sheer impact fiscal policy can have on our everyday lives. It is something that we rarely think about or pay any attention to, but it surely something that can and will impact us.
Qingqing Zhang: Yes, fiscal policy affects aggregate demand by changing government spending and taxes. These factors will affect our employment and income, which, in turn, will affect our daily expenditures and investments.
What has been your biggest takeaway competing in Up to Us?
Qingqing Zhang: Through Up to Us's Campus Competition, I raised my awareness of the nature and urgency of the major financial challenges that threaten the future of the United States.
Collin Mattia: My biggest takeaway from competing in Up to Us has been the challenge to get people on board with an idea or contribute to a cause. The national debt crisis seems like a big issue and something that needs to be addressed. However, it was often difficult to get people to engage with us in their spare time. Taking a step back, this should not be surprising. How many times a year are you asked to sign a petition, or to donate you time and money to a particular cause? And of those handful of times, how many times did you respectfully decline? It can be difficult to get people to give up their free time, especially busy college students, to get involved with a particular cause.
What do you hope to gain from engaging with the UD Community?
Derui Huang: I hope we will be leading more people in the UD community to find information about the national debt crisis.
Qingqing Zhang: I hope we have strived to unite people in the UD community to find and implement wise long-term solutions to achieve real results.
Collin Mattia: I hope we can show them that this is an issue that will impact our generation in a massive way and encourage them to get involved as well.
What requirements posed the largest challenge?
Collin Mattia: The requirement that posed the biggest challenge was getting people to sign our petition. A benchmark for the Up to Us challenge is to get 150 people to sign a petition that will be delivered to elected officials to let them know that the national debt is something that we care about and needs to be addressed. We thought it would be easy enough because we all have extensive networks, both from our hometowns and from being involved in the UD community in the past. We have 14 students, which means 14 networks, that we can reach out to for support. Not to mention our social media account. However, we initially had a problem getting people to sign this petition. Finally, we all made a commitment to reach deeper into our networks and really make a concerted effort to crush the 150 signature minimum. After being stuck at roughly 50 signatures for weeks, we jumped up to over 300 in a matter of days.
What key takeaways do students learn by participating in programs like Up to Us?
April Singleton: We learn the challenges of community organizing like managing responsibilities, keeping the group motivated, and engaging community members that don't know much about the issues. We also learn a lot of positive lessons like how to be a better leader, appreciating the small wins, and learning how to be more creative!
Emilie Delaye: I believe that students learn the true meaning of what community organizing is. One thing we encounter a lot of failure. Instead of looking at failure through the lens in which we are innately taught, we have adjusted this perspective to see it as an opportunity to grow and learn. With this new mindset, we are resilient to the inevitable challenges that come our way.
What is the most memorable experience you've had competing in Up to Us?
April Singleton: I hope I learn what it's like to really be in this world of community organizing, as well as all the different strategies I can use to make a successful campaign.
Collin Mattia: The most memorable experience I have had competing in Up to Us is having the opportunity to work with a variety of people who I otherwise would have never met.
What do you hope to accomplish through your participation?
Qingqing Zhang: I'm glad to get to know every amazing person in our team! Through mutual support and incentives, we have done our best to take action to speed up the response to these challenges. Through my participation, I hope to accomplish improving people's lives and create a sustainable and fair society.
How you can help the team:
About Horn Entrepreneurship
Horn Entrepreneurship serves as the creative engine for entrepreneurship education and advancement at the University of Delaware. Currently ranked among the best entrepreneurship programs in the US, Horn Entrepreneurship was built and is actively supported by successful entrepreneurs, empowering aspiring innovators as they pursue new ideas for a better world.