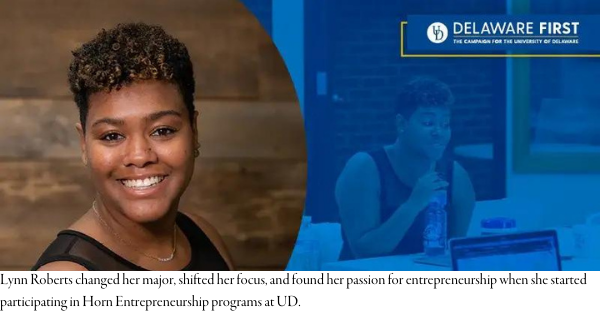 Article by Christine E. Serio-Shively | Photos by Lindsey Mix | Photo illustration by Heidi McDonough
Once a molecular biology major, Lynn Roberts' academic journey and interests took a drastic turn from science, technology, engineering and math (STEM) when she delved deeper into the University of Delaware's Horn Entrepreneurship.
"Starting in Horn was the biggest life game changer for me. It shifted my mindset and opened me up to a new way of thinking," said Roberts, who is now a junior majoring in global enterprise management with a minor in entrepreneurship and biology. "It was a big power shift in a way, helping me find freedom in what and how I work on projects."
Read the rest of the story on UDaily

About Horn Entrepreneurship
Horn Entrepreneurship serves as the creative engine for entrepreneurship education and advancement at the University of Delaware. Currently ranked among the best entrepreneurship programs in the US, Horn Entrepreneurship was built and is actively supported by successful entrepreneurs, empowering aspiring innovators as they pursue new ideas for a better world.