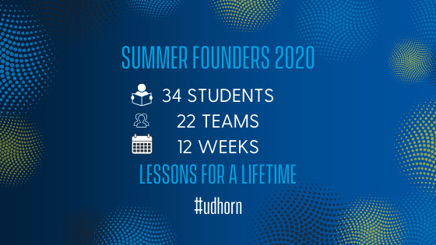 University of Delaware Horn Entrepreneurship welcomes its largest cohort of students to Summer Founders 2020. Twenty-two startup teams totaling 34 students are participating in the 12-week virtual pre-accelerator in which they receive mentorship, education and resources to develop and advance their concepts.
Vince DiFelice, senior instructor of entrepreneurship and faculty director of venture support, leads the program.
"The purpose of Summer Founders is to offer our most meritorious students the best possible opportunity for advanced experiential learning, continued co-curricular enrichment and external engagement," he said.
The startups participating in Summer Founders 2020 include:
Alchemize Fightwear – Maya Nazareth, Alfred Lerner College of Business and Economics, Class of 2020
Alchemize Fightwear is a Women's Mixed Martial Arts (MMA) and Brazilian Jiu Jitsu (BJJ) Gear and Apparel company.
Apprentice Marketers – Tom Rodgers, the Lerner College, Class of 2020
Apprentice Marketers offers innovative marketing services done by students, with the guidance of marketing professionals, to businesses that are targeting Generation Z with the use of TiKTok.
Backyard Gig – Shaun Gupta, College of Engineering (COE), Class of 2023, and Shahroze Ali, College of Earth, Ocean and Environment (CEOE), Class of 2022
This platform connects University of Delaware students who want to earn money with residents in the greater Newark area who have tasks or projects they want completed. The platform allows flexible scheduling for the students and project-based hiring for the resident.
Blue Tusk Biotechnology, LLC – John-Carlos Saponara, COE, Class of 2021
The aim of this venture is to reduce the number of inefficient tasks a person has to perform daily when interacting with their technology. There are a lot of features hidden in the background of programs that people don't have the time or patience to learn. Blue Tusk Biotechnology wants to maximize the important features that all programs have to offer users.
BrightSide Network (BSN) – Alvaro Buenano, College of Arts and Sciences (CAS), Class of 2022
BSN is exploring an idea for a YouTube-based media outlet that promotes good news and stories not typically reported on through traditional news media.
Burn Social – Rich Hayburn, COE, Class of 2020
Burn Social focuses on a line of portable smoking devices to encourage positive social interactions among friends.
Coin-Operated Laundromat – Christina Woodson, College of Education and Human Development (CEHD), Class of 2022
This social venture is exploring a model that combines a traditional coin-operated laundromat with a hub of resources for low-income users (i.e. food assistance, childcare options, healthcare assistance, FAFSA, etc.).
Denney's Delights – Tony Denney, the Lerner College, Class of 2023
Denney's Delights is developing a concept that specializes in the production and distribution of vegan and gluten-free candy. A concentration on a unique wrapper to replace the traditional plastic wrapper will be explored.
EmpowHER – Brianna Bannach, the Lerner College, Class of 2020
EmpowHER is the Warby Parker of bras. This venture is an online retailer for women's undergarments that provides resources for choosing the right undergarments and allows customers to try them on in their homes before purchasing the items.
EQuip – April Singleton, the Lerner College, Class of 2021; Isabella Hughes, CAS, Class of 2020; Erin Hogan, COE, Class of 2021; and Mimi Diani, COE, Class of 2022
This venture's concept addresses the need for mental health and emotional intelligence education in K-12 schools in Delaware.
iCommunicate – Kim Jiang, the Lerner College, Class of 2023
iCommunicate eases the challenge of communicating with people from different countries and cultures by providing information on speaking habits, thus reducing the time it takes for people to get involved and connected in a new environment.
Imperium – Susan Varhese, CAS, Class of 2021, and Lauren Burkett, College of Health Sciences, Class of 2020
Imperium is exploring a business model focused on follow-on care and resources for people who are diagnosed with heart-related conditions such as high cholesterol or high blood pressure.
Keyhole Games – Michael Shumate, CAS, Class of 2023
Keyhole Games is an independent game studio dedicated to creating video games with social impact models with the hopes of providing an educational platform that manages to be entertaining and engaging with its players.
Manhattan Space – Dan Goodman, COE, Class of 2021; Alexander Pickett, COE, 2022; and William Dwinnell, COE, 2021
This venture is exploring two concepts. The first uses a machine learning ensemble to make predictions on behaviors and decisions in order to maximize patient care and recovery. The second delivers quantitative data analytic scores that investment bankers, huge fund managers and individual traders can employ to make more effective trading decisions.
Munchbox – Lily Wolfe, the Lerner College, Class of 2020, and Izzy Weinfield, CHS, Class of 2020
Munchbox delivers a curated selection of snack foods backed by female entrepreneurs along with inspiration cards that contain stories and words of wisdom from incredible girl bosses. Next steps this summer will be a similar product for the LGBTQ+ founders of specialty snack foods.
MushRoom Materials – Alanna Weiss, the Lerner College, Class of 2020 and Sean Frazee, COE, Class of 2020
This team is exploring the use of mushroom mycelium to remediate waste and transform its properties to create useful biomaterial byproducts for building projects such as hypoallergenic insulation and resilient cabinetry.
Nuvensus – Mason Faust, the Lerner College, Class of 2022; Markos Zerefos, the Lerner College, Class of 2022; and Henry duPont, the Lerner College, Class of 2023
The focus of this concept is to democratize real estate market insights based on statistical and machine learning techniques through a SaaS web app.
OD Visuals – Derek Ongeri, CHS, Class of 2022.
This Venture is developing a place to freely create for any type of artist from painters and sculptors to musicians and photographers.
Oh-So Cycle – Bake Armentano, the Lerner College, Class of 2021.
Oh-So Cycle is an indoor cycling studio in Newark, Delaware. This venture will be developing its current business model.
Park Vision – Matthew Saponaro, COE, Summer 2020
Park Vision is focusing on a better observation tool and method for community improvement organizations and government agencies to assess park usage.
Sustain Surf – Kiel McMenaman, College of Agriculture and Natural Resources, Class of 2021, and Tate Nelson, the Lerner College, Class of 2021
This venture's concept is exploring sustainable manufacturing of surfboards using eco-friendly materials such as mycelium and distribution of surfboards through workshops and DIY kits.
UP Bags – Sierra RyanWallick, the Lerner College, Class of 2022, and Michelle Yatvitskiy, CAS, Class of 2022
UP Bags is developing a sustainability brand that upcycles denim and plastic bags to create new bags of all styles from denim from the fused materials.
About Horn Entrepreneurship
Horn Entrepreneurship serves as the creative engine for entrepreneurship education and advancement at the University of Delaware. Currently ranked among the best entrepreneurship programs in the US, Horn Entrepreneurship was built and is actively supported by successful entrepreneurs, empowering aspiring innovators as they pursue new ideas for a better world.