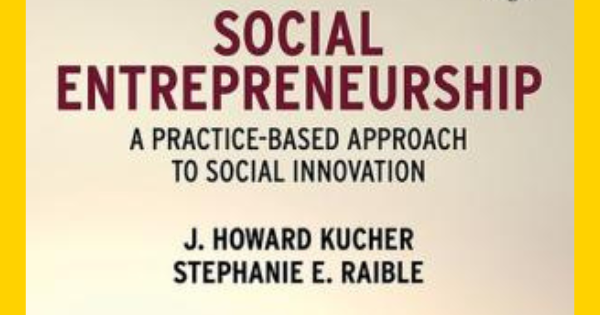 Edited by: Brandon Leo
University of Delaware's very own, Stephanie Raible, assistant professor of Social Innovation and Entrepreneurship, recently released her new book
Social Entrepreneurship: A Practice-Based Approach to Social Innovation. Co-authored with J. Howard Kucher,
Program Director of the MS in Health and Social Innovation at the University of Maryland.
The captivating book discusses the core elements of social entrepreneurship, and makes the case that social entrepreneurship is the best form of entrepreneurship in terms of making a positive impact in society.
Social Entrepreneurship: A Practice-Based Approach to Social Innovation analyzes the key skills needed for a successful level of social innovation, while explaining the things that work and things that notoriously do not. All of these ideas are very important concepts and lessons that anybody in the field of entrepreneurship can benefit from.
Why is this book a good read for young entrepreneurial students, who are tipping their toes in the entrepreneurial water for the first time?
In Stephanie Raible's own words:
The book is incredibly "readable."

My co-author Jim (Kucher), has a really warm, conversational writing style, so the book really is a peaceful read. I sometimes call this a "reverse textbook" because the main text is less tense, and the breakout boxes go into detail about the concepts and models, so you can feel like you both understand the application of the concepts--but also the concepts themselves!




This book is about usability.

This book is made to be

used,

meaning it's a good guide to get a context to social entrepreneurship and how to actually

do

social entrepreneurship in the real world. I would feel good handing this to a new or aspiring social entrepreneur and know that they are getting a high-quality baseline!




It's 100% about social entrepreneurship.

It's a handy reminder that social entrepreneurship it's own thing! If you compared this to an entrepreneurship textbook, you would be surprised at the interdisciplinary nature of our book and how unique social entrepreneurship is in that way. Whether someone wants to become a social entrepreneur or to just change the world in some way, the book provides some strong content to start or continue that journey!
Raible emphasizes the basis for this particular book. "This book reflects all of my experiences teaching students across countries and institutions. I have closely listened to where students of all ages and stages have had interesting questions and curiosities. I never envisioned being able to put that knowledge into a book, but seeing it all in one place makes me feel happy to share what I have learned with others!"
The book can be found on Amazon, Barnes & Noble, Alibris, and on E-Elgar.com, with both digital and print copies available.
About Horn Entrepreneurship:
Horn Entrepreneurship serves as the creative engine for entrepreneurship education and advancement at the University of Delaware. Currently ranked among the best entrepreneurship programs in the US, Horn Entrepreneurship was built and is actively supported by successful entrepreneurs, empowering aspiring innovators as they pursue new ideas for a better world.