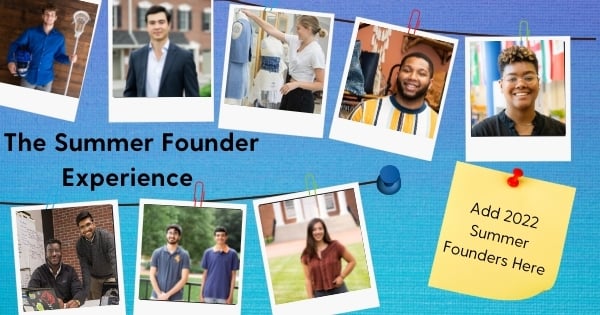 Although the first winter frost hasn't blanketed the ground, it is time to plan for summer 2022. For many student entrepreneurs, the summer presents an opportunity to work on your startup unencumbered by class work. But the summer presents a problem: work on your startup, get a job that pays or try to manage both. And what if you need the summer to earn course credits or an internship?

If you work on your startup, then you have to put up with your parents knocking on your bedroom door and asking "what are you doing in there all day?" or stay in your Newark apartment and live off of canned beans and your roommates' leftovers.

Taking a summer job may seem like a better alternative...until you are daydreaming about your startup and accidentally serve the wrong food to a table you are waiting on and don't get a tip.

Some try to manage both on their own - now that's gutsy, but often ends up in a similar situation as above.

If you are picturing yourself in either situation, then there is good news: Horn has a summer option for student entrepreneurs, Summer Founders.

Requested by Jason Bamford, cofounder of geoswap, in 2016, Summer Founders is UD's pre-accelerator. It is an intensive 12 week program in which students with early stage startups work on their ventures full time and receive a stipend, mentorship and education sessions. Participants earn credits for ENTR450 Business Accelerator for New Ventures.

This program is not for the faint hearted. Students are expected to work full-time toward weekly goals, meet with advisors and philanthropic investors regularly and develop and test their business models. The summer culminates in Demo Day, a public showcase of your summer accomplishments.

"Summer Founders pushed me and gave me the opportunity to work full time on my startup," said John Mouser, cofounder of Spray Less LLC and 2021 Summer Founder. "It took away a lot of the opportunity cost of not doing a typical internship and helped solidify my passion and gave me connections to people that are currently my customers."

Lynn Roberts, a 2021 Summer Founder and Founder of Common Grounds simply replied, "Great experience to guide your thoughts, ideas, and messaging. I would recommend to anyone who wants to be held accountable and make an honest attempt of making something great!"

Similarly, Sam Goetz, cofounder of Stemmer and a 2021 Summer Founder, advised, "It's a no-brainer if you're serious about your startup. I made more progress in Summer Founders than I did in the previous 9 months."

To recap:

Summer Founders = work on your startup
Summer Founders = pre-accelerator with regular help and advice
Summer Founders = intern as an entrepreneur
Summer Founders = job that pays
Summer Founders = college credit for ENTR450

Interested? Fill out this form to apply to Summer Founders.

About Horn Entrepreneurship

Horn Entrepreneurship serves as the creative engine for entrepreneurship education and advancement at the University of Delaware. Currently ranked among the best entrepreneurship programs in the US, Horn Entrepreneurship was built and is actively supported by successful entrepreneurs, empowering aspiring innovators as they pursue new ideas for a better world.