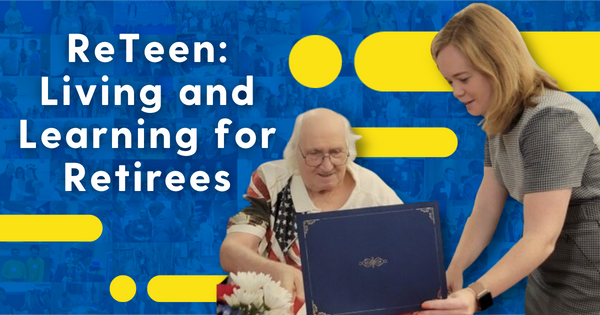 The time of year all students look forward to, summer break. A time to relax, sleep in and hang out with friends. With three months off, kids can find themselves not doing much other than sitting around and staring at screens at all times in this day and age. That's where activities such as summer reading, camps, and sports programs come into play. These activities give young people something productive and healthy to do, whether it is something to keep the mind stimulated or something to keep them social and active.
Later in life when it becomes time for someone to retire from their career, they can find themselves in the exact same situation. Nothing to work on, no new people to meet, and no places to go and be active.
Many retirees in America face this issue and there is no formal program or place they can bring this problem to. But now there is. Founded by Nate George along with Bridget Bergan back in Sep. 2021, ReTeen is a startup that recommends personalized activities and plans social events for retirees to do during retirement that will keep them lively, social, and healthy.
"So our idea was that we have to get people active because it's very easy, especially in a retirement home, to just stay inside," said George.
George is a senior here at the University of Delaware, double majoring in neuroscience and biology. In contrast to his science-based studies, his interest in entrepreneurship has led George toward hopes of pursuing a career in product management, where he can use his leadership and innovation skills in a variety of ways in multiple different fields. Bergan is a class of 2022 graduate from UD who majored in health behavior science with minors in public health and professional selling & sales management. Clearly, both of them have varying passions in the health science and business fields, which makes for a perfect fit working on ReTeen.
The idea of ReTeen came about during George and Bergan's internships last summer at the Christiana Hospital. George personally can attest to this problem retirees face because of first-hand experience with his grandparents. His grandfather remains busy and active, unlike his grandmother, who lives a much slower lifestyle. The effects of their lifestyle were clear to George and the rest of his family.
"It's much easier to talk to my grandpa than it is to talk to my grandma. It's almost like whatever mental sharpness that was there is kind of dulled over time," said George.
Both the Christiana staff, George, and Bergan knew of the common issue seniors face during retirement, and the Christiana staff encouraged them to create a pitch deck. Once they made the effort and created a pitch, the staff connected the two of them with Horn where they were educated and supported as they grew their idea into something more.
For George, Horn has opened lots of doors and created lots of connections resulting in him being considered for many jobs, and the self-starter skills he has built here will be an asset to him for years to come. The community sessions are what George feels really were the most beneficial to him.
"Horn is great and the experience you get from running a startup in their community has been huge in terms of helping get a job," said George.
ReTeen has accomplished a number of achievements since their launch. First, ReTeen was invited to the Pete DuPont Freedom Foundation's Reinventing Delaware dinner to pitch their startup on Nov. 11, 2021. Next, they placed second at Horn's 2021 Fall Pitch Party. Finally, they became semifinalists in Horn's 2021 Hen Hatch competition and were also awarded the superlative for "Most Dedicated".
ReTeen's most recent activity was a social event working with a retirement home, Shipley Living, for a Veteran's day appreciation event. This event promoted lots of social interaction and excitement for the seniors who attended. Many of the seniors just wanted somewhere to share their life experiences and meet others just like them. George remembers two seniors in particular who hit it off that day and learned they both were stationed at the same fort at the same time but never met. Stories and experiences like this are what ReTeen strives to continue promoting.
Regarding the future of ReTeen, now that Bridget has graduated and is preoccupied with her career as a recruiter with Insight Global, George has had more difficulty shouldering the increasing workload of the startup by himself. He wants to host more events like the one at Shipley Living, and had a great idea to possibly seek the help of student volunteers to become part of his team. That way he has a bigger team on his side and students can get volunteer hours. With this collaboration, ReTeen can continue to thrive and become bigger by the day.
George and Bergan started ReTeen from such a simple idea that everyone knew about and that clearly needed a solution. With the help of Horn Entrepreneurship and its connections, this pair of young entrepreneurs learned the ins and outs of starting a business, and now have a great startup of their own with the hope for more success in the future.
About Horn Entrepreneurship
Horn Entrepreneurship serves as the creative engine for entrepreneurship education and advancement at the University of Delaware. Currently ranked among the best entrepreneurship programs in the US, Horn Entrepreneurship was built and is actively supported by successful entrepreneurs, empowering aspiring innovators as they pursue new ideas for a better world.