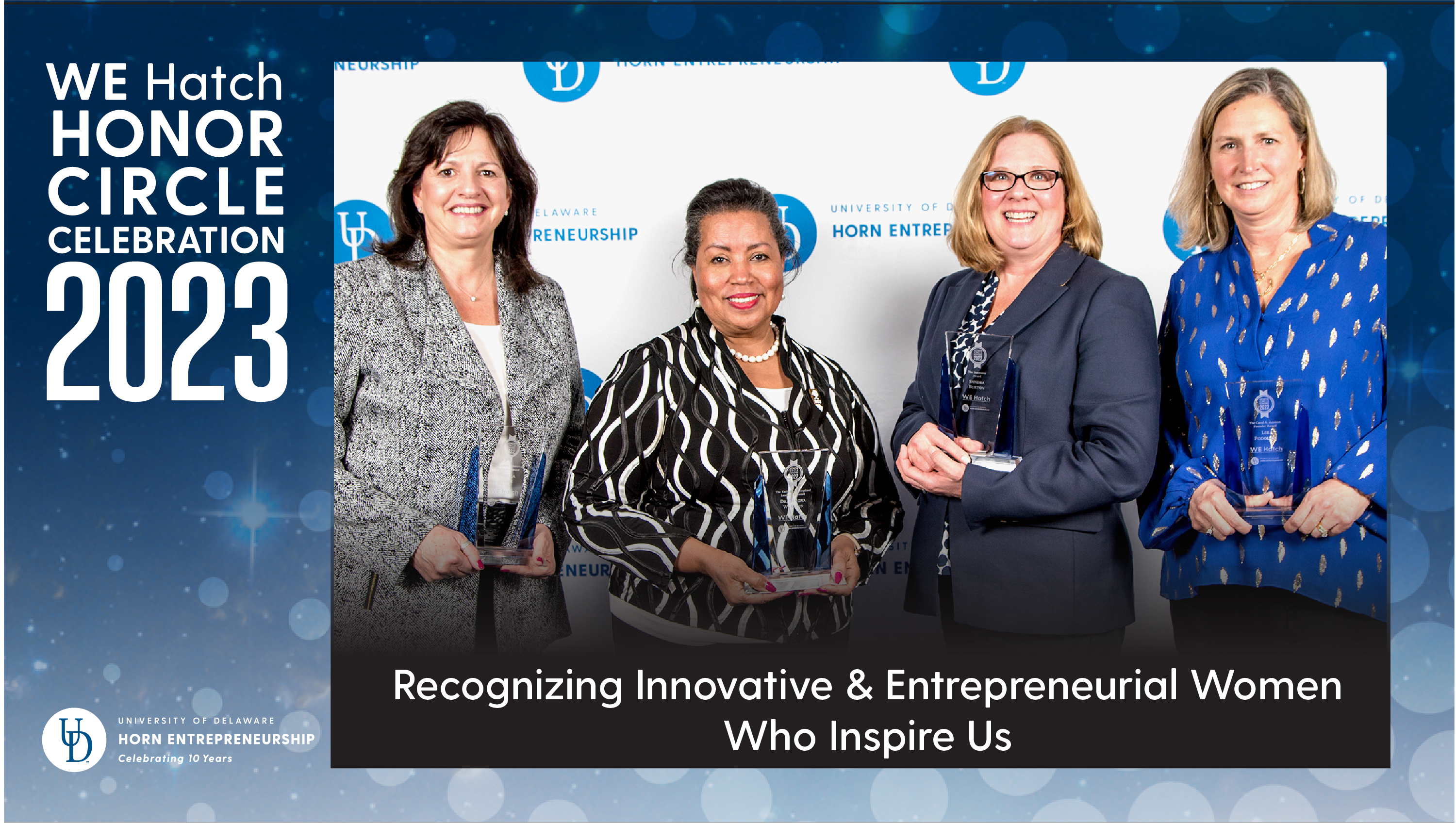 University of Delaware Horn Entrepreneurship recently welcomed 27 newly inducted women into the WE Hatch Honor Circle, which celebrates women who are supporting and helping each other overcome the unique challenges faced by women innovators. Nominated by their peers, employees, spouses and friends, Honors Circle members have made a lasting impact on their network and community.
Those honored include Karen Asenavge Loptes, Kamika Bell, Jaclyn Cantler, Cora Castle, Jen Croneburger, Denée Crumrine, Yolanda Curtis, Regina Fain, Chanel Gaither, Carolyn Grooby, Maria Gunther, Kemba Hall, Cierra Hall-Hipkins, Joy Hunt, Tiffany Mcgee, Arianne Missimer, Tiffany Mitchell-Jenkinson, Kristin Moore, Martha Morgan, Catalina Natalini, Lynnette Overby, Jenesis Prioleau, Laurisa Schutt, Michelle Schwandt, Giftie Umo, Dawn Willey, and Lydia York. The full list of honorees and the selected highlights of their impact can be found here.
In addition to celebrating the women who have been nominated to the Honor Circle, four additional awards were shared to provide special recognition for extraordinary accomplishments pertaining to leadership, inspiration, innovation and entrepreneurship.
Founder Award
Awarded in recognition for entrepreneurship success that involves launching and growing new ventures that have made a positive impact on human well-being (e.g. through job creation and/or positive societal impact). The recipient of this award is Chanel Gaither for being a tremendous asset to the Delaware Community since the early 2000s. Chanel has started several non-profit organizations such as M.A.C.S., partnered with several community organizations in Delaware, and she has given selflessly over the years to the field of education and the college and career landscape.
Amber Glassman Inspiration Award
Awarded in recognition for serving as a role model and inspirational exemplar for other innovative and entrepreneurial women. The recipient of this award is Amy Zitelman for her inspiring efforts as a co-founder of Soom Foods and regular mentor and advisor to female students. She has been a Summer Founders Advisor, a guest lecturer and will be a Free Lunch Friday speaker on March 17. She is the first person to raise her hand when asked if she will give her time to help emerging entrepreneurs.
Carol Ammon Innovation Award
Awarded in recognition for excellence and achievement in intrapreneurship, including internal innovation and new product development. The recipient of this award is Amy Cowperthwait because when she had a creative new idea to revolutionize healthcare simulation, Amy used her ingenuity and found her own investors, found community resources including Horn Entrepreneurship, and started her own company, tackling every obstacle between her and her dream for future healthcare learners everywhere. Amy has led Avkin from producing one product in a tiny one-room/attic office to numerous products and services reaching a worldwide audience.
Kathleen Siegfried Leadership Award
Awarded in recognition of exemplary efforts to bring together people and resources for the advancement of women innovators and entrepreneurs. The recipient of this award is Meredith Carter for exemplifying how women can succeed in predominantly male fields; law and finance. She helped grow a litigation funding company, to level the playing field for inventors. Afterwards, she challenged herself and joined Context Business Lending, now Edge Capital Lending, the specialty finance company focused on Asset Backed Lending of which she is now CEO. When Meredith took over, it had just 3 loans and 2 employees. In just 3 years, she has grown it into a $260MM portfolio with 21 employees, 57% of whom are women. Edge Capital has since been recognized as one of the Top 25 Most Innovative Companies in Commercial Finance and Meredith was a 40 under 40 award winner just last year. Meredith has become a role model for UD women to see that it is possible to have a successful career and a successful family through hard work, caring and perseverance.
The WE Hatch Honor Circle is part of the WE Hatch initiative, launched in 2020 to unleash the potential of creative, innovative and entrepreneurial women through curriculum, programming, mentorship and venture funding support. WE Hatch leverages Horn Entrepreneurship's expertise and network to benefit University of Delaware students and women in the community.
About Horn Entrepreneurship
Horn Entrepreneurship serves as the creative engine for entrepreneurship education and advancement at the University of Delaware. Currently ranked among the best entrepreneurship programs in the US, Horn Entrepreneurship was built and is actively supported by successful entrepreneurs, empowering aspiring innovators as they pursue new ideas for a better world.