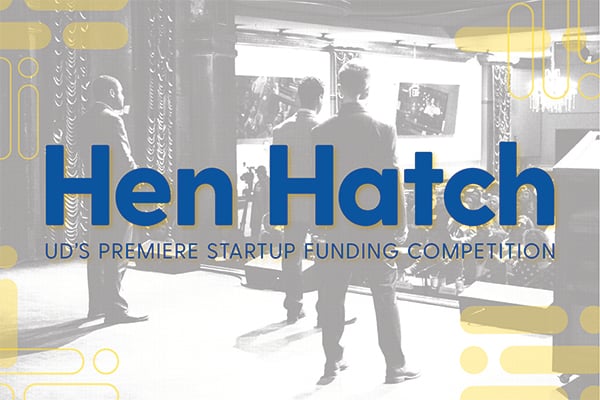 The Innovation Showcase, featuring Hen Hatch semi-finalist teams, will take place before the final presentations at Hen Hatch on Tuesday, April 30. Hen Hatch attendees and guests are invited and encouraged to join the Horn Entrepreneurship community in celebrating the success of semi-finalist teams and learning about their next steps on the entrepreneurial journey,
The Innovation Showcase provides semi-finalist teams the chance to share their idea with the broader UD community and celebrate their work and success. Guests are encouraged to network and connect with the newest faces in our startup community. Hors d'Oeuvres and refreshments will be provided. Admittance to the Innovation Showcase is included with the purchase of a Hen Hatch ticket. Get yours before they're gone!
Kenny Eck, a presenter at last year's Innovation Showcase, is the man behind Patient Sortal, LLC, one of the three final Hen Hatch pitches from the alumni, faculty and staff track this year.
"The Innovation Showcase is a great opportunity for both exhibitors and the community to meet and learn more about each other," said Kenny. "As an exhibitor, I had the ability to talk to numerous individuals with a diverse background and interests. I spoke with potential partners, investors, and team members during the showcase and while some never turned out to benefit the company, each interaction brought great knowledge to move the company forward toward the Finals this year."
Second Chances Farm, a participant in the Innovation Showcase from the alumni track, provides second chances by hiring and offering turn-key entrepreneurial opportunities to men and women returning from prison through the creation of indoor, vertical farms. These vertical farms provide pesticide-free, fresh, local, and organic produce within low-income, food deserts.
"We felt that it was well worth the time and talent that was required to get ready to be semi-finalist for this year's Hen Hatch," said Ajit George, Class of 1974, and member of Second Chances Farm. "We are continuously improving our messaging and presentation based on our experience."
TRIC Robotics, LLC, from the student track, provides service for a reliable, non-chemical treatment as effective as pesticides for killing pathogens on strawberries. Adam Stager, Class of 2019, founder of TRIC Robotics, said "The advice from this year's mentors pushed our progress and helped us understand the value we bring to our customers."
In addition to Second Chances Farm and TRIC Robotics, LLC, the following teams from the student track will be presenting at the Innovation Showcase.
Bump
Bump is a social media app that allows users to add friends and set preferences to alert you if they are in the area as well as engage in geofenced group chats with friends and strangers alike. Chris Quinoy, Lerner College of Business & Economics, Class of 2020; Chor Lam, Lerner College of Business & Economics, Class of 2020; Bob Degenaars, Lerner College of Business & Economics, Class of 2020.
EXpresso Learning
EXpresso Learning is committed to being a unique social venture with a revenue model that simultaneously improves small coffee businesses, while also providing essential academic support for students that need it most. Emmy Goodman, Lerner College of Business & Economics, Class of 2018; Jodi Stern, Lerner College of Business & Economics, Class of 2019; Gabbie Ciccone, Lerner College of Business & Economics, Class of 2019; Taylor Lyons, Lerner College of Business & Economics, Class of 2019.
Nollege Notes
Nollege Notes is the live note-taking service that will allow students in a classroom to collaborate and compile notes as a unit. Abu Kamara, College of Arts & Sciences, Class of 2020; Hope Vega, Lerner College of Business & Economics, Class of 2020.
Sense-C
Sense-C are developing novel, flexible and low-cost force sensors using nanotechnology which can be integrated into footwear to help physical therapists accurately measure force and gait data to improve rehabilitation of patients following joint replacement surgery or ACL injuries. Sagar Doshi, Mechanical Engineering, PhD, 2019; Kaleb Burch, Mechanical Engineering, PhD, 2023.
Snoop
Snoop seeks to solve the problem that high school students lack the necessary experiences at their colleges of interest that would enable them to properly choose where to spend their next four years through the solution of virtual college panels. Andrew Cercena, Lerner College of Business & Economics, 2021.
Vypo
Connecting people that need something made with people that are willing to make it. Markos Zerefos, Lerner College of Business & Economics, Class of 2022.
Alumni Track
Delaware BioPlastics
Delaware BioPlastics upcycles inexpensive, abundant biomass into high-value performance polymers using processes we have developed and patented. Eric Gottlieb, Thomas Epps, Basudeb Saha of the Chemical and Biomolecular Engineering Faculty and Staff and Robert O'Dea, College of Engineering, Class of 2022.
Sage
Sage, the irrigation system that's making the world a greener place, helps green roof installers significantly reduce the cost of installations. Ariel Ramirez, Class of 2018; Dustyn Roberts, Class of 2004; Trevor Stephens, Class of 2018.
The Outdoor Learning Institute
The Outdoor Learning Institute seeks to reach administrators, pre-service and in-service teachers in order to inspire, train and equip educators in outdoor learning endeavors. Monica Shire, Cynthia Paris, Dorit Radnai-Griffin, Katie Pollock of the College of Education and Human Development.
Check out the teams and connect with the Horn Entrepreneurship community at the Innovation Showcase. Get your tickets today!
About Horn Entrepreneurship
Horn Entrepreneurship serves as the University of Delaware's creative engine for entrepreneurship education and advancement. Built and actively supported by successful entrepreneurs and thought leaders, Horn Entrepreneurship empowers aspiring innovators and entrepreneurs as they pursue new ideas for a better world.