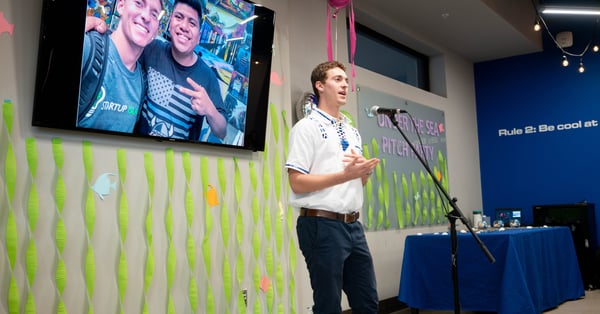 This year's University of Delaware Horn Entrepreneurship spring pitch competition, Out of This World Pitch Party, will be held at the Venture Development Center from 3:30 to 6 p.m. on Thursday, March 21. Any undergraduate student is allowed to pitch and any student, faculty or staff may attend. The event is free, although registration is required to pitch or attend. Spots are limited to pitch and spectate, and are filled on a first come, first served basis.
The space-themed edition of Horn Entrepreneurship's biannual pitch competition encourages students and first-time presenters to sharpen their pitching skills and display their best entrepreneurial ideas in a fun and friendly environment.
Participants are given 90 seconds to pitch their idea to a live audience and a panel of experienced judges. The top three presentations will be awarded a share of the $1,200 prize pool of Venture Development Center cash and venture-building resources to be used toward the development of their concept.
"Pitch parties are a great way to practice pitching and get tons of valuable, actionable feedback from real entrepreneurs," said James Massaquoi, a participant in multiple pitch parties and co-founder of 360VR Technology. "You also get to meet and connect with other like-minded, motivated students, which was really impactful for me in continuing on my entrepreneurial journey."
Horn Entrepreneurship invites you to join in the celebration, which will include a buffet of snacks, raffle prizes and most importantly, 20 exciting startup pitches.
The competition will be held from 4 to 6 p.m. at the Venture Development Center at 132 E. Delaware Ave. Entrance and appetizers begin at 3:30 p.m.
Last fall's Under the Sea Pitch Party was a great success and attendance sold out. Students who plan to pitch or attend must register before March 15. Only UD undergraduates are eligible to pitch. If you happen to be a on a team of graduate and undergraduate students, only the undergraduate student(s) are allowed to pitch. Past participants in Summer Founders, NSF I-Corps, Proof of Concept, Hen Hatch semi-finalists, and prior pitch party winners are not eligible to pitch their same idea.
Registration will end at 11:59 p.m. Friday, March 15. Sign up to pitch or spectate here.
About Horn Entrepreneurship
Horn Entrepreneurship serves as the University of Delaware's creative engine for entrepreneurship education and advancement. Built and actively supported by successful entrepreneurs and thought leaders, Horn Entrepreneurship empowers aspiring innovators and entrepreneurs as they pursue new ideas for a better world.