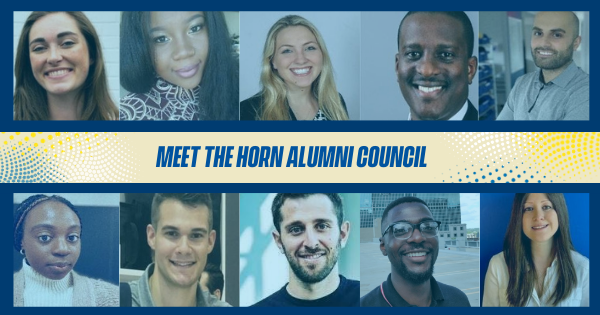 The newly-formed Horn Alumni Council brings to the Horn ecosystem a wide-range of professional experience, as well as an embodiment of Horn's commitment to Equity Thru Entrepreneurship that proudly represents the program's alumni through the years.
A product of the joint vision between founder Charlie Horn and director Dan Freeman, the Alumni Council was created to strengthen ties among alumni and to help steer the conversations about mission, projects, and supportive mechanisms for Horn students and graduates.

Forming this council became more immediate this year due to shifts in everyday routine. Dan Freeman, Founding Director of Horn Entrepreneurship, expressed how alumni can help current students to understand the value of what they are learning; calibrate expectations for life after UD; persist through challenging circumstances; and access the otherwise hidden opportunities embedded in professional networks.
Founding Council Members were selected based on their involvement and engagement with Horn, both during and after their time as students, and their commitment to building an ecosystem of entrepreneurs that helps to support graduates. Led by Jodi Stern as Chairperson and Farhad Baqi as Vice-Chairperson, the ten-member council will meet frequently – virtually this year – to help build the alumni community and drive engagement with students.
"The Horn Alumni Council is something that I am very proud to be chair of, since it is incredibly valuable to bring alumni together to network and form relationships where they know they can always hop on the phone to not only catch up, but to discuss any new ideas, challenges, hear new perspectives, etc.," Stern said.
"To take it one step further, it brings me great joy to close the gap between current students and alumni to allow both parties to learn from one another to continue forming one large community. I am very excited to see the impact that the council has on Horn!"
The Council encourages all alumni to join the LinkedIn Group: Horn Entrepreneurship Alumni.
The Council will consist of: Farhad Baqi, '18; Lauren Graupman, '20; ChaCha Hudson, '19; Garry Johnson III, '17 & '18; George Munyua, '19; Ashley Paintsil, '13 & '19; Jordan Sack, '14; Greg Star, '13; Jodi Stern, '19; and Daphne Vantine, '18.
About Horn Entrepreneurship
Horn Entrepreneurship serves as the creative engine for entrepreneurship education and advancement at the University of Delaware. Currently ranked among the best entrepreneurship programs in the US, Horn Entrepreneurship was built and is actively supported by successful entrepreneurs, empowering aspiring innovators as they pursue new ideas for a better world.