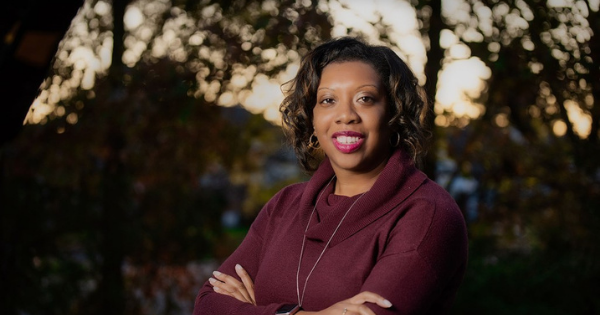 At the unique intersection of social entrepreneurship, academia, and public service, you're likely to find few who have struck a balance as well as Rysheema Dixon, a Philadelphia-born social entrepreneur who has found her calling in serving her community.
"I'm passionate about people, so I find myself in different realms trying to help people solve their problems," Dixon said. "That's been my personal mission, to make sure that the community is taken care of."
Consequently, this mission has transcended any one professional pursuit and has led Dixon to become involved in all kinds of fields, from launching her own community development consulting business, RD Innovative Planning, to running for Wilmington City Council. In fact, Dixon has served in public office for four years now, and has served as the CEO of her own company for almost a decade.
As a University of Delaware graduate in sociology, Dixon most recently returned to her alma mater as an adjunct professor teaching Introduction to Social Entrepreneurship. Dixon was first introduced to the social entrepreneurship department at UD through a connection with Dr. Anthony Middlebrooks, the Director of the Siegfried Leadership Initiative for Horn Entrepreneurship, but her connection with Horn goes back to her involvement in Free Lunch Fridays.
Now, as a professor of social entrepreneurship, the nature of her work centers much around Covid-19 and the unprecedented social challenges that it has introduced. In her intro-level course, students have been engaging with social problems through the lens of the virus and have arrived at profound discoveries in social entrepreneurship as a result, Dixon said.
Problems which have been exacerbated by Covid-19, such as mental health (namely depression and anxiety), poverty, and homelessness, have presented themselves to students as increasingly urgent problems which can bring out a need for innovative solutions. Students have also engaged with other, perhaps more unconventional, social problems, Dixon described, such as road rage or package theft (sometimes referred to as "porch piracy").
"They are ultimately learning how to solve social problems using business principles and how, especially during the pandemic, this showcases why social issues are so prominent in society right now and why they need to be solved," Dixon said.
Additionally, Dixon makes an active effort to bring her class's lessons down to a local level, as she has historically brought in Delaware entrepreneurs to speak and collaborate with students. Dixon has previously worked with entrepreneurs and former Horn and UD alum and affiliates of such companies as Green Box Kitchen, The Creative Vision Factory, Wilmington Alliance, NERDiT NOW, and Wilminvest.
In her work, Dixon highlights the unique ability for social entrepreneurship to generate wealth and utilize the most valuable tools of entrepreneurship, while also focusing on advancing social changes that give back to society and community. This latter function of social entrepreneurship, Dixon expressed, is where her passions lie.
"Community is my focus in all three career paths I've taken," Dixon said. "I get to work with a community of students at the University of Delaware to solve social issues. I get to work in the public sector, focusing also on everyday social issues. And there's a huge asset-based community focus for my business as well."
For the new year, Dixon's goals are to scale-up her consulting business while also balancing the array of city council's goals. She also expressed an interest in teaching advanced level social entrepreneurship courses and further grounding her courses in the local social entrepreneurship scene.
Aside from her work as an educator, councilwoman, and businesswoman, Dixon is also an avid fan of football and basketball. Having been involved in athletics in high school, she expressed how her sports have kept her preoccupied during quarantine. She also comes from a musical family and shares a deep love for music. When she's not working and looking to relax, she's happy to indulge her sweet tooth.
"Frozen yogurt is my go-to," Dixon said. "That's all I need, then I'm back in a happy mood."
About Horn Entrepreneurship
Horn Entrepreneurship serves as the creative engine for entrepreneurship education and advancement at the University of Delaware. Currently ranked among the best entrepreneurship programs in the US, Horn Entrepreneurship was built and is actively supported by successful entrepreneurs, empowering aspiring innovators as they pursue new ideas for a better world.