This article first appeared on the blog for Alfred Lerner College of Business and Economics on May 24, 2022. Lavar Thomas's graduate studies include an M.S. in International Studies and his work on his social startup, Leaders of the Free World with the opportunities available through UD's Horn Entrepreneurship.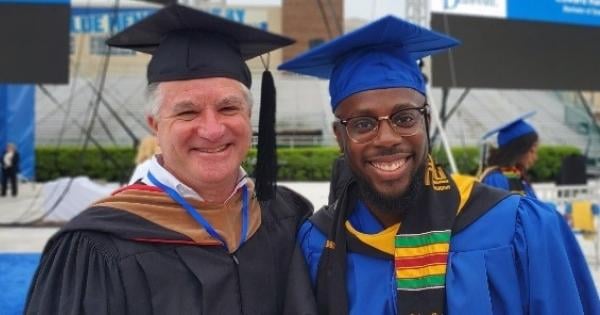 Vincent DiFelice, Senior Instructor of Entrepreneurship & Faculty Director, Venture Support with Lavar Thomas at the Lerner College Convocation on May 27, 2022.
By Imani Gibbs • May 24, 2022
As a member of the University of Delaware's Alfred Lerner College of Business and Economics' Class of 2022, Lavar Thomas, an international business studies major from Brooklyn, New York, has not had the typical student experience at UD due to the coronavirus pandemic. Thomas, and his entire class, have shown incredible resilience, maturity and spirit while adjusting to the many unexpected changes that they have encountered as students. Each installment of this series will profile an outstanding member of this class, showcasing their achievements, experiences at UD and what it means to be a Blue Hen.