Editor's note: This guest post by Nick Novoa is a compilation of Horn Entrepreneurship students' firsthand experiences with their summer internships.
On Nov. 9, 10, and 11, an interest meeting will be held for the Signature Internship Program. All ENTR majors in their sophomore and junior years will be invited to attend. If you have any questions beforehand, contact Ted Foltyn via email at tjfoltyn@udel.edu.
Finding the right internship is hard enough. But due to COVID-19, this summer proved to be a particularly difficult time for college students across the country to find experiential employment in their fields of study.
But with the help of Horn Entrepreneurship's staff and resources, specifically Adjunct Faculty and Horn Internship Coordinator Ted Foltyn and the Signature Internship Program, 20 entrepreneurship students found internships this summer and put their entrepreneurial lessons into practice.
"It was great to have many employers step up to hire our students, allowing both the students and these organizations to benefit from these internships," Foltyn said.
The Horn Entrepreneurship Signature Internship Program is a specialized internship program for Entrepreneurship (ENTR) majors. Horn Entrepreneurship leverages relationships and professional contacts across the country to match qualified students with partner organizations in special, innovative roles.
Here's what some Horn students had to say about their internship experiences from this summer.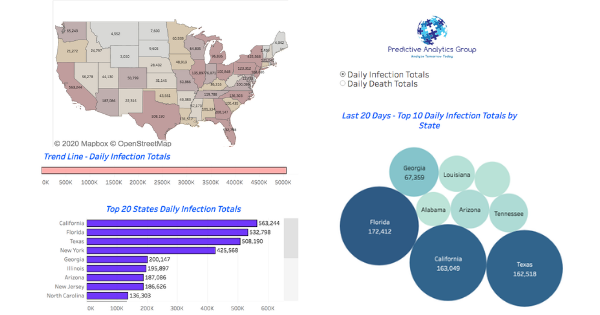 Andrew Cercena
Hi, my name is Andrew Cercena, and I am going to be a senior this coming fall! I have been remotely working with Predictive Analytics Group (PAG) this summer to help them with business development and a COVID-19 analytics project.
PAG is a consulting company that uses its extensive analytics background to help a wide variety of clients – including banks, hospitals, sports organizations, and casinos – make informed decisions.
On the analytics side of my work, I have been helping to build a model that will predict future COVID-19 outbreaks and help critical clients like hospitals and schools to prepare based on their calculated risk. For business development, I have been helping with many tasks that mainly include working on whitepapers related to COVID-19 and redesigning the layout of PAG's website. I have had to adapt on a daily basis as a result of working remotely on a project that is ever-changing.
Horn Entrepreneurship has more than prepared me for this dynamic work environment by helping me to develop an innovative mindset to create value where it is needed, rather than to define what value is needed by others on my own. This internship has provided me with the analytics skills that I have desired, while I have been able to apply the entrepreneurial mindset that Horn has helped me to foster throughout my undergraduate years. I am highly thankful for both Predictive Analytics Group and Ted Foltyn at Horn for making this experience possible!
Amanda Monachelli
Hello, my name is Amanda Monachelli and I worked for The Siegfried Group this summer on the National Recruiting Team. In this role, I was responsible for managing communications from two different email inboxes, updating Salesforce, and contacting potential new-hire candidates. Throughout this summer, I learned to navigate working in an entirely virtual environment, while also making new connections that will last a lifetime.
One of the highlights of this internship was having that "a-ha moment" when everything started making sense. I transitioned from shadowing others to taking control of the various tasks I had on my plate. What an empowering moment! I absolutely love that Siegfried is such an entrepreneurial company. It's evident that they care about their employees' happiness in addition to their productivity. I am beyond grateful for Siegfried and the opportunities that became available to me. In fact, I am extending my internship into the fall semester so I don't have to leave!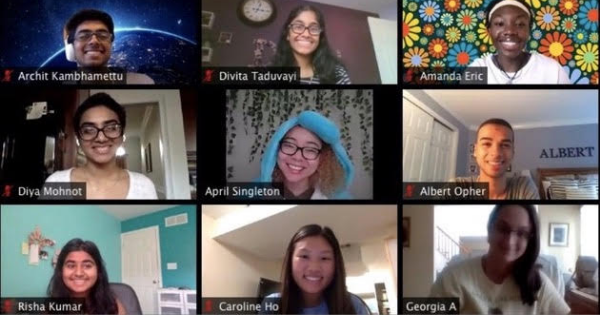 April Singleton
Hello future interns! My name is April Singleton, and I worked for the Delaware Youth Leadership Network this summer, a.k.a., one of my favorite jobs of all time!
It started as an email to the founder, Margaret O'Dwyer, to ask a few questions about the youth programming space, and she happened to be looking for a summer intern to develop a 10-week virtual internship program with her. This idea was sparked in response to COVID-19 and the many program cancellations high school students were facing.
Since we only had a month to plan before we launched, we had an intense development stage where we contacted organizational partners, drafted several program proposals, and created documents to help market our idea. It was a light, exhilarating experience that Margaret and I continued to reference as we started to work with the students.
As the director of the program, Margaret gave me a lot of creative freedom in how I thought it could be run, and we embraced the entrepreneurial mindset when designing our ideas. We did "customer interviews" and design sprints to co-create the program with the teens, and we constantly asked for feedback to iterate week by week as time went on.
This was a phenomenal experience of personal and professional growth. I reinforced a lot of my strengths and found many opportunities for improvement in this process, but the experience overall has been the perfect way to implement all of my college experiences in a single project.
Thank you so much to Margaeret, the DYLNterns, Ted, and the rest of the Horn staff in making this experience possible for me, it was a blast!
Jason Bangser
My name is Jason Bangser, and I'm a junior double major in Marketing and Entrepreneurship & Technology Innovation. For the past two summers, I've been an intern with Jet Support Services, Inc., based in Chicago. They provide financial and logistical services to owners and operators of private (business) jets, assistining to manage costs associated with service and upkeep.
Last summer, I interned in their Advisory Services department, which specializes in providing information and advice pertaining to all stages of aircraft ownership. My main responsibility was to compile a database of avionic systems instruments and their respective compatibilities with different aircraft.
This summer, I was with their Contracts and Client Services departments providing services centered around data organization and analysis, database cleanup, and internal and external resource editing. My skills in the Microsoft Office Suite were very useful and necessary to do a good job, and the knowledge and passion for aviation I gained last year proved to be a major asset in the completion of my work this year.
Between both summers working for JSSI, I could not have wished for a better learning experience. Not only have I gained invaluable practice with productivity software, but the experiences of working in both an office and home environment proved extraordinarily enlightening.
The employees at JSSI are smart, kind, patient, and forward-thinking, mirroring the excellent company culture. The CEO, Neil Book, is a visionary and a gifted leader. Overall, I'm very thankful for my time spent with Jet Support Services, and would highly recommend it to anyone seeking an internship in any business field.
Nick Novoa
My name is Nick Novoa and I had the opportunity to intern for Ascendant Group, a branding firm that specializes in CEO branding for C-suite executives. I was initially hired by their CEO, Raoul Davis, to create content for the company's blog for 20 hours a week. My internship soon became a 30-hour workweek and my responsibilities grew to ghostwriting for clients and coworkers, managing social media accounts, contributing to client brainstorming sessions and much more.
Since my internship was located in Newark, I was able to go into the office and work alongside my boss, Raoul 2-3 times a week. One of the most memorable jobs I had during my internship was ghostwriting two articles that were later published on Forbes. While my name wasn't on it, I am proud to be able to say that my work was published on Forbes. I learned so much this summer about the inner workings of branding and was able to significantly improve my writing and editing skills.
I was able to apply my entrepreneurial classwork, such as how to comfortably and confidently speak to our clients, as well as capitalizing on an innovative mindset that I developed throughout my time in Horn. My ability to manage my time effectively was a great asset in getting projects done on time.
I want to thank Ted Foltyn for connecting me with Raoul and the mentorship and knowledge I received from Raoul this summer. The work I put into Ascendant Group this year was a tremendous working experience and I look forward to continuing my role there through my senior year!
Curious about the Signature Internship Program, want to learn more, or are looking to land an internship yourself? Click here for more information on the Signature Internship Program, or contact Ted Foltyn via email at tjfoltyn@udel.edu.
About Horn Entrepreneurship
Horn Entrepreneurship serves as the creative engine for entrepreneurship education and advancement at the University of Delaware. Currently ranked among the best entrepreneurship programs in the US, Horn Entrepreneurship was built and is actively supported by successful entrepreneurs, empowering aspiring innovators as they pursue new ideas for a better world.