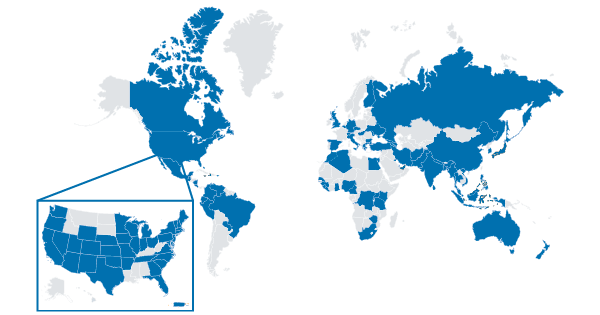 The Global Consortium of Entrepreneurship Centers (GCEC) named University of Delaware Horn Entrepreneurship a finalist for the Excellence in Specialty Entrepreneurship Education Award for Horn's Youth Initiative.
Horn Entrepreneurship launched its youth initiative in 2012 to address major gaps in secondary entrepreneurship education. At the time, most existing youth programs focused on small business management. In contrast, Horn Youth is built to focus on unleashing creativity, encouraging a mindset of abundance and self-determination, and promoting purposeful entrepreneurial action. Today, it has a robust local and global ecosystem and network consisting of more than 10,000 alumni, 1800 educators and 60 organizations that catalyze entrepreneurship education and impact.
"Entrepreneurship education is for everyone," said Assistant Director of Youth Programs at Horn Entrepreneurship, Julie Frieswyk. "Horn Youth creates and delivers adaptive and forward-thinking programs that break down barriers and open the gates for high school students and educators to explore their world and develop an entrepreneurial mindset."
The GCEC is the premier academic organization addressing the emerging topics of importance to the nation's university-based centers for entrepreneurship. It has become the vehicle by which the top, entrepreneurship centers work together to share best practices, develop programs and initiatives, collaborate and assist each other in advancing, strengthening and celebrating the role of universities in teaching the entrepreneurs of tomorrow.
University of Delaware was recognized with 29 other universities for outstanding programs at the 2019 GCEC conference in Stockholm. The top award for Excellence in Specialty Entrepreneurship Education was given to Rutgers University Center for Urban Entrepreneurship & Economic Development. Syracuse University, Utah State University, University of Texas (Dallas) and University of Delaware were finalists.
About Horn
Horn Entrepreneurship serves as the University of Delaware's creative engine for entrepreneurship education and advancement. Built and actively supported by successful entrepreneurs and thought leaders, Horn Entrepreneurship empowers aspiring innovators and entrepreneurs as they pursue new ideas for a better world.