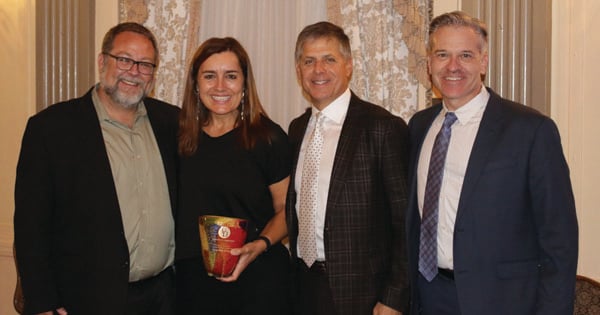 Sarah Robb O'Hagan, the founder of Extreme You, received the 2019 Siegfried Award for Entrepreneurial Leadership on Oct. 12 at the Hotel DuPont in Wilmington, DE. O'Hagan, a native of New Zealand, donated the $10,000 honorarium to Friends of AUT, a charity in connection with the Auckland University of Technology.
O'Hagan, who has previously held roles for Nike and Virgin Atlantic as well as served as president for Gatorade, ran a workshop based on her Extreme You program for the students in attendance.
What it takes to make success for yourself
O'Hagan thinks students today spend too much time looking for a silver bullet method to fast track them to success. After a colorful career characterized by her response to her professional failures, O'Hagan couldn't disagree more.
"I think it takes going to extreme lengths to get outsized success, there's no easy way there" explained O'Hagan. "It's important to play to your highest potential and focus on your specialty, your unique value, to achieve amazing success."
Finding your competitive advantage
A college major may not communicate a student's actual interest or best personal strength: and that's more than acceptable, according to O'Hagan. The trick is to push outside of your comfort zone and explore new topics and skills to find the intersection of passion and talent.
"Your competitive advantage is what makes you unique and helps you bring value to the people around you," shared O'Hagan. "Embrace experimentation and dig into new areas to see what suits you best and don't get discouraged even if results aren't great. You'll find something eventually!"
It's about the response to failure
O'Hagan has based many of her own insights on her response to a few notable failures throughout her career. The award winner's LinkedIn profile even makes failure the focus, showing both the universality of failure as well as how it has helped her grow and achieve more success.
"I like to call failure 'pain training,'" offered O'Hagan. "And my failures have characterized my basis for Extreme You. I really needed to experience this early-career failure to elevate to the next level."
The award winner believes our society of children with shelves of participation trophies has given us unrealistic views of success. O'Hagan's pain training, and the response it offers to failure gives people of all ages the practical tools to navigate the next steps to make progress.
Horn Entrepreneurship offers programs to help students find their passion. If you are interested in seeing which program offerings are right for you, please email hornprogram@udel.edu and request a welcome session.
About Horn Entrepreneurship
Horn Entrepreneurship serves as the University of Delaware's creative engine for entrepreneurship education and advancement. Built and actively supported by successful entrepreneurs and thought leaders, Horn Entrepreneurship empowers aspiring innovators and entrepreneurs as they pursue new ideas for a better world.