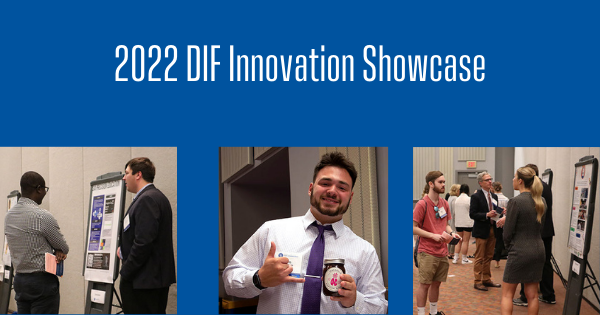 Many great innovations, societal changes and inventions begin with the question, "what if…?" Fourteen Delaware Innovation Fellows (DIF) hailing from 11 majors presented answers to their "what if" questions at the 2022 DIF Innovation Showcase. Their answers were the basis of their capstone innovation project and the culmination of work completed during their three-phase fellowship.
From food innovations and health devices to education and upcycling, Guests to the 2022 DIF Innovation Showcase enjoyed the ideas and ingenuity of the next generation of entrepreneurs.
Below are student and project highlights from the evening. Congratulations to the Delaware Innovation Fellows Class of 2022:
Hannah Rubin, Cognitive Science, '22
A Comparison of Cultures through a Lens
This project examines how photography can be used as a visual window into a culture and as a new tool for cross cultural analysis.
Santha Rani, Neuroscience, '22
Supremely Sweet
At Supremely Sweet, we are dedicated to creating chocolates with dietitian-approved ingredients and fit our customers' dietary needs by eliminating peanuts, tree nuts, gluten, milk, eggs, corn, and soy from our products.
Ben Quinutolo, Food Science, '23
Ono Bowls
Ben is developing a more natural, healthier, and minimally processed chocolate hazelnut spread to provide consumers a nut butter they do not have to feel guilty eating.
Kaitlin Schwemmer, Pre-Veterinary Medicine, '23
Ruff Knots
The upcycled toy your pet and the planet will love! Discarded textiles are given a new life as your pup's new favorite tug rope.
Sophia Angeletakis, Health Behavior Science, '22
Addressing Food Insecurity in Delaware
Sophia is dedicated to addressing food insecurity in Delaware through a variety of initiatives ranging from building a community space, conducting research, and educating our future generation.
Jason Bangser, Entrepreneurship, '22
ShareWallet
ShareWallet is the easiest way to get rewarded with friends while shopping online using referral programs.
Carlos Benito, Biology, '22
Sia Precision Education
Sia is an AI based educational technology company which was ranked one of the top 50 student-led companies in the world by Microsoft and received 10,000 dollars in start-up funding from John Hopkins University.
Reilly Boyle, Chemical Engineering, '22
Recovery of N,N-Dimethylacetamide from Waste Stream
An opportunity has arisen to recover DMAc from a waste stream to 99.9% purity. A full engineering analysis was performed to determine the most efficient and economical process to carry out.
Lilly Checkoff, Entrepreneurship, '22
Tools for School
Tools for School is a non-profit organization that provides underprivileged students with backpacks and school supplies. The organization has raised over $100,000 and donated more than 10,000 backpacks to students in need.
Badiallo Diani, Biomedical Engineering, '22
Novel Device for Increasing Oxygen Levels in ARDS Patients
This project improves a pressurized system for the treatment of Acute Respiratory Distress Syndrome (ARDS) in COVID-19 patients within low-resource environments, including Cape Town, South Africa which has a very large disparity and spatial inequality of many resources, including healthcare.
Monica Elavarthi, Chemical Engineering, '22
Rotaract at the University of Delaware
Rotaract at the University of Delaware is a student-run, community service RSO at UD that seeks to provide an opportunity for students to enhance their knowledge and skills that will assist them in personal development, and connect them with the greater community through meaningful volunteering experiences.
Zachary Herman, Entrepreneurship, '22
Prospect U
High school athletes are forced to go through a recruiting process that is not an efficient means to helping them play college sports. We're creating value by building a more efficient pipeline from high school to college through our website.
Hannah Kim, Management Information Systems, '23
Radiant Resumes
In an effort to provide Lerner students with a more effective educational tool to improve their resume writing skills, Hannah created a dynamic video series that was added to Lerner's student resource library.
Jeremy Reissman, Nursing, '22
Skate-Sled
The concepts of electric longboarding and downhill sledding are combined to make a fun new activity.
Delaware Innovation Fellows is one of a handful of university enrichment programs that brings together students from all over the university for programming that complements students' majors and develops interests and skills beyond traditional classroom learning.
"DIF allowed me to collaborate and interact with students outside my major and connected me with some of my best friends at UD," said Reilly Boyle. "I had the opportunity to connect with industry leaders and local entrepreneurs because of DIF and learn from their experiences. This has helped me connect ideas from my STEM major and apply entrepreneurial thinking to problems I am solving."
About Horn Entrepreneurship
Horn Entrepreneurship serves as the creative engine for entrepreneurship education and advancement at the University of Delaware. Currently ranked among the best entrepreneurship programs in the US, Horn Entrepreneurship was built and is actively supported by successful entrepreneurs, empowering aspiring innovators as they pursue new ideas for a better world.