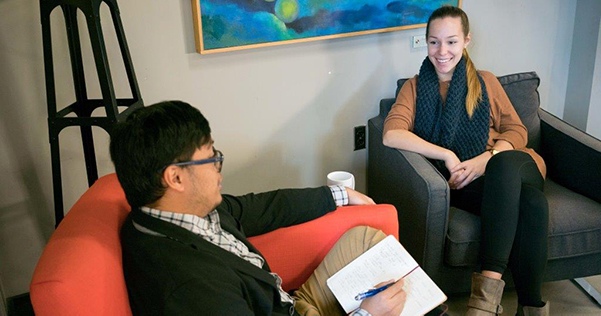 For many, the last year spent in school is a daunting, anxious ordeal filled with uncertainty about the next step in life. Sam Stokes, Entrepreneurship & Technology Innovation (ENTI), Class of 2018, was no different, but rather than go through the motions of finding a job to start down a career path she didn't deeply care about, as many of her friends were doing, Sam spent her final year in school searching for her higher purpose and deepest interests and passions. Now, Sam operates a location-independent lifestyle business that provides web design services for small businesses and solopreneurs who want more from life.
"In September of 2017, I began the job search much the same as all of my friends," explained Sam. "I went on countless interviews, in all sorts of different industries and fields: the two most common I was looking at were finance and fashion. But in every interview, I just couldn't help but feel that I didn't really connect with or love any of them."
With her positive and hard-working demeanor, Sam was never going to go without an offer. After interning at The Mill, an exciting co-working space in Wilmington that hosts many small businesses and solopreneurs in one collaborative office, Sam received a full-time employment offer to stay on with the team responsible for the space.
"By being in The Mill every day, I was inspired by all of the purposeful, motivated and hungry people utilizing the space," mused Sam. "The position at The Mill still wasn't for me; I wanted to be one of these amazing people utilizing the space as opposed to working for it."
The frustrating, exhausting (and universally prescribed) job search was doing little for Sam's health or happiness. The young ENTI student's search lasted throughout the fall semester but come January, Sam still didn't have a clear idea of where she was heading or what she wanted to do.
"I was beyond frustrated figuring out what I wanted to do and why I wasn't connecting with anything," shared Sam. "All I knew was, after months of searching, I really didn't want to get a job, but I had to make something work. I started prioritizing what I wanted my focus to be and why I wanted to get where I wanted to go. I started diving deeper into the inner work and getting clear about what my purpose is and found my passion in writing, teaching and sharing about how empowering it is to master different aspects of your life."
Over the following months in Sam's final spring semester, she contributed frequently to The Prosperous Pursuit, her personal blog about her journey to living life with a positive attitude and feeling empowered to make the best of any situation.
"I was watching all of my friends around me navigate through their senior year stressed out and not enjoying any parts of their lives," explained Sam. "They felt the pressure, they felt that their fun in life was ending with the end of college and now that they were graduating, they had to join the miserable real world with a job they didn't truly want. I knew I could share some positivity so I wrote as often as I could for my blog."
Though Sam was pouring her time into writing meaningful posts, by doing so she quickly realized her future lied not in writing, but in teaching and sharing her message of positive empowerment. With the full support of her parents, Sam decided to focus on helping others find the same positivity she did, by transforming The Prosperous Pursuit to include mindset coaching services. Soon, Sam was ready to abandon her job search and work on The Prosperous Pursuit full time after graduation.
"Over spring break, I officially called off the job search after going through the amazing Startup Island program," shared Sam. "Josh and Brian, [founders of Startup Island], are huge mentors of mine and after traveling to Costa Rica for the workshops and incredible experiences they offered through the program, I realized I had to prioritize my lifestyle and fulfillment over career development."
Startup Island provides a unique opportunity for entrepreneurially-minded students to explore personal and professional goals while focusing on fulfillment. The program travels to Costa Rica for this personal and professional growth accelerator, with participants beginning each day with yoga and meditation before moving on to workshops, with free time at the end of the day to explore the natural beauty of the Central America country.
"Being surrounded by a motivated group of like-minded people was so fascinating to me; they wanted more from life just like I did," said Sam. "I came back from Startup Island eager to start making progress, but I knew that if I wanted to begin the serious work of designing, coaching and teaching courses, I had to first redesign my website."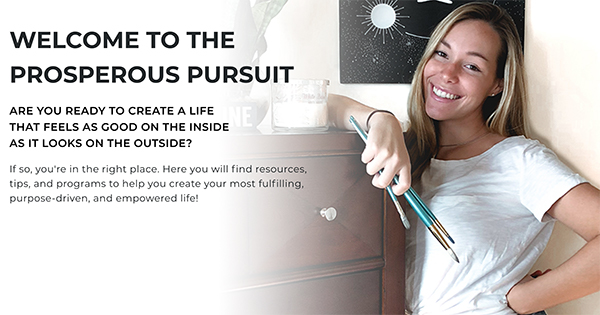 Sam found her next path as she began designing and improving her website. The ENTI student fell in love with the branding process and the intricacies of building a website. After enjoying the process for her own site, Sam began signing contracts to help other people redesign their own websites. Now, Sam keeps busy by branding and designing websites for small businesses and solopreneurs with a purpose.
"It may seem like it was effortless," said Sam of her transition from blog writer to life coach to web design. "But really, it just aligned with my vision: helping people feel empowered to find fulfillment and build purposeful lives. Design is just a vehicle to help me do that; it lets me help others deliver their message and vision in a creative and powerful way."
Rather than focusing on ambitious business metrics, the next step for Sam is finding a new and exciting place to live to continue exploring and finding fulfillment. Though currently living in her childhood home in New Jersey, Sam is eager to find the next locale to continue her location-independent business, with a shortlist including places like Costa Rica, Hawaii, California and Colorado.
"My parents are moving in September so I want to find out what's next very soon," said an excited Sam. "Without their support, I couldn't have even started this. But it's definitely time to find somewhere new and after talking to Charlie Horn, I feel so confident in my journey. He convinced me that if it's what I truly wanted, then no amount of time was going to determine my success, whether it was a five-year plan or a ten-year plan. If I wanted it, I could make it happen, and nothing should stop me from trying to make it work until it does."
Check out Sam's site, theprosperouspursuit.com, to read her blogs and catch up on her journey.
Want to follow in Sam's footsteps? Drop hornprogram@udel.edu a line to learn more about our programs and services to find which one is best for you and your goals.
About Horn Entrepreneurship
Horn Entrepreneurship serves as the University of Delaware's creative engine for entrepreneurship education and advancement. Built and actively supported by successful entrepreneurs and thought leaders, Horn Entrepreneurship empowers aspiring innovators and entrepreneurs as they pursue new ideas for a better world.