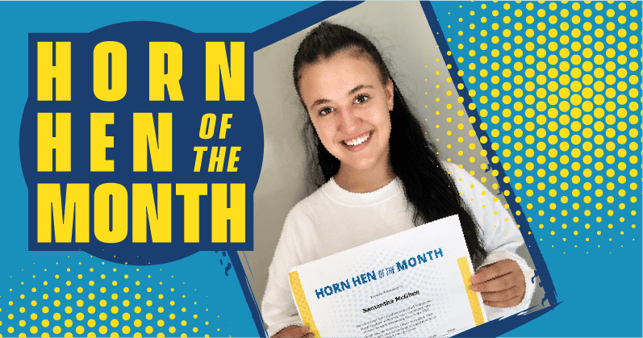 The Horn Hen of the month article series is a brand new series dedicated to highlighting Horn students that are inspiring others and impacting their community. One nominated Horn student will be chosen each month and a written feature will document their hard work and progress as they go through their time at Horn.
The winning student will receive a gift card, a Horn Hen of the Month certificate, and will have a feature written about them and the work that they are doing outside of the Horn community.
To nominate a student, fill out this Google form. Any student involved with Horn Entrepreneurship is eligible to be nominated.
September's Horn Hen of the Month winner is Samantha McGhee '25. The Sophomore Entrepreneurship and Fashion Merchandising & Management double major plans on directly applying what she learns to her own startup, Miss Boulevard - a lifestyle brand that uses loungewear to push self expression and individuality. It allows one to wear their mental health as their garment.
McGhee hails from Garnet Valley, PA. Even before enrolling within the Horn Entrepreneurship program at the University of Delaware, she possessed an entrepreneurial spirit. "I'd make and paint wooden signs with cute quotes on them for different holidays, which I'd then sell on FaceBook and by word of mouth," McGhee tells us.
She describes the Horn community as inspiring. "When I enter the VDC I'm always welcomed by like minded entrepreneurial students who are unique, passionate and willing to listen and share. They make you feel like you matter and make you better than you were yesterday," McGhee says.
Aside from being a full time student with her own startup, McGhee still finds time to actively remain involved, being a part of numerous clubs including: Entrepreneurship Club, Venture On, VDC community Sessions, The New Magazine, Fashion Merchandising Club and Sustainable Fashion Club.
McGhee serves as an assistant on the Student Experience Team as well as a Lead Horn ambassador within the Horn Entrepreneurship program. She works diligently behind the scenes planning and carrying out events that students want, as well as being a resource for prospective students and their families, providing answers to their questions.
She values the advice and mentorship from, Ted Foltyn, adjunct Entrepreneurship Faculty. She often refers to him for feedback about her different opportunities. "He's well versed and I trust his judgment," Mcghee explains. In addition to advice, he has also helped with her resume.
The ambitious entrepreneur also looks up to Laura DiFranscisco, an entrepreneur and founder of multiple ventures including Flourish Westchester, Dean Street Law and Ethereal Farms. McGhee admires her drive and advocacy towards the importance of mental health.
McGhee's advice to incoming freshmen would be to take advantage of opportunities and be present in the VDC. "They line you up for success and Not taking advantage might lead to regret," says McGhee.
About Horn Entrepreneurship
Horn Entrepreneurship serves as the creative engine for entrepreneurship education and advancement at the University of Delaware. Currently ranked among the best entrepreneurship programs in the US, Horn Entrepreneurship was built and is actively supported by successful entrepreneurs, empowering aspiring innovators as they pursue new ideas for a better world.