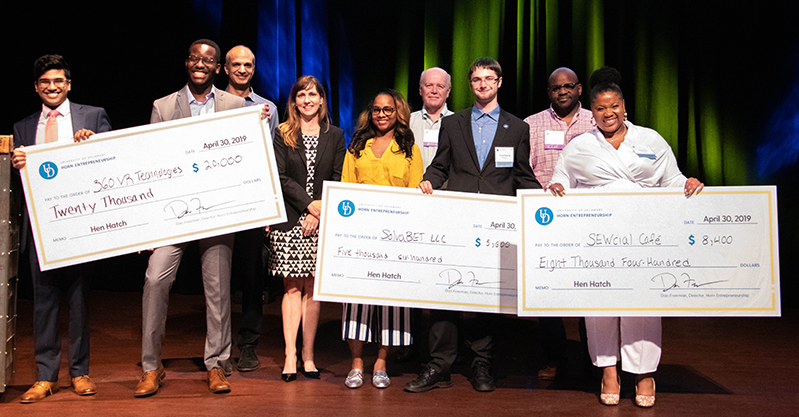 Horn Entrepreneurship is pleased to announce all of the success and honors our fantastic community of creators, scientists and doers have accomplished this quarter.
Students
360VR Technology, led by Suryansh Gupta and James Massaquoi, has been quite busy lately. The virtual reality security company advanced to the final round of the Big Bang! Business Competition, qualified for the regional competition of Startup World Cup 2019 and advanced to the final round in the Richard Barrentine Values and Ventures Competition at Texas Christian University. If that wasn't enough, 360VR was also selected to be a part of the Emerge Americas 2019 Startup Showcase in addition to competing at the SXSW festival.
Y Innovations, led by Brennan Stark, is a finalist in MADV Angel Venture Fair.
Wilminvest, led by Bryce Fender and Joel Amin, signed their first tenant. The socially conscious venture has stayed true to their business model with Horizon House on the books.
Grants
The following teams have been awarded grants for the promising work completed to this point.
Sage Smart Gardens received a $25,000 grant from NextFab Hardware Accelerator, a 12-week program designed to help hardware entrepreneurs get hands-on experience to launch their venture.
Spekciton received a for $100,000 from the Delaware Bioscience Institute Entrepreneurial Proof of Concept fund.
TheraV, spearheaded by Amira Idris, received a $5,000 Amber Grant from WomensNet. Mouth Mouse also received a $150,000 grant.
SentenceWeaver and RiKarbon were accepted into the National Science Foundation I-Corps Teams with a $50,000 grant.
Smartenius, led by Hao Liu and Erik Thostenson, W7 Energy, led by Lan Wang, Santiago Rojas-Carbonell and Yushan Yan and Amplus, led by Yuping Zeng and Kazy Shariar were each awarded a $150,000 UNIDEL grant to further their progress and research.
Faculty
Isabelle Schmitt, a member of the women's lacrosse team, nominated Horn Entrepreneurship teacher Tony Wedo for Most Valuable Professor.
Stephanie Raible was elected as the 2019 Vice Chair/Chair-Elect for the United States Association of Small Business and Entrepreneurship (USASBE) Social Entrepreneurship Special Interest Group.
Alumni
Patient Sortal, founded by Kenny Eck, won Delaware Bio's Pitch to Partnering competition and was awarded tickets to the BIO2019 International Convention, taking place from June 3 - 6.
Garry Johnson's KnowCap won the Noir Tank Competition. Garry also hosted a pitch workshop for Backstage Philadelphia helping underrepresented founders build their ventures.
About Horn Entrepreneurship
Horn Entrepreneurship serves as the University of Delaware's creative engine for entrepreneurship education and advancement. Built and actively supported by successful entrepreneurs and thought leaders, Horn Entrepreneurship empowers aspiring innovators and entrepreneurs as they pursue new ideas for a better world.