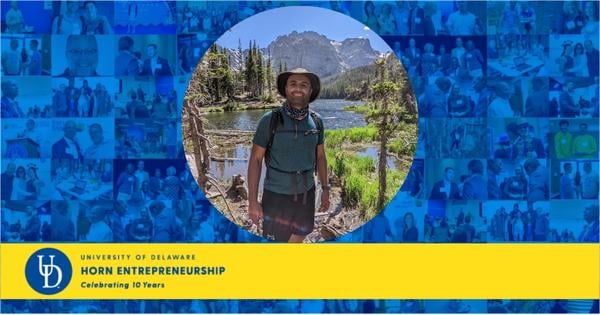 This article is part of a series celebrating the 10th anniversary of Horn Entrepreneurship by highlighting alumni, their stories and accomplishments.
The first big innovation that Blue Hen Dental co-founder Farhad Baqi orchestrated for the Smyrna, Delaware, dental practice was a device called the Curing Cube, which sped up the time to harden the resins and dental composites used in making impressions from as much 15 minutes to as little as 10 seconds.
The latest big innovation is a satellite office in the suburbs north of Wilmington, catering to dental tourists – yes, that's a thing – and others seeking major work on their mouths, at a reasonable commitment of time and a reasonable cost.
And in between, he and co-founder Seyar Baqi – his brother and the practice's only dentist – have worked hard to improve the customer experience. They have also learned from a few errors.
"It was amazing how much I learned in Horn, and I was still making mistakes," Baqi said. "We were thinking 'We're a dental office, and everyone needs a dentist.' There's so much more to it than that. We didn't really identify a problem.
"We were working with a lot of dentures and extractions, and we said 'We're going to be this place known for quality dentures.' We bought all this equipment without interviewing any of our customers and anybody in that demographic.
"We ended up buying 50 grand of equipment that we returned or just took the losses. Because that's not what our customers wanted. Boy, were we wrong."
An entrepreneur at age 9 or 10
His first entrepreneurial experience was a dog-walking business when he was 9 or 10. "I don't think I got a single customer," he said. "My maiden voyage into entrepreneurship was kind of depressing, but I knew I loved it even before I knew the word.," he said. "I just loved the idea of creating something novel."
That love mattered when he entered the University of Delaware in 2013, the first year that entrepreneurship was offered as a major. Dan Freeman, founding director of Horn Entrepreneurship, and Tricia Monnig, manager of academic enrichment at Horn, interviewed him and recognized that he was "an idea person, a dreamer." Meaning an entrepreneur who should be accepted into the major.
It wasn't until his junior year that Baqi found that community at Horn. At the same time, his brother, in dental school, found a problem with how long it took to harden material to create individualized molds, a process known as curing.
He ran with his brother's problem, using it in several Horn programs, such as VentureOn, which includes 24-hour access to the Venture Development Center, advice and in-kind support; in the first cohort of Summer Founders, Horn's pre-accelerator for students to earn a stipend and work on a venture; and pitching it in Hen Hatch, Horn's premier startup funding competition.
"It really opened me up to a bunch of different experiences within Horn, and that's when I realized the true value that they were providing us was outside the academic perspective of classes," he said. "It was one-on-one mentorship with the real-life stories of their experiences." And his. "It's fair to say it's been a pretty interesting life being an immigrant. It's been challenging, but it's been fun.
Horn made him successful
"There are so many people at Horn who helped that it's hard to name all of them," he said, before name-dropping Freeman; Monnig; Vince DiFelice, faculty director of Horn; Ted Foltyn, internship coordinator; and many more.
"They were absolutely vital for where I am today because they were somebody I could lean on," Baqi said. "Outside of being mentors and teaching me stuff, they were just genuinely amazing people, and I'll never forget them. They were literally the bloodline of everything I know today."
That's why he is giving back to Horn by attending mentorship programs, participating in Summer Founders and speaking to classes. "I wish I could do more, but time really doesn't allow me to right now," he said. "But I'm so so so grateful for everything they've done for me."
In 2017, just before Baqi earned his bachelor of science degree – a double major in entrepreneurship and technology innovation/management – he and his brother bought a building for Blue Hen Dental. They chose Smyrna, a blue collar community where they had grown up.
Although they made some missteps, they also made some significant moves to build their business, which now includes nine staff members, including the two brothers. By voluntarily getting their dental work at Blue Dental, all staff members and their families are walking advertisements for the practice.
They realized that some people avoided going to the dentist – as long as 44 years for one patient. "We're now known as the office that sees patients after they haven't gone to the dentist for years, because of fear and bad experiences. We develop a lot of things to make our patients happier and less afraid of the dentist."
Pain and cost
"We really tried to drill down to the root of what people fear with the dentist," he said, using an unintentional pun. The two biggest issues were pain and cost.
"At the core of it is education," he said. "Teaching patients about what these procedures are, what they entail and then taking our time and making sure they're numb and not in pain when we do this. It just became as simple as that.
"Transparency along the way is really important," he said. "Showing them what needs to get done, how much it'll cost, what timeline they're looking at, what the procedure length is going to be like and explaining all these things. We realized that we can break down some of these fear barriers inside their brain and help them understand what they're getting done."
They also invested in tech. Instead of using "that gooey, nasty, cold, slimy stuff in your mouth" to take impressions, they take digital impressions with a 3D x-ray – which also has the benefit of taking half the time. They converted to electronic forms that patients can fill out in advance.
They fine-tuned scheduling so wait times are less than 10 minutes for all patients.
"We're always changing," he said. "We're always trying to get better. That's one thing Horn really taught me. You can strive to be perfect and try to achieve, but you'll never get there. But the journey is what makes it worthwhile."
The Curing Cube
When their practice began, Seyar and University of Pennsylvania Dental School classmate Edward Bayley realized that the standard system to harden resins – basically a light bulb in a box – was too slow. They developed a device – 12 inches in each dimension and branded as a Curing Cube – that uses a powerful ultraviolet LED to cut the curing time by as much as 99%.
"It's always cool to bring a prototype into fruition and see it in action," Farhad told The News Journal in 2018.
About 10 Curing Cubes are in use, but the brothers have concluded the concept is unlikely to scale. First, because it's more appropriate for laboratories, rather than dental offices, and second because the technology is moving away from resins. "Within the next 10 years, they might be obsolete," he said.
Blue Hen Dental's expansion to the Wilmington suburbs takes advantage of a concept known as medical tourism. It's been proven internationally, he said, with people flying to Dubai for dentistry, with the cost of travel and the procedure still cheaper than the cost alone in the United States. Dental tourism is also common by Americans driving to Mexico.
North Wilmington is closer to the Philadelphia airport and to a larger potential base of customers in New Castle County and other Philadelphia suburbs. "We're getting ourselves in the middle of high-growth areas," he said, with more higher-income people who can afford cosmetic work.
They feel confident about the move, because they already have some patients driving dozens of miles south to Smyrna for such services. A second office will make them more convenient to more people.
One stop for everything
One key demographic of patients at the new office will be people who need a lot of teeth replaced. The traditional solution would be dentures, which at best are suction-cupped to the mouth and at worst, particularly in the bottom, "a useless and uncomfortable disaster that does not stay in place," Baqi said.
Instead, Blue Hen Dental promotes implants, which are posts screwed into the jawbone. Two implants can have dentures snapped on, on the upper or lower part of the mouth. Four or six implants can have dentures permanently attached (of course, dentists can remove them) "for a beautiful smile that has maximum functionality," he said.
The new office will also handle other reconstructions, like crowns for teeth damaged by cavities and other issues, veneers for teeth stained by medications and other woes and invisible braces for badly aligned teeth.
One office handling it all is rare in the dental industry, he said, and that's what Blue Hen Dental will do. Its business model means it'll efficiently coordinate all the work – although it can't get around the months it takes for titanium alloy implants to integrate with the jawbone. The efficiency will also include telehealth visits, and all these steps should mean fewer visits to the office.
"We have to leverage technology to make some of these things more convenient for patients and for us.," he said. "And I think, overall, it'll give patients more flexibility outside their geographical location to go to a dentist that might have more experience with this stuff. That's what we're really looking to accomplish."
About Horn Entrepreneurship
Horn Entrepreneurship serves as the creative engine for entrepreneurship education and advancement at the University of Delaware. Currently ranked among the best entrepreneurship programs in the US, Horn Entrepreneurship was built and is actively supported by successful entrepreneurs, empowering aspiring innovators as they pursue new ideas for a better world.