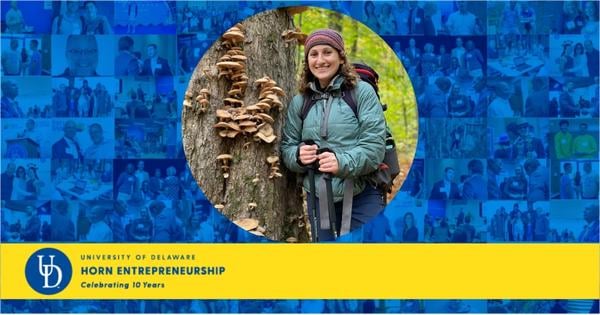 Tortilla imprinted with logos and bacon made from mushroom roots are two unusual components of Alanna Weiss' startup career.
In 2018, while a student at the University of Delaware, she created a food delivery and catering company specializing in quesadillas. Tortilla Text was born from that, with the ability to print messages, logos or other information directly on tortillas.
After graduation in 2020, she was hired by a company now known as MyForest Foods. Its game- changing product – and its first product to hit the shelves – is MyBacon, which is made of just six ingredients: Mushroom mycelium (the root-like structure), salt, coconut oil, sugar, natural flavors and beet juice concentrate (for color).
Weiss' personal game-changer was a presentation at Horn Entrepreneurship by David Lawson, a veteran of product development and innovation at Procter & Gamble.
"Best Free Lunch Friday ever," she said of the recurring Horn gathering with guest speakers. So it was natural that she later signed up for his course in environmental entrepreneurship. The class covered "solving these big environmental challenges through business," she said. "I still use his thoughts almost every day of my job."
Experiences and engagement
At MyForest, Weiss is an experiential and engagement coordinator. In her job, she handles external-facing events to multiple demographics, including staffing a griddle to cook MyBacon and offering samples to consumers shopping for groceries. "We'll start talking about deliciousness, and I'll give them a taste," she said.
"And the next week I'll be in San Francisco at a biology conference. In both cases, I'm cooking bacon and teaching people about what we're doing, but it's just through such different lenses. At the biology conference it will be more like, 'What about the fungi and the science behind it?' "
She understands that consumers make complex choices in ranking, taste, sustainability and health when they buy food. "As a company, we rank taste over everything. In order to have the biggest impact, we want people to find this product super-tasty, but that doesn't mean we're discounting the other factors. They're also super-, super-, super-important to us."
Company co-founder Stephen Lomnes told the Albany Times-Union in 2021 that MyBacon is far more sustainable than bacon from pork. "Their process involves less water consumption, reduces greenhouse gas emissions by a factor of 20 and is less intensive on the land," the paper wrote.
Weiss loves the outdoors. "Having access to the forest is a true privilege," she said. "Engaging in the environment allows me to feel grounded, increasing my ability to work with passion. Going to work after outdoor experiences is gratifying since we are on a mission to decrease reliance on animal agriculture and deforestation." Such walks are also chances to think about what surrounds and what's underneath, such as mushrooms.
"In the forest, there could be up to nine miles of mycelium underneath, all connecting," she said. "It is the internet of the ground. It has many crucial roles in the environment."
My, oh my, mycelium
She became interested in mycelium in her senior year when she explored creating sustainable, temporary buildings out of it. These buildings could be used and then decomposed.
Yes, mycelium can become food and building material, just as corn kernels can become tortillas and ethanol. "You can eat it, you can wear it, but you can also ship a TV in it," she said of mycelium. "As a material, it is incredible. There are so many different strains of mushroom mycelium in the world or fungi that you can leverage, and it really just depends on what application you want to use it for."
She was thinking of structures built for events, like the Olympics, music festivals and big conferences – construction leveraged by humans temporarily but has a lasting impact on communities, wildlife and other elements that are commonly overlooked. She was working with chemical engineering student Sean Frazee, who was researching if mycelium could remediate nitrate compounds, benzene and cyclohexane while simultaneously growing into building materials such as hypoallergenic insulation and resilient cabinetry. They entered Hen Hatch, University of Delaware's premier startup funding competition, and were told their ideas for mycelium were too obscure.
But her ideas and her "insane passion for mushroom mycelium" were the perfect fit for MyForest Foods.
She was hired as a chef and operations lead. She was promoted a year later. When she began, "it was just four of us in an old converted smokehouse, and it's been super-interesting to watch the entire project evolve." Now there are 25, including five on her marketing team.
MyForest Foods (at first called Atlast Food) is 2 years old. Parent Ecovative Design is 15.
"Ecovative also uses mycelium to create materials such as environmentally friendly leather, styrofoam-free packaging, and makeup sponges, spa slippers, toe spacers, and sheet masks to reduce waste in the beauty industry," VegNews reported.
A nearby farm
Weiss' office is in Albany, New York. A new farm in nearby Green Island grows the oyster mushroom mycelium for MyBacon. "We're simulating the conditions of the forest to make the world's happiest mycelium," she said. They have figured out a repeatable, scalable method to grow panels as large as 5 by 40 feet, in a proprietary substrate, with the mycelium filaments all lined up neatly like the muscle fibers of meat. It's harvested in 13 or 14 days, she said.
Lomnes told the Times-Union in 2021 that the company is gearing up to produce nearly 3 million pounds of mycelium a year.
A plant turns the mycelium into MyBacon. The harvested panels are "cut into smaller pieces, run through a deli slicer, boiled, brined and colored with beet juice before baking in the oven," the Times Union wrote.
MyBacon is sold only at Honest Weight, a food co-op in Albany; the Berkshire Food Co-op in Great Barrington, Massachusetts; and Cornucopia Natural Wellness Market in Northampton, Massachusetts. It's $5.99 for 6 ounces at Honest Weight, the Times Union said, and the weekly shipments often sell out in two days.
The company needs to scale up production before it scales up sales, but Weiss makes sure to share some with her family when she visits. "My family loves it," she said. "Candied on cupcakes or amplifying any sandwich."
Classes at UD and in 2 other countries
"I am focused on utilizing new product development and technology innovation to promote environmental sustainability," she writes about her career goals on LinkedIn.
At UD, Weiss was a hospitality business management major with an entrepreneurship minor, and she also earned a certificate in new product development through UD's College of Agriculture.
She had internships and externships at Jet Support Services, an aviation maintenance company; Hyatt, Marriott and Starwood hotels; and Long Beach, New York. She also took courses at the Shenkar College of Engineering, Design and Art in Israel and the Swiss School of Tourism and Hospitality.
As a blue hen ambassador for two years, she gave campus tours to prospective students.
Horn Entrepreneurship was a significant part of her growth. "I separate my experiences with Horn into two different groups: in the classroom and outside the classroom.
"The people and the connections meant the most. So I enjoyed going into the Venture Development Center and finding like-minded individuals who also were interested in startups, who thought about the world a bit differently than others, who had goals other than to get good grades and join a few clubs.
The vibe in the VDC
"I like the intersection of different majors that happen at the Venture Development Center and like the way it evolved as I was there.
"It was a different energy than I had experienced anywhere else, and they gave us this little hub to actually have these interactions, which are super-interesting. Everybody is going to the VDC to have the same energy. As someone who's extremely extroverted, I gain energy from the people around me.
"When I'm around people who really do want to change the world in a broad way, it is astronomically helpful. Some of the best conversations happen after the activities are over."
"Maybe everybody was doing homework together, but we're also sitting there and working on projects, talking, laughing and building connections. It's a compilation of so many things. Then you get into the other side of it, which is the classroom, and that was insanely helpful as well."
She said classroom standouts included Lawson; Vince DiFelice, faculty director of venture support at Horn; and Sheryl F. Kline, now deputy dean of the Lerner College of Business and Economics. She made a point at the end of the interview to stress how she was happy that so many students at Horn are warming to social entrepreneurship. "I would like to point out the shift that's happening. So many people are into entrepreneurship for just money, but it's really cool to be in this industry and see the emphasis being put on the environment and social causes. I would want students, especially entrepreneurship students, to realize there is more out there and a higher reason to work and want to be in business than to just have financial gain."
About Horn Entrepreneurship
Horn Entrepreneurship serves as the creative engine for entrepreneurship education and advancement at the University of Delaware. Currently ranked among the best entrepreneurship programs in the US, Horn Entrepreneurship was built and is actively supported by successful entrepreneurs, empowering aspiring innovators as they pursue new ideas for a better world.