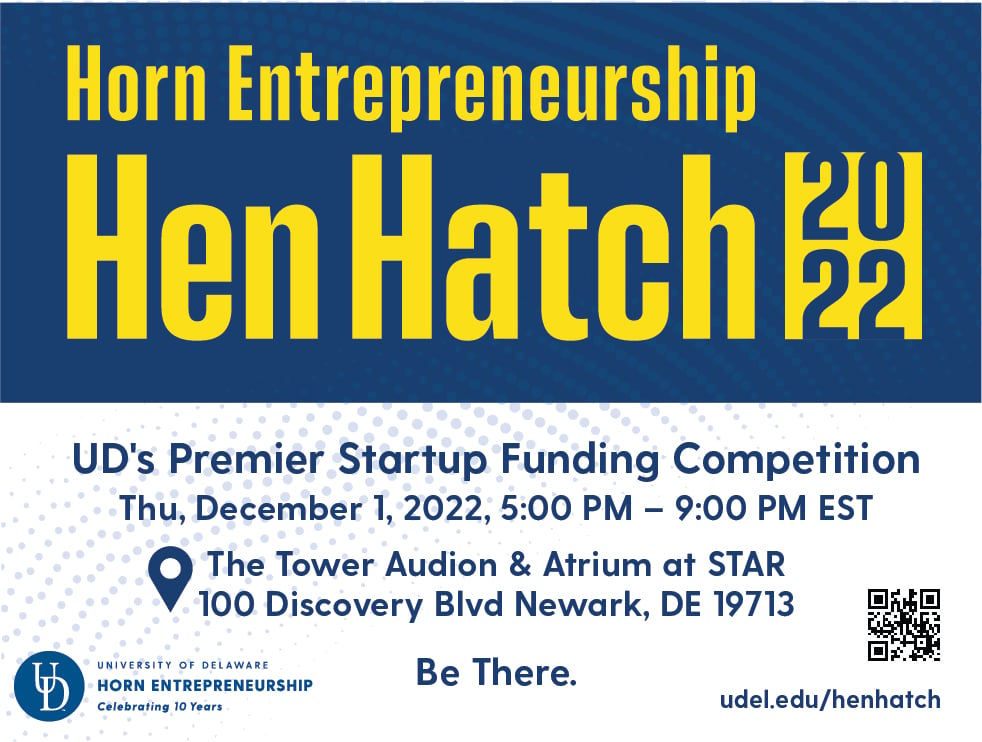 Following much deliberation, the finalists for Hen Hatch 2022, the University of Delaware's much-anticipated premier startup competition, have been selected. The submissions this year have been from a wide range of industries, colleges, and interests, truly showing that the spirit of entrepreneurship can be found anywhere. This year's teams made it hard on our semifinal judges, but we have managed to narrow it down to a few particularly promising and innovative startups we are proud to showcase in the final round.
The following three teams from each of the Pre- and Post-Revenue tracks will compete in the final round of the 2022 Hen Hatch competition, set to take place at The Tower Audion at STAR Campus from 5 to 9 p.m. on Dec. 1, 2022. Horn invites all to attend the upcoming culmination of the final round of the 2022 Hen Hatch competition!
Registration is now open
.
This final round will feature a $50,000 prize pool and in-kind gifts which range from support for conferences and competitions to special mentorship and services. Horn Entrepreneurship will also continue to support all teams in their startup growth.
The evening will also include the 2022 University of Delaware Innovation Showcase, an exhibition of innovation projects and startup businesses(including our Hen Hatch Semifinalists) during which attendees will have the opportunity to network and learn from the many experienced market experts, entrepreneurs, investors, and others in attendance. Hors d'oeuvres and refreshments, including beer and wine to those who are 21+, will be provided.
FINALISTS IN THE PRE-REVENUE TRACK:
Little Bob Technologies - Garrison Davis, International Business (MS), Class of 2022
Little Bob Technologies is a crowd-investment platform for community-based solar projects in low and middle-income areas, giving everyday people the opportunity to profit from and gain access to renewable energy.
Agreen Tech - Yuefei (Mike) Tao, MBA, Class of 2023, Sarah Megivern, MFA, Class of 2024
Agreen Tech is a science-driven material technology company that develops advanced antibacterial and deodorant products such as deodorant insole/shoes, antibacterial yoga mats, and more innovations to improve the quality of human life.
Dear Volunteer - Isabella Duarte, Entrepreneurship, Class of 2024
Dear Volunteer is a website platform designed for volunteers to find, filter, and sign up for volunteering opportunities at charities and nonprofits, allowing organizations to spread awareness and gain volunteers.

FINALISTS IN THE POST-REVENUE TRACK:
SkipRope - Alexander Pugliese, Entrepreneurship, Class of 2022
SkipRope is a B2B2C mobile application that helps bars & nightclubs capture additional value from their most high-value customers.
CompSciLib - John Ye, Marketing and Finance, Class of 2024 & David Bichara, Biomedical Engineering, Class of 2023
CompSciLib is a platform that provides on-demand computer science tools and assistance for students worldwide, automating the process of technical learning with the convenience of computer science calculators, learning materials, and practice sets.
Stem So(ul)cial - N'Dea Irvin-Choy, Biomedical Engineering (PhD), Class of 2023, Camille Smith
STEM So(ul)cial is a hybrid-style community for Black people in STEM.
About Horn Entrepreneurship
Horn Entrepreneurship serves as the creative engine for entrepreneurship education and advancement at the University of Delaware. Currently ranked among the best entrepreneurship programs in the US, Horn Entrepreneurship was built and is actively supported by successful entrepreneurs, empowering aspiring innovators as they pursue new ideas for a better world.