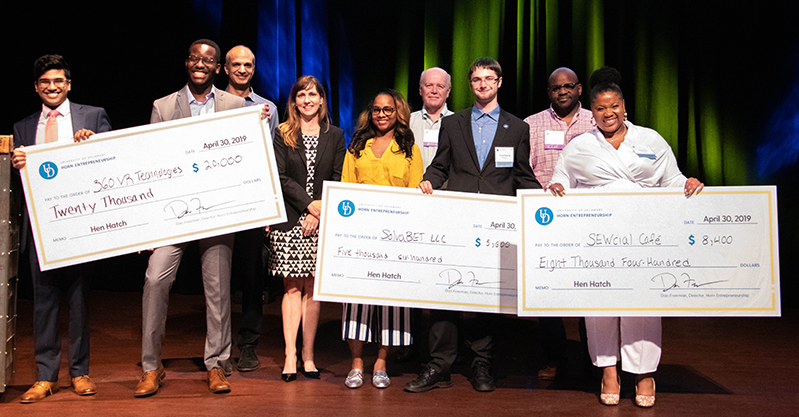 Winners of the Hen Hatch competition were announced during its final round on Tuesday, April 30 at the Queen in Wilmington, Delaware.
Hen Hatch, hosted by Horn Entrepreneurship, is the University of Delaware's premier startup funding competition. The competition features two different tracks, one for UD students and one for alumni, faculty and staff. Hen Hatch provides participants with the opportunity to make connections and collect feedback on their ideas.
During the final round of the competition, the top three teams from each track pitched their business concepts before an audience and a panel of accomplished judges, competing for prizes totaling $100,000 in cash and in-kind services.
Vince Di Felice, Senior Instructor of Practice and Faculty Director of Venture Support for Horn Entrepreneurship, was ecstatic about the teams involved in this year's competition. "I'm very proud of the diversity involved this year and the increasing desire of our innovative community to provide social value to the world. Hen Hatch continues to unite all of the University communities under the umbrella of innovation and entrepreneurship and we couldn't be more excited about this 2019 cohort."
The first place team from the student track is 360VR Technology, winning $20,000 to further grow their venture. This team includes James Massaquoi, Alfred Lerner College of Business and Economics, Class of 2020 and Sury Gupta, College of Engineering, Class of 2020. The team also won the audience choice award.
"I remember coming to Hen Hatch as a freshman and wanting to compete up on the stage," said James. "It is the culmination of a lot of my efforts into one night. I don't think I have ever gotten more text messages than today and I hope Sury and I presenting can be an inspiration to young students around campus to chase their goals and grow."
360VR Technology is a virtual reality and drone solutions company that uses virtualization, drones and intensive analysis of buildings to aid emergency services with pre-incident, active and post-incident planning.
The second place winner was The SEWcial Cafe, taking home a prize of $8,400. The venture is run by ChaCha Hudson, College of Arts & Sciences, Class of 2019. The SEWcial Café is a community sewing space for women to create, collaborate, and develop handmade products in a relaxed and inspiring environment that encourages innovation.
The $5,600 third place award for the student track went to SolveABET LLC. This venture was founded by Jonathan Wood, Lerner College of Business & Economics, Class of 2019. SolveABET LLC is a blockchain accreditation platform for business processes and accreditation, used to reduce costs, improve consumer trust, and help businesses realize increased revenue from transparent and automated systems.
As for the alumni, faculty and staff track, a first place prize of $14,800 was awarded to CATX Inc. The venture, founded by Bruce Boman and Gilberto Schleiniger of the Department of Mathematical Sciences, is a biotechnology corporation committed to the development of new, more effective, even curative, Cancer (CA) Therapeutics (TX) through translation of discoveries in basic cancer research to clinical oncology.
A second place prize of $14,200 for the alumni, faculty and staff track went to RiKarbon. The venture is producing bio-based, high-performing and safer ingredients for cosmetic manufacturers to capture more customers at a higher price. RiKarbon was presented by Basudeb Saha, Chemical and Biomolecular Engineering and Sarah Wenyon, College of Arts and Sciences.
The $5,000 third place prize was awarded to Patient Sortal, a Healthcare Data Management company that provides solutions to aggregate, store, and share protected health information. Patient Sortal uses their solutions to provide complete health records to patients, healthcare providers, businesses, and other organizations who value complete health records. The venture was founded by Kenny Eck, Class of 2018.
"Competing at Hen Hatch has really been two years in the making, the hard work is starting to pay off and we're finally here to show Wilmington and the world what's happening at Patient Sortal," said Kenny.
Each team had seven minutes to pitch their business concept and five minutes to answer questions from the panel of judges. This panel included representatives from organizations ranging from Google to LabWare, Inc. to Backstage Capital.
About Horn Entrepreneurship
Horn Entrepreneurship serves as the University of Delaware's creative engine for entrepreneurship education and advancement. Built and actively supported by successful entrepreneurs and thought leaders, Horn Entrepreneurship empowers aspiring innovators and entrepreneurs as they pursue new ideas for a better world.