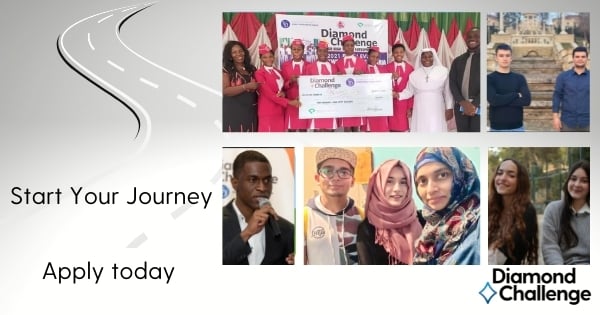 From electricity generating tires and eco-friendly construction material to wellness apps and bacteria reducing inventions, more than 20,000 teens are addressing the world's toughest problems through the Diamond Challenge, an entrepreneurship competition for high school students. Registration for the 2022 competition is open to high school students through January 7, 2022.
Horn Entrepreneurship created the Diamond Challenge to provide high school students from around the world with an opportunity to learn about entrepreneurship by putting their ideas into action. The Diamond Challenge is a concept-based competition for new ventures. Students submit and pitch their ideas to compete for a share of the $100,000 prize pool. These awards may be used to support their startup or pursue a higher ed.
"Our youth entrepreneurship community fuels the impact and global reach of Diamond Challenge," said Rachel Strauss, interim assistant director, Horn Youth. "Our members serve as entrepreneurship education catalysts, transforming local ecosystems and lives throughout the year-long experience. I am grateful for their incredible commitment to igniting the next generation's success."
Participation
Participants in the Diamond Challenge work in teams of 2-4 to gain valuable first-hand experience with: conceiving an idea for a new business or social venture, testing ideas and gathering evidence by talking to potential customers and pitching their ideas by submitting a written concept, pitch deck, and getting the chance to present to a panel of judges.
Eligibility
Students from around the world are eligible to participate if they: are enrolled in a secondary school or educational program, have a team with 2-4 students, and have a teacher, parent or community member who is willing to serve as the team's advisor.
Impact
Several aspects of the Diamond Challenge make it unique among entrepreneurship competitions and programs for youth, including:
Evidence-based entrepreneurship. The Diamond Challenge provides an age-appropriate introduction to state-of-the-art best practices for entrepreneurship, which focus on the use of evidence-based and lean startup methods.
Real world engagement. Participants have the opportunity to connect with mentors to benefit from their experiences. They are encouraged to interview real prospective customers to gather evidence. And they receive feedback on their submissions from practicing entrepreneurs, business professionals and community leaders.
MORE than starting small businesses. Entrepreneurship is the process of creating, delivering and capturing value from new ideas. The Diamond Challenge's Venturing for Good

curriculum highlights that entrepreneurship is not only a way to make money, but to create real change by solving some of the world's biggest social and environmental problems.

Pathways to higher education. The Diamond Challenge is produced by University of Delaware Horn Entrepreneurship and offers supplemental opportunities to earn college credit. The Diamond Challenge also awards prize money to top teams that can be used to pursue further education at ANY college or university in the world.
Connecting with like-minded peers. Throughout the Diamond Challenge, there are meetups, programs and a virtual community designed to facilitate the formation of lasting connections with like-minded peers from around the world.
"If Diamond Challenge participants come out of this program learning how to leverage their entrepreneurial mindsets to make the world a better place," said Strauss. "That's the ultimate win."
To learn more about the Diamond Challenge, visit www.diamondchallenge.org.
About Horn Youth
At its founding in 2012, Horn Entrepreneurship launched a youth initiative to address major gaps in secondary entrepreneurship education. At the time, most existing youth programs focused on small business management. In contrast, the Horn youth initiative has been built to focus on unleashing creativity, encouraging a mindset of abundance and self-determination, and promoting purposeful entrepreneurial action.
About Horn Entrepreneurship
Horn Entrepreneurship serves as the creative engine for entrepreneurship education and advancement at the University of Delaware. Currently ranked among the best entrepreneurship programs in the US, Horn Entrepreneurship was built and is actively supported by successful entrepreneurs, empowering aspiring innovators as they pursue new ideas for a better world.