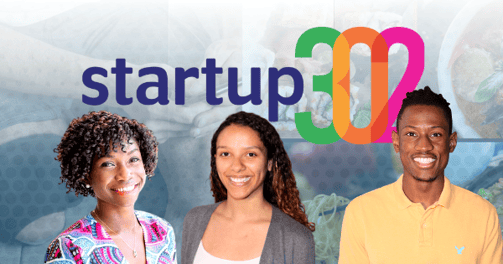 University of Delaware startups GetPotluck and TheraV won a total of $40,000 at the 2021 Startup302 competition, a Delaware-based funding competition for technology-enabled startups led by underrepresented founders.
Startup302 is a collaboration between the Delaware Prosperity Partnership and local partners Delaware Sustainable Chemistry Alliance, First Founders Accelerator, University of Delaware Horn Entrepreneurship, Delaware SBDC, Pedro Moore, Delaware State University and Delaware Innovation Space.
Both startups placed in the Blue Hen Prize, presented by Horn Entrepreneurship and JPMorgan Chase & Co. The award seeks to advance equity through entrepreneurship by providing funding to the most promising startups led by a founding team that includes at least one principal/primary member who is affiliated with the UD. The first place award of $20,000 went to TheraV and the second place award of $10,000 went to GetPotluck.
GetPotluck also swept the NCC Innovator Prize, collecting an additional $10,000. The NCC Innovator Prize is supported by New Castle County and is awarded to startups that show promise in establishment and growth in Delaware.
The funding provided by Startup302 directly supports the continued development of both ventures. Additionally, beyond funding, the Startup302 experience offered broad impact through unique opportunities for mentoring and connections.
TheraV was founded in 2016 by UD alumna and social entrepreneur Amira Idris Radović. Formerly Vibrating Therapeutic Apparel, the startup's mission is to extend life and transform pain management through drug-free, wearable devices that help manage neuropathic pain.
"The Blue Hen Prize award will allow us to begin the electronic certification and FDA certification process, which will allow us to manufacture TheraV ELIX 2.0," said Amira. "This will be a significant milestone for TheraV."
UD alumni and co-founders Abubakarr (Abu) Kamara and Hope Vega launched GetPotluck in 2019 with the mission to make ethnic foods more accessible through an ethnic grocery delivery service.
The GetPotluck team similarly plans to use the awards to develop an MVP and test a new business model. The funding will also help them to build out their websites and to expand their offerings to include more diverse products. Overall, the Startup302 experience also helped strengthen their commitment to their mission of food, culture, and community.
"We were inspired by hearing pitches from the various amazing startups led by underrepresented founders like ourselves," Kamara and Vega of GetPotluck said.
Both startups have their roots in Summer Founders, UD's premier pre-accelerator program – Amira in 2016 and Hope and Abu in 2019. From there, they grew and developed through the entrepreneurship ecosystem, leveraging programs and offerings such as Halcyon House, First Founders, Swim with the Sharks, VentureWell, the many NSF offerings and so many more.
So, how did they do it? We asked them to share their secrets:
Be open-minded
Vega: "The biggest lesson I've learned as an entrepreneur is to be open-minded! It's so easy for entrepreneurs to start with a concrete solution in mind or a specific idea of perfect branding and marketing. But with GetPotluck we found that our hard work and collected data often led to a pivot in our business model, so it has been so important to be open to new ideas!"
Never let an idea, assumption, thing, or person constrain your vision
Kamara: "As an entrepreneur, you learn to take control. You're not only mapping out a vision for a company, you're mapping out a vision for yourself and making that a reality. Typically, we think: if I majored in engineering, then I'm only an engineer, or if I have a degree in nursing, then I will have to be a nurse. Or even if there are no jobs in my area, then I can't get a job. But that is not the case. We have to work towards putting ourselves in the situations we want to be in and learn to communicate with others to make things happen. And in today's age, that is more possible than ever."
Share your ideas with others who may help you accomplish your goals
Radović: "Never be afraid to ask for help or share ideas with others who may help you accomplish your goals. Most times we become concerned about our ideas being stolen, that we do not reach out for help and support. Pitching my idea for TheraV with anyone and everyone who would listen allowed me to build my team and find access to mentors and other resources that have helped us grow."
Get involved in Horn's programs, UD clubs and more
Vega: "Our biggest advice would be to get as INVOLVED as possible! Together we've participated in VentureOn, E-club, and Summer Founders. All of these programs taught us that we cannot build a solution without our customers."
Kamara: "What Hope said and more – we also found that being involved in clubs, programs, and other things outside of Horn helps tremendously. Our combined backgrounds in engineering, integrated design, computer science, dietetics, etc. gave us a diverse set of perspectives and skills, and played an essential role in progressing us to where we are now."
Radović: "Sign up and participate in every Horn program opportunity. Not only will you learn about entrepreneurship, but you will also be able to connect with fellow entrepreneurs on the same journey as you, as well as veteran entrepreneurs who will provide mentorship and advice. While participating in these programs, be prepared to listen, learn, network, and apply yourself."
About Horn Entrepreneurship
Horn Entrepreneurship serves as the creative engine for entrepreneurship education and advancement at the University of Delaware. Currently ranked among the best entrepreneurship programs in the US, Horn Entrepreneurship was built and is actively supported by successful entrepreneurs, empowering aspiring innovators as they pursue new ideas for a better world.