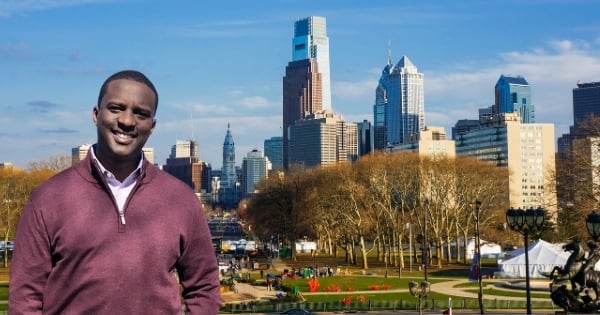 George Munyua earned a bachelor of science degree in entrepreneurship and technology innovation from the University of Delaware in 2019, followed by a master of science in executive technology management from Columbia University, due in 2020. At UD, he was a member of the Lerner International Students Association.
His systems engineering career began in Kenya, in the fintech and banking sectors, followed by positions at PricewaterhouseCoopers (PwC), where he is now a cybersecurity and privacy consultant.
What is the best advice you received and from whom?
The best advice I got was from my academic adviser, Tricia Monnig. She was very helpful because I came to Delaware as an international student and as a nontraditional student with a very unique background. I was 35 when I left Kenya to pursue my studies. Horn offered me the chance to integrate my past experiences into the entrepreneurship program. My purpose in joining the entrepreneurship program was to acquire critical skills to lead innovation with established companies, social ventures and startups. From day one, she helped plan out my course schedule so I could have the experiences that were most beneficial to me, integrate MIS technical competency and graduate on time.
What was your favorite project and why?
It was a consulting engagement that was part of our management information systems capstone course. Four of us – I was the only one studying entrepreneurship – signed up with a real estate firm in Delaware to provide advice and choose a system to enhance communication among their agents, improve collaboration, leverage data and increase automation of business processes. They chose one of the solutions that we proposed, and we engaged the vendor and led the whole project management. It was firsthand experience with corporate America, and it was eye-opening to go from zero to 100 percent in just a semester.
What was "the thing" or turning point that helped shape your startup or career path today?
One of the things I love about UD is the plethora of resources available to students. The Career Services Center provided comprehensive resources to explore options and enabled me to launch my career in the United States. They helped me articulate my career aspirations, put together my resume and connected me with potential employers willing to provide work authorization sponsorship. Through the center, I attended leadership programs run by different companies, such as DuPont, and was able secure rewarding internships. One was with PwC, which led to a second internship and then a job offer before my senior year. Those internships got me out of my comfort zone and helped me understand a whole different culture. Having that job offer so early was a huge blessing for my family and in planning my life.


About Horn Entrepreneurship
Horn Entrepreneurship serves as the creative engine for entrepreneurship education and advancement at the University of Delaware. Currently ranked among the best entrepreneurship programs in the US, Horn Entrepreneurship was built and is actively supported by successful entrepreneurs, empowering aspiring innovators as they pursue new ideas for a better world.