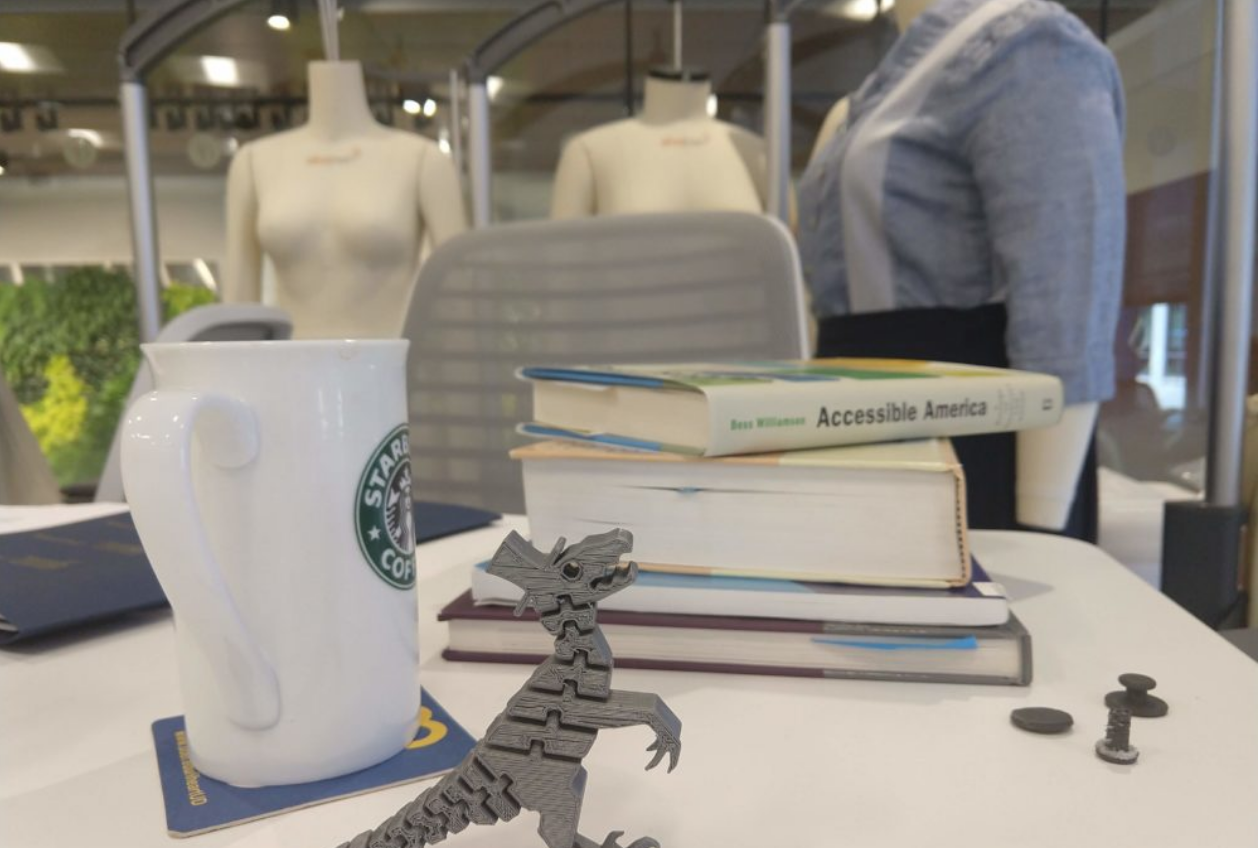 Kelsey Kosinski's original intention was to complete an engineering degree and solve complex problems. But in her freshman year, she quickly realized how much she missed the creative outlet she had through sewing and designing her own fashions. Kelsey abruptly switched her major to fashion design and trusted her interests would lead her in the right direction.
Kelsey now holds a bachelor's degree in apparel design and fashion merchandising and a master's degree in fashion and apparel studies from the University of Delaware College of Arts and Sciences. Kelsey explains "Coming up with good ideas and following through to provide that idea [to others] makes it all possible."
It wasn't until Kelsey found herself in the Go Baby Go lab, under the instruction of Dr. Martha Hall back in 2015, in a class called "FUNctional" Children's Design, that she saw more to the entrepreneurial process than just creativity. Kelsey realized that her sewing was more than just creative expression; her sewing skills brought value to others.
Her class project involved designing adaptive clothing for a nine-year-old boy. "I focused on the importance to help his social abilities, keeping with trends and modifying clothing to give him full ability. No child wants to stand out in a social setting," said Kelsey. "My project led to valuable customer discovery but solutions in proper sizing and fit were not kept, and not always easily repeatable." Every individual is unique but she recognized aspects of size, shape and functionality could be repeated as needed. What Kelsey saw was a need for a scalable sizing model rather than a completely custom option for each client.
Realizing she had the start of a solution to a real-world problem, Kelsey enrolled in Startup eXperience, an entrepreneurship class where she started to develop a company that could quickly provide adaptive clothing by utilizing past solutions for a common need. Following that, she participated in VentureOn through Horn Entrepreneurship. VentureOn is a semester-long program that mentors student startups at the University of Delaware.
Kelsey's thesis project further defined her commitment to designing adaptive clothing that would also be comfortable in social settings. Dr. Hall was her co-advisor for her thesis, Design and Social Barriers of Adaptive Clothing. Dr. Hall recalls, "Kelsey has been inspired to create real change in the fashion industry to individuals with disabilities, she is working to radically change the concept of design for disability to be inclusive, innovative, and accessible. Kelsey is also paving the way for a new type of graduate student experience that truly has interdisciplinary entrepreneurship as its core."
Kelsey graduated this month but continues with her startup in the Summer Founders pre-accelerator program at Horn Entrepreneurship. "My startup's foundation will follow sizing outside the traditional range of data that determines the small, medium and large we are familiar with," Kelsey explained. Usually, clothing for individuals with body form differences or sizing is not accounted for in the fashion industry and what is available is not trendy or comfortable for the individual in social settings.
Kelsey is the first to set up and use the three-dimensional body scan imagery at UD's Innovation Health and Design Lab at STAR Tower. Her continued research and customer discovery will determine the size and fit for these individuals. Gathering this information is the first step for her startup that will accommodate fashionable clothing that is inclusively designed for body form, cognitive abilities and individual adaptive features.
Photo credit: Holly Quinn; Technical.ly Delaware
About Horn Entrepreneurship
Horn Entrepreneurship serves as the University of Delaware's creative engine for entrepreneurship education and advancement. Built and actively supported by successful entrepreneurs and thought leaders, Horn Entrepreneurship empowers aspiring innovators and entrepreneurs as they pursue new ideas for a better world.