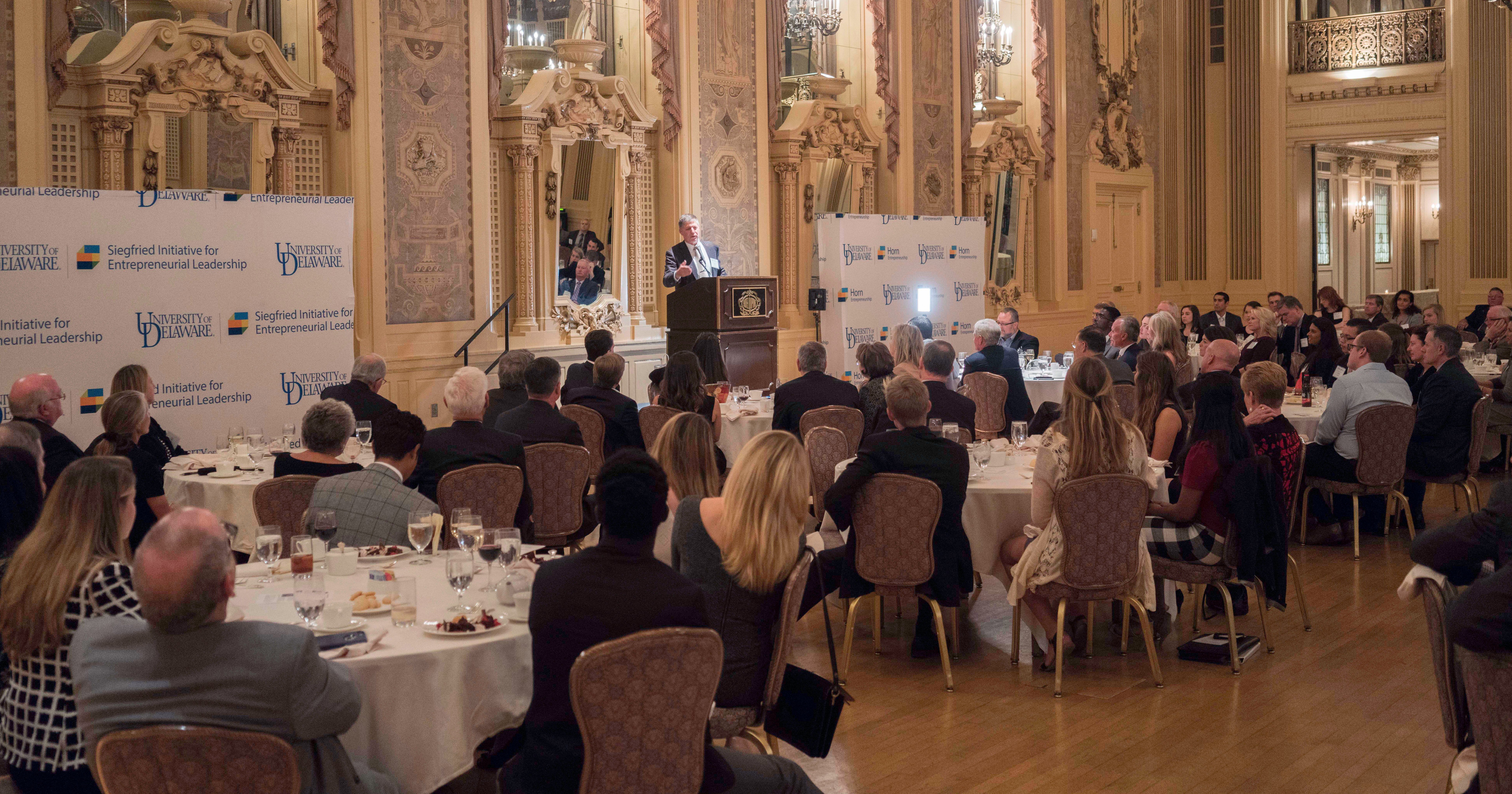 The University of Delaware Horn Entrepreneurship has announced the winner of the 2019 Siegfried Award for Entrepreneurial Leadership: former president of Gatorade and founder of Extreme You, Sarah Robb O'Hagan.
O'Hagan traces her success from failure, landing in increasingly important positions with some of the world's most recognizable brands after failure early on in her career. The author and activist has had roles with Nike and Virgin Atlantic Airways, as well as served as CEO at Flywheel Sports and luxury fitness brand Equinox.
The New Zealand native is a graduate of the University of Auckland and the author of "Extreme You," a practical road map to success for everyone from young professionals to those approaching the end of their careers.
"The award selection criteria focus on recognizing anyone who has made outstanding contributions to the understanding and practice of entrepreneurial leadership, which might include entrepreneurs, educators or consultants," said Dan Freeman, founding director of Horn Entrepreneurship.
Horn Entrepreneurship's Siegfried Award in Entrepreneurial Leadership was established by Robert Siegfried, CEO and founder of The Siegfried Group and chair of the advisory board for UD's Alfred Lerner College of Business and Economics.
O'Hagan was selected to receive the award by a committee consisting of five entrepreneurs and three university professors. Freeman and Siegfried co-chaired the selection committee.
O'Hagan will receive the award, which includes a $10,000 honorarium, during a private celebration on Tuesday, Oct. 8. The honorarium will be donated in full to Auckland University of Technology.
About Horn Entrepreneurship
Horn Entrepreneurship ignites imaginations and empowers world changers through educational offerings that emphasize experiential learning, evidence-based entrepreneurship and active engagement with entrepreneurs and other members of the broader entrepreneurial ecosystem. Through participation in Horn Entrepreneurship offerings, students gain the knowledge, skills, personal capacities, experiences, connections and access to resources needed to successfully manifest innovation and thrive in the rapidly changing world.
About The Siegfried Group, LLP (Siegfried)
Siegfried works alongside financial executives on their most important accounting and finance projects. Filled with an innovative spirit and led by an ambitious entrepreneur, Siegfried provides unique Leadership Advisory combined with high potential talent. At the heart of our Firm is our approach to individual leadership and the continual pursuit of helping people grow both personally and professionally. As a whole, we value having fun, being fair and building and sharing stakeholder value.