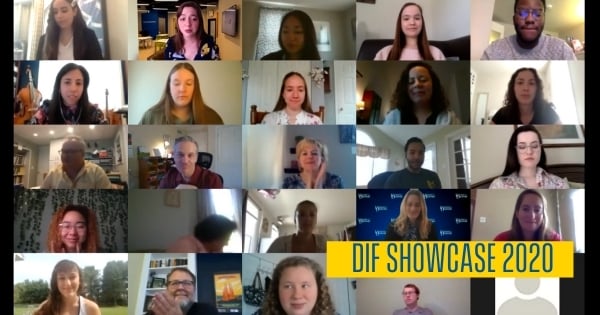 This past spring's Delaware Innovation Fellows Senior Showcase included 10 different innovation projects from students of the program's first graduating class. These students have advanced their unique interests and passions with the entrepreneurial skills gained from DIF over the course of the multi-year program.
At the virtual showcase, DIF seniors displayed an array of ideas, ranging from business ventures and products to research projects and social enterprises.
"I loved the diversity of ideas, that was something that DIF was all about from the very beginning," Horn's founding director Dan Freeman said. "I loved the general recognition of how wonderful it is to be around diverse but like-minded people."
The showcase also marked an important milestone for some students, some of whom have been in the program since the very beginning of their academic careers at the University of Delaware.
"To see the growth from that first year makes me feel so happy and so proud of you guys," Tricia Monnig, Manager of Academic Enrichment, said.
Despite the event going virtual due to COVID-19 constraints, the DIF Senior Showcase proved to be a success, partly thanks to Emerson Marine, Programs and Enrichment Coordinator at Horn Entrepreneurship.
"These students have been through a lot… and not to mention spending their final semester at UD online," Marine said. "We really do appreciate our seniors' resilience, flexibility, creativity, and entrepreneurial spirits, and we recognize their contributions to innovation at UD."
Process Improvement Project by Kelly Andreason
An entrepreneurship major from Bear, Del., Andreason has been developing an ongoing project that takes an in-depth look at solving a marketing team's day-to-day workflow problems, to ultimately improve efficiency, productivity, and project management.
Flourina (formerly EmpowHER) by Brinna Bannach
An entrepreneurship major from Chalfont, Pa., Bannach's venture utilizes a "bras in a box" concept that helps women find the right bra and fit for them without the guesswork. The venture most recently changed their name from EmpowHER to Flourina, and is working to design bras that are comfortable, supportive, and can stand up to all-day wear.
Give a Fork by Luci Mehr and Danielle Fisher
Mehr is a pre-veterinary and animal sciences major from Long Island, N.Y. and Fisher is a human services major from Middletown, Del.. Together, they seek to address the pressing challenges of food waste, hunger, and insecurity by redistributing food items to underserved communities by working with grocers, opening outdoor markets, and making food accessible to those who need it most.
Signal Noise in Magnetic Resonance Elastography by Ariel Hannum
As a biomedical engineering major from Warrington, Pa., Hannum hopes to make a positive impact on the lives of others by improving medical imaging technology to better identify and diagnose disease.
One Kindness by Amanda Libero
A marketing major from Lake Hopatcong, N.J., Libero founded One Kindness on the belief that kindness is contagious. Libero intends to collaborate with large companies and recognizable brand names to incorporate and circulate acts of kindness around the world.
HenTrack by James Massaqoui
An English major from Townsend, Del. who has been in DIF for 4 years, Massaqoui began HenTrack with the goal of ensuring safe workplaces in the COVID-19 era by developing a daily health tracker for employees and companies.
Make it Accessible by Joanna Ridley
As a civil engineering major and Dover, Del. native, Ridley's studies in transportation have inspired her to expand transit accessibility across the state through a public transit and rideshare partnership, a solution that incorporates the rideshare model with the lower costs of public transit.
Glam on the Go by Emily Silverberg
An organizational & community leadership major from Bellmore, N.Y., Silverberg's passion has always been the art of makeup and its power to get people to feel beautiful while also allowing them to accept themselves for who they are. Silverberg's innovation, Glam on the Go, is a makeup solution that simplifies and shortens the makeup process with an all-in-one product that helps its users find their inner beauty.
The Role of Fibroblast Growth Factor-9 in Skeletal Muscle Innervation and Bone Shape by Jaclyn Soulas
A pre-veterinary and animal sciences major from Glen Mills, Pa., Soulas studied Fibroblast Growth Factor-9, or Fgf9, and its crucial role in neuromuscular and musculoskeletal development, for her senior research project. Although her project was not a business venture, Soulas credits DIF for new discoveries she made in innovating, navigating challenges, and gaining unique perspectives through the entrepreneurial mindset.
Building a Better Nest by Madisyn Steinberg
A marketing major from Ellicott City, Md., Steinberg wanted to address the problem of low student engagement across university athletic and student center programs. She developed initiatives to promote engagement across campus activities, including a student-only tailgate space, giveaways, and discounted snacks.
---
DIF Goes On: Kicking-Off the Fall Semester
Despite DIF entering the fall semester virtually, incoming and continuing students can look forward to new and exciting opportunities within the program.
"We said goodbye to our first ever graduating class of fellows this past spring – their resilience and adaptability was inspiring," Marine said. "They experienced a lot of changes to the program over the course of their four years, and topped it off with a virtual Senior Showcase in the middle of a global pandemic. Remembering their positivity and initiative makes me feel even more confident that this semester will be a great experience for Delaware Innovation Fellows. We are looking forward to creative and engaging virtual events and opportunities, and looking ahead to the next Senior Showcase in the spring. We have an amazing group of seniors this year who are working on new and innovative projects, and it is so exciting to see how much they have grown during their time in DIF."
Incoming DIF students also show promise in their diversity and readiness to pursue innovation in the constantly shifting times of today, Marine described.
"This fall, we welcomed our fifth cohort of Delaware Innovation Fellows into the program, which includes 29 students from 18 different majors," Marine said. "Though they have diverse interests and backgrounds, they all share an innovative and entrepreneurial mindset! We kicked off their first year experience with Ignite!, which is usually an early move-in program, but this year we offered it as a virtual experience. It has been rewarding to meet the new group of DIF students and I am looking forward to seeing them make connections with their new DIF community."
About Horn Entrepreneurship
Horn Entrepreneurship serves as the creative engine for entrepreneurship education and advancement at the University of Delaware. Currently ranked among the best entrepreneurship programs in the US, Horn Entrepreneurship was built and is actively supported by successful entrepreneurs, empowering aspiring innovators as they pursue new ideas for a better world.