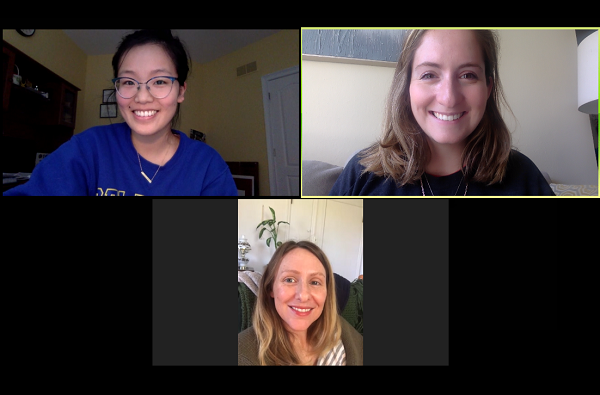 Editor's note: this is the third article in a series that explores how the Horn Team practices entrepreneurship.
At times like these, we find ourselves traversing new territory. When we realized that the writing was proverbially on the wall regarding our ability to host the 2020 Diamond Challenge Summit on the University of Delaware campus, our team never once questioned whether or not the show would go on. We felt compelled to deliver the best possible outcome, on time, to our students. Why? At a time when our worlds have been turned upside down and many of our regular routines and activities have been put on pause, we need to maintain connectivity and perpetuate the hope and inspiration that naturally aligns with entrepreneurship.
Our commitment to keeping the Diamond Challenge 2020 on schedule and delivering a quality experience to our global audience presented us with the ultimate entrepreneurial challenge. Our team had to come up with creative solutions to problems: how do we ensure our participants get to meet one another, learn of each other's projects and connect with the amazing partners, judges and speakers we recruited? It took lots of brainstorming, meetings, emails, calls and post-it notes to adapt our three-day, in-person Summit to a three-week virtual experience. And we did it! Here's a quick look into our pivot:
What we adapted:
Pitching: Teams pivoted from live pitches to pre-recorded pitches. Because the Q&A part of pitching is so valuable, we brainstormed the most frequently asked questions and included them as a part of the semifinal round submission process.
Judging: We transitioned from live judging panels to virtual panels utilizing our competition management platform. Judges will review, score and provide feedback to teams online.
Team-Building: All team-building activities and design sprints planned for the Summit have been converted to virtual "meet-ups", topically-based opportunities to connect with a variety of experts.
Location: We will be broadcasting from our homes due to the quarantine.
Delivery: We are utilizing Zoom to deliver all live content.
Core Experience Elements/What we kept (essentially) the same:
Prizes: We're maintaining our funding awards for the top three teams in each competitive track. New this year is the addition of topical prizes provided by innovative companies like Gore, Chemours and SAP. A team from each competitive track will be selected based on their concept's alignment with company values (and will receive $1500 in funding!)
Professional connections: Business leaders from notable companies such as Capital One, CSC and many more will join us as virtual judges, host meetups, and participante in our Awards Ceremony.
Mentoring: All semifinalist teams are offered the opportunity to meet with qualified mentors between the time they qualify for the round and the Summit. Our team enhanced access to mentors by engaging additional mentors and providing more mentoring office hour opportunities. Teams now have more chances to foster new connections, develop their networks and improve their pitches!
Keynotes: our two keynote speakers, Hazel Jennings from Instagram and Mitch Kick from SAP, each gave us a big, "YES" when we asked whether they'd be open to transitioning their delivery to a virtual platform. In addition to keynoting during the virtual experience, audience members will be able to ask live questions!
Inclusion and equity: Now that we are not restricted by the barriers associated with traveling to the Summit, we have a greater opportunity to ensure all of our semifinalists have access to this special opportunity.
We are so grateful and excited to provide our student participants (more affably referred to as our "Diamonds") with a valuable and positive experience, especially at a time when we're collectively facing so much uncertainty.
To our Diamonds: Thank you for sticking with us as we transitioned to this new experience. You are our future and our future is BRIGHT!
Lastly, we want to provide a special thank you to our sponsors Capital One, CSC, SAP, Gore, our keynotes Hazel Jennings (Instagram), Mitch Kick (SAP), and to all of our community members for your support and comradery. With you, the world is even more brilliant!
Gemstone-Infused Lemonade
This lemonade recipe, brought you by Chief Stargazer, Julie Frieswyk, will not only refresh you, it will totally improve your vibe!
warning: remove the gemstones/crystals prior to drinking ;)
Step 1:
Make your high-vibration water infused with gemstones/crystals by simply placing your selected stone into 1 cup of water for at least 10 minutes. Some good crystals to consider:
Clear Quartz: promotes energy, clarity, cleansing and positivity
Rose Quartz: invites love and compassion into your life
Amethyst: promotes calmness, intuition and creativity
Step 2:
Use your infused water to make lemonade using Meg's recipe.
Step 3:
Shine bright (like a diamond)!
About Horn Entrepreneurship
Horn Entrepreneurship serves as the University of Delaware's creative engine for entrepreneurship education and advancement. Built and actively supported by successful entrepreneurs and thought leaders, Horn Entrepreneurship empowers aspiring innovators and entrepreneurs as they pursue new ideas for a better world.