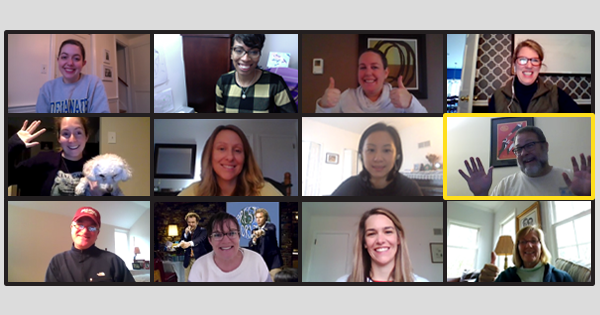 I asked Dan Freeman, Horn's founding director, to write this article a couple weeks ago; but Dan, like all of us, has been in the midst of turmoil, chaos and upheaval. I kept saying "Dan, write about entrepreneurial mindset, adapting to rapid change, resilience…just write something." So, after urging, nudging, prodding, I decided to write it. Here it goes:
This is a monumental time in history (understatement) and we, the Horn community, are living it, breathing it and surviving it. But, how do we thrive? How do we find opportunity? How do we make lemonade from lemons?
The answer is simple: we draw upon our knowledge, skills, connections and access to resources. I've watched and heard (via zoom) my colleagues move events, classes, workshops and more to a virtual platform. Not all of us were zoom experts, but we rapidly became them. The team reworked programming so it fit with a virtual platform, including events and activities such as tea parties, Tik Tok challenges and virtual communities. Competitions were revamped or participants funneled into other programs. The team connected and supported each other with brainstorming ideas, helping with communication and updating materials. We called upon our interns who were supposed to be on spring break and asked for support (they said yes, btw). The team laughed together, cried together and expressed frustration together. When we needed resources, we reached out – we called on our network, contacted IT and watched way too many mind-numbing how-to webinars and videos.
Are we crazy? Well, yes, but we rolled with the punches (and shed a tear or two when we got hit), pivoted countless times and never gave up. We wanted to show you, the Horn community, that we do practice what we preach.
This is the first article in a series that explores how the Horn Team practices entrepreneurship. You'll hear from others like Vince (New Venture Development), Emerson (Enrichment), Julie (Youth Programs), Tricia (Academic Advising & Enrichment) and probably others too. We want to share your stories. How have you used your entrepreneurial skillset and mindset these past two weeks? Email me: megm@udel.edu.
Lemonade Recipe (from Simply Recipes)
1 cup of sugar
1 cup of water
1 cup of lemon juice
Make the simple syrup, combine with the lemon juice, and then add more water (and ice) to dilute the lemonade to your taste.
About Horn Entrepreneurship
Horn Entrepreneurship serves as the University of Delaware's creative engine for entrepreneurship education and advancement. Built and actively supported by successful entrepreneurs and thought leaders, Horn Entrepreneurship empowers aspiring innovators and entrepreneurs as they pursue new ideas for a better world.