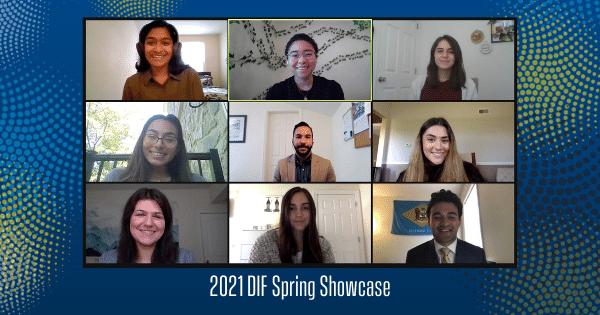 Horn Entrepreneurship celebrated the success, creativity and ingenuity of nine students at the Delaware Innovation Fellows (DIF) Spring Showcase. The showcase marked the culmination of a multi-year, multi-phase enrichment program designed to develop an entrepreneurial mindset and skill set in its fellows. The DIF students in this cohort hail from six majors and many other academic programs throughout the university, and their Innovation Project topics varied from nutrition to real estate to sustainable architecture to healthcare.
"One of the strengths of the DIF program is that it is open to students of any major; fellows learn that you can be innovative and entrepreneurial in any field," said Emerson Marine, program coordinator at Horn Entrepreneurship.
DIF Fellow Rucha Wani agreed that the program opens students' eyes to what innovation can look like in almost any field, "As a budding climate solutions scientist, DIF helped me develop a mindset for innovation that I didn't have before college and couldn't see in my classes," said Wani. "DIF has taught me to expand the way I approach problem seeking, creativity, and networking."
This year's cohort had a particularly challenging final year juggling virtual semesters and general uncertainty. "What impresses me the most about this cohort is their resilience," said Marine. "These fellows have continued to demonstrate the creativity, flexibility and passion that exemplify the entrepreneurial spirit. It is so inspiring to see them pursue their passions and implement their innovative skills."
The 2021 DIF Spring Showcase Innovation Projects
Ære by Andrew Cercena
Majors: Entrepreneurship & Technology Innovation, Finance
Minors: Economics
Venture Support: VentureOn, Summer Founders, Pitch Party, Hen Hatch
Grad Term: Spring 2021
For his Innovation Project, Andrew showcased his venture "ære". With his venture, Andrew is helping Registered Investment Advisors scale faster by saving time in customer onboarding and data maintenance.
The Graduate Matrix by Rucha Wani
Majors: Marine Science
Minors: Chemistry
Other Academic Programs: Design & Creative Making Certificate
Grad Term: Spring 2021
In an effort to improve the graduate school application process, Rucha has designed a program to help continuing-higher-education students streamline and reach active opportunities while applying to graduate school. This program will help potential applicants find Masters and Post-Doctoral programs that fit their preferences like - program length, subject/field, location - and match them with professors or programs actively accepting students. Similar to a job-search engine, it will be a clean user interface that is tailored to the hyperspecialized sector of graduate research studies. Most importantly, it will facilitate connections between potential applicants and labs seeking students.
Bringing Real Estate Into The 21st Century by Markos Zerefos
Majors: Entrepreneurship and Technology Innovation, Finance
Venture Support: VentureOn, Summer Founders, Pitch Party, Hen Hatch
Grad Term: Fall 2021
Growing up, Markos was exposed to real estate through his family and learned about various real estate investing methods through anecdotal evidence. In college, he learned the foundations of real estate from a structured learning approach. Markos saw a recurring theme that most people used real estate as a store of value and that when investing they used the same variables as any other investor would; this is where he saw an opportunity to use trend analysis to understand how each real estate market performs to be able to outperform traditional real estate investors that invest using anecdotal evidence and not a data driven approach.
Solar Decathlon Design Challenge by Michelle Reckner
Majors: Mechanical Engineering
Minors: Civil Engineering, Sustainable Energy Technology, Sustainable Infrastructure
Grad Term: Spring 2021
For her Mechanical Engineering Senior Design Project, Michelle competed with a team of seniors in the Solar Decathlon Design Challenge. The premise of the competition is to design a net-zero building complex to meet your community's current and future needs. Her team made it to the finals in their division, Mixed-Use Multifamily, with their design of a Graduate Living Complex on STAR campus.
HealthHub by Bri Kaplan
Majors: Entrepreneurship and Technology Innovation
Venture Support: VentureON
Grad Term: Spring 2021
Bri's project is about reinventing the health and wellness space for those who want to better their nutrition or for those suffering from dietary restrictions (gluten, dairy, nuts) that force them to consume other alternatives. Bri finds it extremely difficult to find everything she needs in one grocery store; she is left to find a larger selection of gluten and dairy free brands at Whole Foods or other niche markets like Trader Joe's. Her idea is to create an online e-commerce platform that brings together major brands that specialize in organic and supplemental foods and sell them in subscription bundles to online shoppers.
EQuip - Empowering Teens for Social Justice Work by April Singleton
Majors: Entrepreneurship and Technology Innovation
Minors: Social Entrepreneurship
Other Academic Programs: Entrepreneurial Leadership Certificate
Venture Support: VentureOn, Summer Founders, Pitch Party, Hen Hatch, Special Program Coordinator
Grad Term: Spring 2021
As a result of Startup Experience I, April worked with co-founder, Izzy Hughes, to develop a startup that ties emotional intelligence, community organizing strategies, and equity-based education to give teens more support in their passion to serve others.
High School Alternative Programs: Changing the Course of Education by Alysia Machlovitz
Majors: Cognitive Science
Minors: Economics, Legal Studies, Political Science
Grad Term: Spring 2021
Alysia's project focuses on analyzing the problem caused by alternative programs used in high schools. Through in depth research and case studies, Alysia has explored how these programs can be restructured to decrease social isolation and improve post-graduation success. For her project, she will outline her proposed educational framework and her next steps in implementing a trial run.
PAP Flap Empowerment by Tayvi Papitto & Sofia Ferreria
Tayvi Papitto
Majors: Medical Diagnostics
Other Academic Programs: Innovation and Entrepreneurship for Health Certificate
Grad Term: Fall 2021
Sofia Ferreria
Majors: Medical Diagnostics
Minors: Biological Sciences
Other Academic Programs: Innovation and Entrepreneurship for Health Certificate
Grad Term: Spring 2022
Companies specializing in post-op and mastectomy wearables are focused on a few things - effectiveness, low cost, quick production - but breast cancer survivors deserve something more; something beautiful and empowering. Tayvi and Sofia's project focuses on providing support for the breast cancer community in a new way, by enhancing the post-mastectomy bra and girdle they must endure for weeks on end. Their product includes a number of features that enhance the healing process, including anti-microbial thread and adjustments to the current design to improve comfort and confidence. This combination of fashion & science makes it the best product for women undergoing a mastectomy and gives survivors one less thing to worry about during their journey.
About Horn Entrepreneurship
Horn Entrepreneurship serves as the creative engine for entrepreneurship education and advancement at the University of Delaware. Currently ranked among the best entrepreneurship programs in the US, Horn Entrepreneurship was built and is actively supported by successful entrepreneurs, empowering aspiring innovators as they pursue new ideas for a better world.