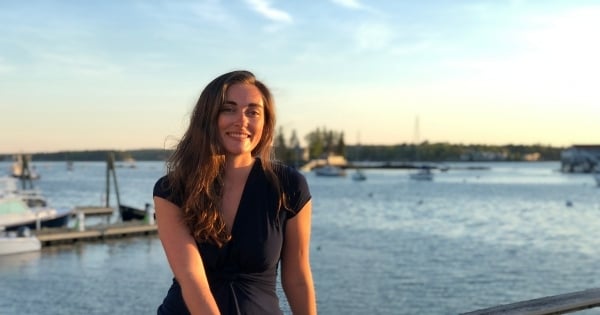 Daphne Vantine is an account executive at Wistia, a Massachusetts company that helps marketers make business more human by harnessing the power of video. She earned a bachelor's degree in entrepreneurship and technology innovation and integrated design in 2018. While at the University of Delaware, she was a member of the Phi Sigma Sigma sorority and participated in Horn Entrepreneurship's VentureOn program.
What course was the most meaningful for you and why?
Ted Foltyn's Entrepreneurial Selling course (ENTR467). Ted taught me the importance of "selling yourself." As a salesperson professionally, I can't stress enough the importance of being able to sell yourself and build your personal brand in your career.
What professor did you appreciate most and why?
Vince DiFelice spends more time at the VDC than anyone I know. His dedication to his students is impeccable. He had my back during my time as a student, and now almost two years out, I know he still does! Vince stresses the importance of friendship with his students, and I believe that's why the alumni network at Horn is so strong.
What is the one of the best memories you have of UD/Horn?
The graduation ceremony we had at the end of my senior year. It was really touching to see the Horn community go above and beyond to give us the most heartfelt send-off. I don't think any other departments at UD do something as special for their seniors.
What was "the thing" or turning point that helped shape your startup or career path today?
Leaving my first job. I think it's important to stress that your first job out of college will certainly not be your dream job. Some people are lucky, but most often it takes a bit to find an environment and role that works for you. It's OK to fall on your sword and admit that something just isn't right for you. It's important to have patience and resilience as you navigate the early years of your career. Being open to new experiences and having the courage to walk away when it's not working out is the best decision I've made in the past year.
After thanking your parents, who else would you thank?
Tricia Monnig for taking a chance on me as a special programs assistant. Vince DiFelice for showing me I could be a leader. Ted Foltyn for getting me out of my comfort zone. Tatiana Rice for being my VDC Mom. Lauren Graupman for being my dynamic duo. And Sue Parkowski for the endless laughs and best hugs.
What advice would you give a new freshman at Horn Entrepreneurship?
This is your time to take chances and embarrass yourself. Volunteer for all the programs, events and pitch competitions that you can. You won't regret it! It's a lot harder to take risks and go against the grain once you're working full time and managing all that comes with being on your own for the first time. So now is the time to soak it all in.
About Horn Entrepreneurship
Horn Entrepreneurship serves as the creative engine for entrepreneurship education and advancement at the University of Delaware. Currently ranked among the best entrepreneurship programs in the US, Horn Entrepreneurship was built and is actively supported by successful entrepreneurs, empowering aspiring innovators as they pursue new ideas for a better world.