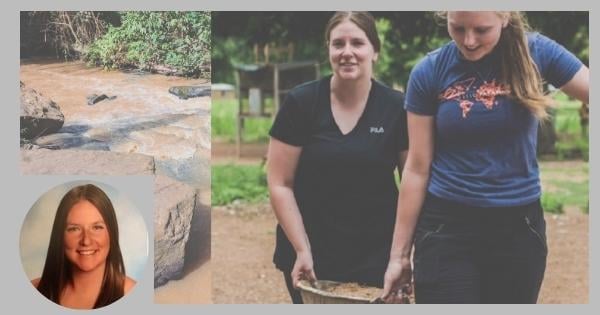 Danielle Fisher, CEHD20, is making a splash in the world by bringing clean water systems to communities in need. As a human services major and a Delaware Innovation Fellow, Fisher's entrepreneurial journey has, like a river, flowed from place to place, creating new channels as it moves.
Fisher's interest in water systems began in 2016 during a service trip to a small village in Ghana where she was helping to build a school. Alongside local students from the village, Fisher and her team repeatedly completed the arduous task of carrying water from the wells to the school.
Traversing hundreds of yards with each trip, water was transported in order to make the concrete used to construct the building.
"By the end of the week, my body was aching," Fisher said. "I couldn't imagine the physical toll that carrying water takes on the bodies of girls and women."
What Danielle found was that back and neck pain, spinal fractures, and musculoskeletal disorders are just some of the physical implications of carrying 40 pounds of water for hours across long distances each day.
Beyond these health concerns are the social ramifications: The hours which were spent transporting water were, simultaneously, hours which girls and women spent away from participating in school or business.
These challenges led Danielle to begin exploring ways in which she could reduce and alleviate the time and physical hardship which these communities faced. But as Danielle went to work on a product to ease the burden of water transportation, she had an epiphany.
"I soon realized that this solution was fixing a symptom of the real problem of access to clean water," Fisher said. "I think it is crucial to dig deeper into social problems and solve for the root causes. If we solve for root causes, then we can create systematic change and make a difference."
Fisher's idea first began as a way to involve girls and women in education and business by addressing the physical and social burdens of water transportation. And although she still expresses an interest in developing a water carrying system, Fisher has since pivoted her focus to creating accessible and clean water systems for communities – an undertaking which her studies have uniquely prepared her to tackle head-on.
"Because I am a human services major and Delaware Innovation Fellow, I can take a critical look at social injustices and determine how best to provide services that treat the root causes," Fisher said.
The Delaware Innovation Fellows program, Fisher described, was an opportunity which enabled her to begin cultivating her ambitions with a confidence and perspective that she did not previously have.
"Because of DIF, I know that if I have an idea, I will be supported with opportunities for growth," Fisher said. "My biggest area of growth while participating in DIF has been cultivating an entrepreneurial mindset."
Now, Fisher continues to research and develop her project with a renewed motivation that comes from knowing that she is part of a vanguard of innovators who are tackling the most complex social problems of today.
"Having conversations with other change makers motivates me to continue this project," Fisher said. "I can see how young change makers are making a difference in the world, and I want to be able to do the same."
As part of DIF, students are encouraged to select an entrepreneurship certificate. Danielle thought the social entrepreneurship certificate aligned with her interests and passions.
About Horn Entrepreneurship
Horn Entrepreneurship serves as the creative engine for entrepreneurship education and advancement at the University of Delaware. Currently ranked among the best entrepreneurship programs in the US, Horn Entrepreneurship was built and is actively supported by successful entrepreneurs, empowering aspiring innovators as they pursue new ideas for a better world.