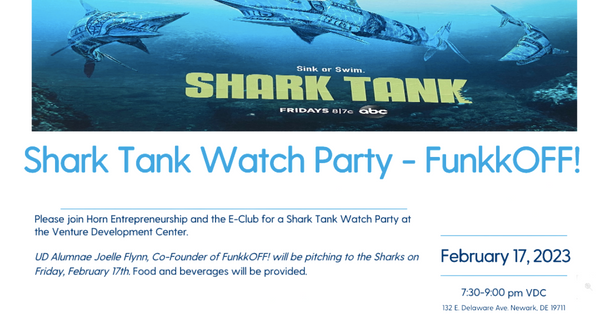 University of Delaware Class of '94 alumna Joelle Flynn will appear on Shark Tank Feb. 17 to pitch a product designed by her company FunkkOFF! with Co-Founder and Co-CEO Sonia Hounsell. FunkkOFF!, a winner of UD's Blue Hen 17 & 43 Award in 2021 and 2022, has disrupted the $34B oral care industry with their innovative dental beauty accessory FunkkOFF! TeethRefreshers, the only multi-use, all-in-one, oral care solution that fits in the palm of your hand.
Conceived by 2022 WE Hatch Honor Circle Inductee Joelle Flynn in 2010 when she was tired of carrying around a full size toothbrush and toothpaste to remove stains from food and drink on the go and keep her teeth clean, TeethRefreshers are an all-natural, reusable, all-in-one travel toothbrush (+) toothpaste product that are as discreet and easy to use as applying chapstick. The business built around the invention by Flynn and her longtime friend and strategic marketing expert Hounsell has since been awarded 4 U.S. Trademarks and 9 U.S. Patents with a 10th currently pending, been featured in publications like Travel Leisure, Los Angeles Times, and Drug Store News, and gained worldwide validation by winning a silver certification award in the international competition Grand Prix du Design. Now, they have the opportunity to present their product to five titans of industry in pursuit of an investment and a trusted business partner/advisor to take their company to the next level.
The episode will air on ABC's Shark Tank Friday, February 17 at 8pm ET. Please consider joining Horn Entrepreneurship and the E-Club for a Shark Tank Watch Party at the Venture Development Center to support FunkkOFF! and celebrate the occasion. The party will kick off at 7:30 p.m., and the Shark Tank episode will start at 8:00 p.m. Food and beverages will be provided, as well as door prizes and swag for the first 25 people who sign up and attend the party. Register now!
Please email HornProgram@udel.edu if you have any questions. We hope to see you at the VDC to cheer on Joelle and FunkkOFF!
Read FunkkOFF!'s full press release to learn more.
About Horn Entrepreneurship
Horn Entrepreneurship serves as the creative engine for entrepreneurship education and advancement at the University of Delaware. Currently ranked among the best entrepreneurship programs in the US, Horn Entrepreneurship was built and is actively supported by successful entrepreneurs, empowering aspiring innovators as they pursue new ideas for a better world.