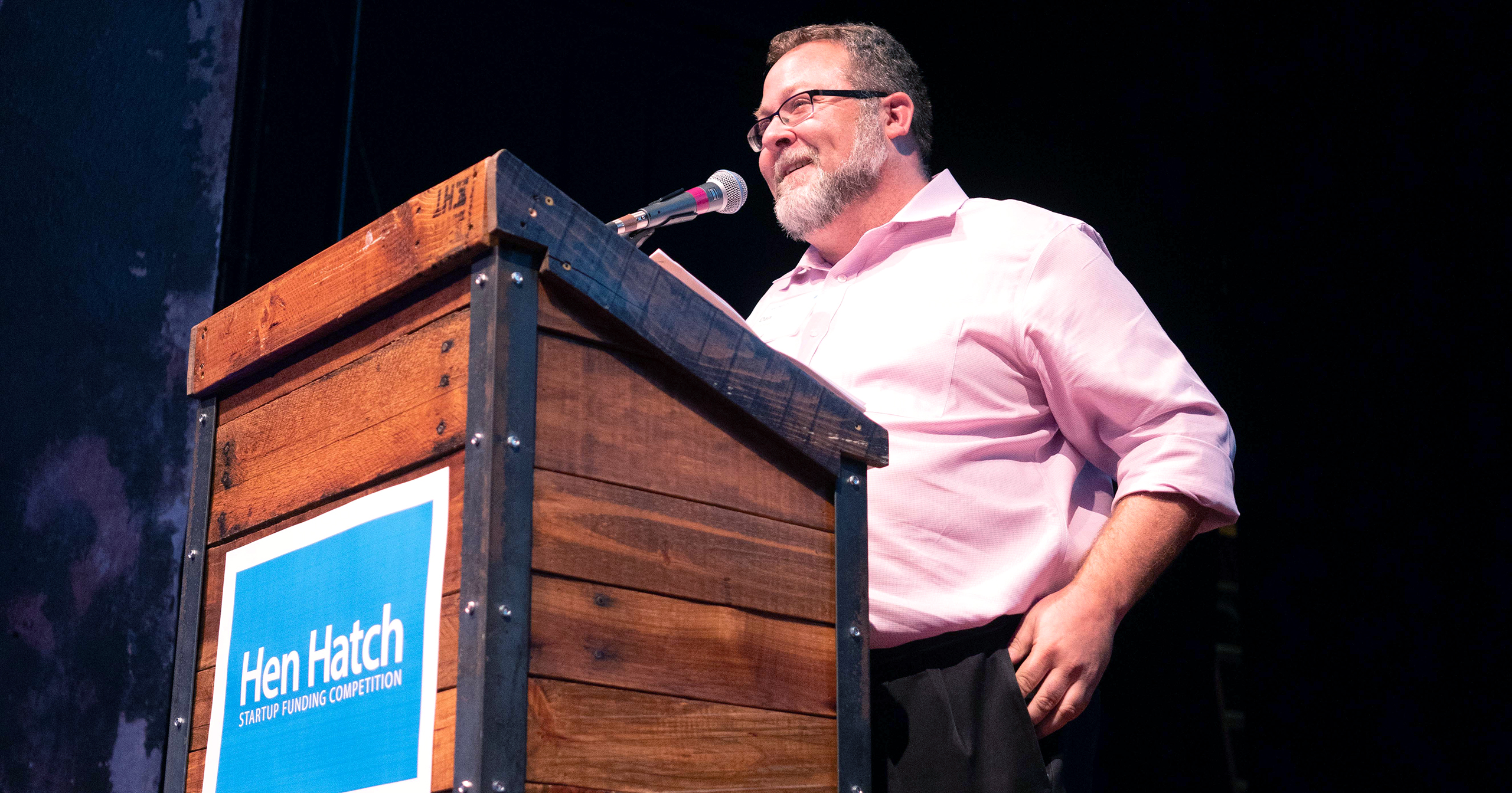 Six teams comprised of students and alumni from across several colleges, including Alfred Lerner College of Business & Economics, College of Arts & Sciences and College of Engineering, are advancing to the final round of Hen Hatch, UD's premier startup funding competition. Finalist teams will pitch before a panel of accomplished judges and an audience of regional business leaders, experienced entrepreneurs and the broader UD community for a share of a $100,000 prize pool.
The final round of Hen Hatch will be Tuesday, April 30, 5 to 9 p.m., at the Queen in Wilmington, Delaware. Admission to Hen Hatch Final and Innovation Showcase is $20 for students and $50 for community members. Student admission has the option for bus transportation. Hors d'oeuvres and refreshments will be provided. Tickets can be purchased here.
Student Track Teams
360VR Technology
360VR Technology is a virtual reality and drone solutions company that uses virtualization, drones and intensive analysis of buildings to aid emergency services with pre-incident, active and post-incident planning. James Massaquoi, Alfred Lerner College of Business and Economics, Class of 2020; Sury Gupta, College of Engineering, Class of 2020.
SolveABET LLC
SolveABET LLC is a blockchain accreditation platform for business processes and accreditation, used to reduce costs, improve consumer trust, and help businesses realize increased revenue from transparent and automated systems. Jonathan Wood, Lerner College of Business & Economics, Class of 2019.
The SEWcial Cafe
The SEWcial Café is a community sewing space for women to create, collaborate, and develop handmade products in a relaxed and inspiring environment that encourages innovation. ChaCha Hudson, College of Arts & Sciences, Class of 2019.
Alumni, Faculty and Staff Track Teams
CATX Inc.
CATX Inc. is a biotechnology corporation committed to development of new more effective, even curative, Cancer (CA) Therapeutics (TX) through translation of discoveries in basic cancer research to clinical oncology. It's mission is to develop new targeted therapeutics to lower cancer mortality rates. Bruce Boman and Gilberto Schleiniger of the Department of Mathematical Sciences.
Patient Sortal LLC
Patient Sortal is a Healthcare Data Management company that provides solutions to aggregate, store, and share protected health information. We use our solutions to provide complete health records to patients, healthcare providers, businesses, and other organizations who value complete health records. Kenny Eck, Class of 2018.
RiKarbon, Inc.
RiKarbon is producing bio-based, high-performing and safer ingredients for cosmetic manufacturers to capture more customers at a higher price. Basudeb Saha, Chemical and Biomolecular Engineering and Kumar Krautharapu.
To find out how Horn Entrepreneurship can help you start your entrepreneurial journey today, email hornprogram@udel.edu to set up a consultation appointment.
About Horn Entrepreneurship
Horn Entrepreneurship serves as the University of Delaware's creative engine for entrepreneurship education and advancement. Built and actively supported by successful entrepreneurs and thought leaders, Horn Entrepreneurship empowers aspiring innovators and entrepreneurs as they pursue new ideas for a better world.