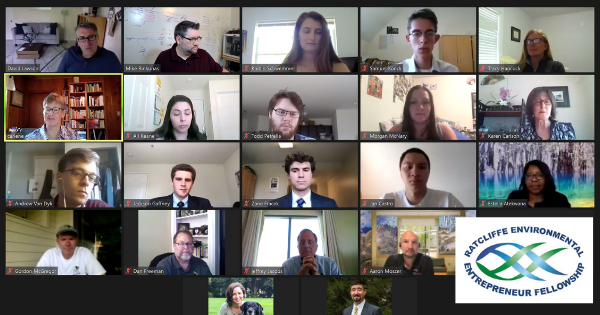 With environmental problems persisting and increasing around the globe, entrepreneurs and change makers are working on new and bold ideas that can tackle the world's foremost sustainability challenges.
The Ratcliffe Eco-Entrepreneurship Fellows (REEF@UD) program provides entrepreneurship training, mentorship, and funding support to innovators who seek to create businesses, commercialize discoveries and develop new products that will solve environmental problems or improve sustainability.
The four-month REEF@UD program culminates with a pitch event wherein external judges select up to three projects/Fellows to receive a one-year stipend, prototyping funds, and continued mentorship support to continue pursuit of their idea(s).
On Monday, May 17, the first cohort of REEF@UD students brought their sustainability ideas and innovations to the table in the program's inaugural pitch event.
Pitching teams were comprised of REEF@UD undergraduates representing a diverse range of UD colleges and programs. The 6 teams were:
VitalMix, by Andrew Van Dyk: a self-repairing concrete solution utilizing bacteria-based admixture
Blue & Gold Composting, by Kaitlin Schwemmer & Morgan McNary: a carbon-neutral compositing service
Coral Connectors, by Samuel Koeck: artificial reef installations designed to enhance coral reef structure and improve resilience against climate change
Echo (recycle in style), by Ali Keane: a sustainable clothing brand which addresses the complete product lifecycle (designing, manufacturing, and recycling)
HomeHarvest, by Jackson Gaffney & Zane Fracek: an app marketplace for locally grown produce for both buyers and growers
Polycelium Mushroom Farm, by Todd Petrella: a farm and service which breaks down plastic waste through the cultivation of plastic-eating mushrooms
Congratulations to HomeHarvest and Coral Connectors, our 2021 REEF@UD award winners!
This honor includes with it a chance to utilize awarded funding to advance their idea/venture, as well as access to additional Horn resources including the VDC, mentors, and guidance.
Additional congratulations to Echo, which received an honorable mention runner-up award.
Thank you also to the REEF@UD judging panel. Judges included Estella Atekwana, Dean of the College of Earth, Ocean, and Environment; Carlene Cassidy, CEO of the Philip E. and Carole R. Ratcliffe Foundation; Karen Carlson, Geoscience Advisor at KC Geoscience Consulting; Dan Freeman, Founding Director of Horn Entrepreneurship; Tracy Hancock, a former director at the U.S. Forest Service; Jeffrey Jacobs, former Vice President of Chevron Tech Ventures; and Nick Vrolijk, Managing Director of BDO USA, LLP.
"This was an incredibly rewarding experience helping the students achieve their aspirations of developing new products and concepts to resolve environmental and sustainability challenges," REEF@UD Director David Lawson said. "The world will need not only basic research but also new technologies, products, and business models to help address the climate challenges ahead of us, and this year's inaugural REEF@UD class was able to jump start this journey."
REEF@UD operates as a joint project of CEOE and Horn Entrepreneurship, advancing CEOE's commitment to connecting cutting-edge science with society and Horn Entrepreneurship's mission to empower world changers.
"We are extremely grateful to the Ratcliffe Foundation for providing the resources to create this unique program, along with UD Horn Entrepreneurship and the expertise of numerous mentors and experts within the CEOE for their help supporting this work," Lawson said.
REEF@UD is open to all UD undergraduate seniors, graduate students, and postdocs who are interested in solving environmental problems. Undergraduate students who are selected as Fellows will be required to enroll in an eco-entrepreneurship practicum course during spring semester.
To learn more about REEF@UD or to apply, you can email REEF@UD Director, Dr. David Lawson.
About Horn Entrepreneurship
Horn Entrepreneurship serves as the creative engine for entrepreneurship education and advancement at the University of Delaware. Currently ranked among the best entrepreneurship programs in the US, Horn Entrepreneurship was built and is actively supported by successful entrepreneurs, empowering aspiring innovators as they pursue new ideas for a better world.