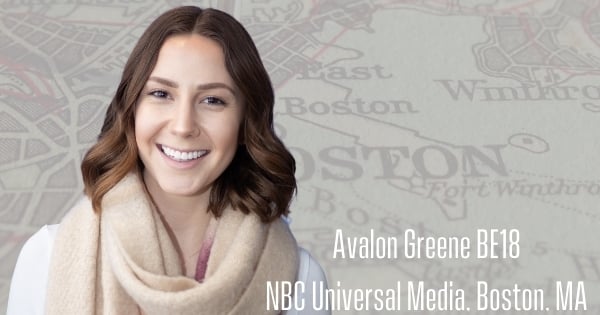 Avalon Greene is an account executive at NBC Universal Media, where she sells and executes marketing campaigns utilizing on-air, digital, social and on-the-ground tactics. She earned a Bachelor of Science degree in marketing and entrepreneurship & technology innovation in 2018 from UD, where she co-owned Udwell, which connected off-campus housing owners with potential student renters, and co-founded Revive, a wardrobe-swapping app. She also participated in the Lerner Executive Mentoring Program, Horn's VentureOn, the Alpha Kappa Psi business fraternity, UDance, the Equestrian Team and a study abroad program in Spain.
What is the best advice you received and who from? When Vince DiFelice was my professor, he would always tell us the importance of creating something that was unique and solves a problem for people. This can be something tangible like a product or even a type of service, but I've learned it can also apply to myself. Being a creative problem solver and an invaluable asset to a team or company is just as important in terms of achieving my career goals.
What course was the most meaningful for you and why? Startup Experience (ENTR455) with Vince DiFelice was by far the most meaningful course I took at UD. I am a hands-on learner and everything we did in that class was hands-on. From assembling a team of people, to creating a startup idea, and then executing and pitching that business idea, there is no other class I could imagine would provide that same real-world experience. I still use many of the lessons I learned from that class in my job and life today. Shout out to Vince!
What is the one best memory you have of UD/Horn? My UD study abroad trip in Barcelona, Spain, which included several students from the Horn Entrepreneurship program. I have so many great memories from UD and Horn, but this one is my favorite. The group of people I went with was awesome, and Barcelona is the most unique and fun city I've ever been to. I even got to complete a marketing internship while I was there, which helped me gain some experience before my internship the following summer.
What advice would you give a new freshman at Horn Entrepreneurship? Take advantage of the resources Horn provides students. Go to the networking events, ask professors/faculty lots of questions, ask for feedback on your ideas, spend as much time as you can in the Horn building, and take risks! Don't be afraid of failing, it's all part of the learning process. Failing and trying something new will never be as easy as doing it when you're a college student.
About Horn Entrepreneurship
Horn Entrepreneurship serves as the creative engine for entrepreneurship education and advancement at the University of Delaware. Currently ranked among the best entrepreneurship programs in the US, Horn Entrepreneurship was built and is actively supported by successful entrepreneurs, empowering aspiring innovators as they pursue new ideas for a better world.